WATER - TO SORT
Last year, I was sitting in my aunt's kitchen as she presided over dinner with her four small children.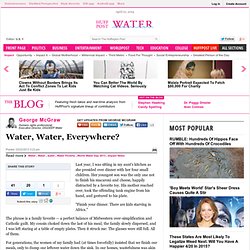 George McGraw: Water, Water, Everywhere?
facesofwater
Keepers of the Waters | Invitation
Aquaculture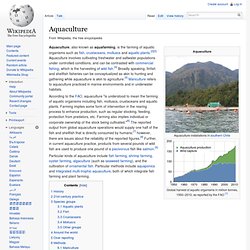 Global harvest of aquatic organisms in million tonnes, 1950–2010, as reported by the FAO [ 1 ]
Potential peak water curve for production of groundwater from an aquifer. [ 1 ] The term Peak Water has been put forward as a concept to help understand growing constraints on the availability, quality, and use of freshwater resources.
Peak water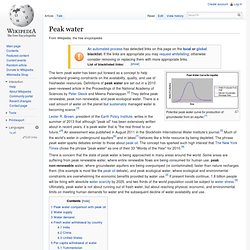 Water Leaks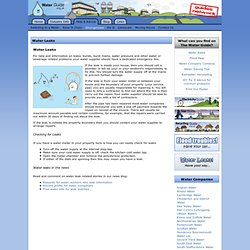 Water Leaks « The Water Guide
How does hydraulic fracturing work? Hydraulic fracturing or fracking is a means of natural gas extraction employed in deep natural gas well drilling. Once a well is drilled, millions of gallons of water, sand and proprietary chemicals are injected, under high pressure, into a well.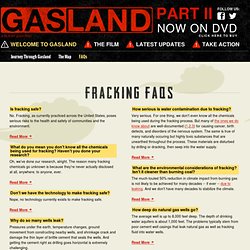 Gasland: A film by Josh Fox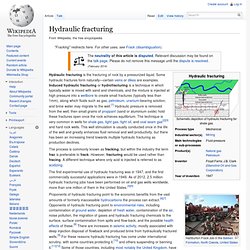 Hydraulic fracturing is the propagation of fractures in a rock layer by a pressurized fluid. Some hydraulic fractures form naturally—certain veins or dikes are examples—and can create conduits along which gas and petroleum from source rocks may migrate to reservoir rocks . Induced hydraulic fracturing or hydrofracturing , commonly known as fracing , fraccing , or fracking , is a technique used to release petroleum, natural gas (including shale gas , tight gas , and coal seam gas ), or other substances for extraction. [ 1 ] This type of fracturing creates fractures from a wellbore drilled into reservoir rock formations. The first experimental use of hydraulic fracturing was in 1947, and the first commercially successful applications in 1949. As of 2010, it was estimated that 60% of all new oil and gas wells worldwide were being hydraulically fractured. [ 2 ]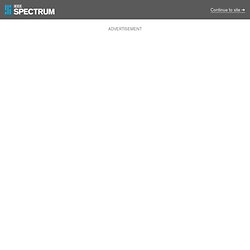 This segment is part of the Engineers of the New Millennium: The Global Water Challenge Special Report . Transcript : Jordan's Ancient Water Problem Othman Kurdi: We're not just mining water.
Use Fossil Water Now, or Save It for Later?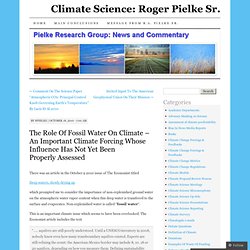 The Role Of Fossil Water On Climate – An Important Climate Forcing Whose Influence Has Not Yet Been Properly Assessed | Climate Science: Roger Pielke Sr.
There was an article in the October 9 2010 issue of The Economist titled
Fossil water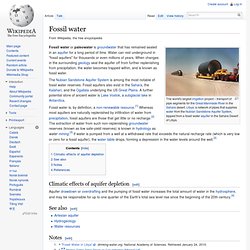 Fossil water or paleowater is groundwater that has remained sealed in an aquifer for a long period of time.
Solutions for Water platform | Blog | Ethical Water Stock Exchange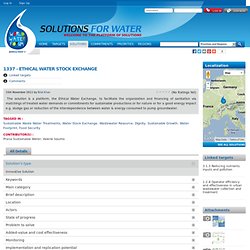 Prana Sustainable Water, a team of voluntary water and finance experts is currently developing this solution designed by Valerie Issumo
www.tradingforum.unige.ch/modules/docroot/form_commodity/images/Ethical Water Stock Exchange.pdf
Bottled water
Bottled mineral water Bottled water is drinking water (e.g., well water , distilled water , Mineral water , or spring water ) packaged in plastic or glass water bottles . Bottled water may be carbonated or not. Sizes range from small single serving bottles to large carboys for water coolers .
The Artemis Project
Global Water Shortage Looms In New Century
Grampa Gnome's Dream
Acqua Consultoria (acquacon) on Twitter
Index | Water
Water Resources for Nevada - Home
Southern Nevada Water Authority - Official Web Site
Albuquerque Bernalillo County Water Utility Authority - Home
www.abcwua.org/pdfs/wpab/wpab_minutes_041511.pdf
www.nmenv.state.nm.us/swqb/QAPP/2008QAPP-Approved.pdf
www.nmenv.state.nm.us/wqcc/Minutes/8-8-06.pdf
www.etvnord.org/?f=SorbisenseProtocol.pdf
lakewatch.ifas.ufl.edu/PDFFolder2003/FLWvol26.pdf
sifintl on Vimeo
www.awwa.org/files/Publications/Journal/2011/January/PDFs/JAW201101people.pdf
Rural Water Washington News