Farming & gardening
Homepage to Reform Sewage Sludge Regulations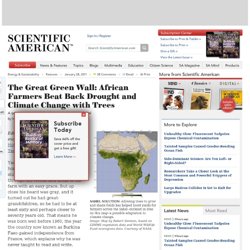 Energy & Sustainability :: Features :: January 28, 2011 :: :: Email :: Print A quiet, green miracle has been growing in the Sahel By Mark Hertsgaard SAHEL SOLUTION: Allowing trees to grow and shade fields has helped boost yields for farmers across the Sahel--outlined in blue on this map--a possible adaptation to climate change. Image: Map by Robert Simmon, based on GIMMS vegetation data and World Wildlife Fund ecoregions data.
The Great Green Wall: African Farmers Beat Back Drought and Climate Change with Trees
Natural selection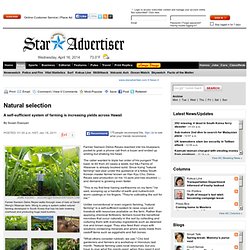 POSTED: 01:30 a.m. HST, Jan 18, 2011 Farmer Samson Delos Reyes walks through rows of kalo at David Wong's Waianae farm. Wong is using a system called natural farming developed in South Korea that has his kalo towering overhead and producing huge basil bushes. Farmer Samson Delos Reyes walks among kalo patches at S&J Farms of Waianae, which uses a natural farming method developed by South Korean farmer Han Kyu Cho. Pigs are thriving in a pig farm in Kurtistown on the Big Island that employs the same farming principles.
Close the Loop - Recycled Garden Glass Mulch
Close the Loop offers a wide selection of eye-catching colors and sizes of tumbled glass mulch to spruce up the landscaping around your home or business. The proprietary production process produces glass that has virtually no sharp edges. These mulch mixes work especially well for garden pathways.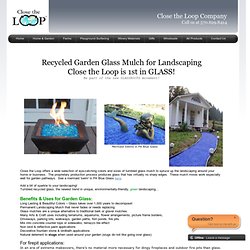 'The Worst Mistake In The History Of The Human Race' by Jared Diamond. On Evolution, Diet & Agriculture. 'Recent discoveries suggest that the adoption of agriculture, supposedly our most decisive step toward a better life, was in many ways a catastrophe from which we have never recovered. With agriculture came the gross social and sexual inequality, the disease and despotism,that curse our existence. Crops and Nutrition
History of Agriculture: Human Evolution & Diet, Nutrition, Crops, Sustainable Farming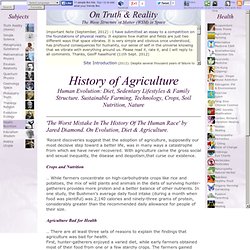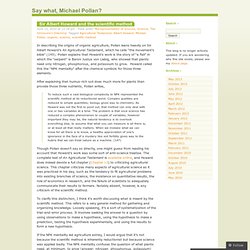 Sir Albert Howard and the scientific method « Say what, Michael Pollan?
In describing the origins of organic agriculture, Pollan leans heavily on Sir Albert Howard's An Agricultural Testament , which he calls "the movement's bible" (145). Pollan explains that Howard's work is the story of "a Fall" in which the "serpent" is Baron Justus von Liebig, who showed that plants need only nitrogen, phosphorous, and potassium to grow. Howard called this the "NPK mentality" after the chemical symbols for those three elements. After explaining that humus-rich soil does much more for plants than provide those three nutrients, Pollan writes, To reduce such a vast biological complexity to NPK represented the scientific method at its reductionist worst. Complex qualities are reduced to simple quantities; biology gives way to chemistry.
Granny Woman Ozark Herbs
Go for the succulents! They cure skin cancers. by pauljacobson Jan 28
shrink your URLs and get paid!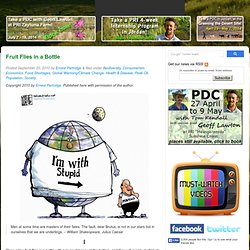 Permaculture Research Institute of Australia » Fruit Flies in a Bottle
Fruit Flies in a Bottle Biodiversity , Consumerism , Economics , Food Shortages , Global Warming/Climate Change , Health & Disease , Population , Society , peak oil — by Ernest Partridge September 20, 2010 Copyright 2010 by Ernest Partridge . Published here with permission of the author. Men at some time are masters of their fates. The fault, dear Brutus, is not in our stars but in ourselves that we are underlings. – William Shakespeare, Julius Caesar
Essence_of_PC_eBook
Organic Architecture, Sustainable Lifestyle, Permaculture
Collaborative Research Project Permaculture...