Communities ensure their own livelihood
An intentional community is a planned residential community designed from the start to have a high degree of social cohesion and teamwork . The members of an intentional community typically hold a common social , political , religious , or spiritual vision and often follow an alternative lifestyle . They typically share responsibilities and resources. Intentional communities include collective households, cohousing communities, ecovillages , communes , survivalist retreats , kibbutzim , ashrams , and housing cooperatives .
Intentional community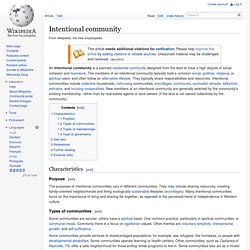 Local food or the local food movement is a "collaborative effort to build more locally based, self-reliant food economies - one in which sustainable food production, processing, distribution, and consumption is integrated to enhance the economic, environmental and social health of a particular place." [ 1 ] It is part of the concept of local purchasing and local economies ; a preference to buy locally produced goods and services rather than those produced by corporatized institutions. It is not solely a geographical concept. A United States Department of Agriculture publication explains local food as "related to the distance between food producers and consumers," as well as "defined in terms of social and supply chain characteristics." [ 2 ] [ edit ] Local food systems Local Food System Diagram Food system refers to how food is produced and reaches consumers, and consumer food choices.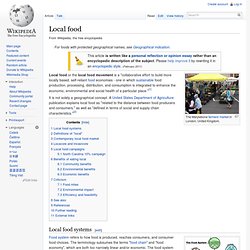 Local food
Agroecology is the study of ecological processes that operate in agricultural production systems. The prefix agro- refers to agriculture . Bringing ecological principles to bear in agroecosystems can suggest novel management approaches that would not otherwise be considered. The term is often used imprecisely and may refer to "a science, a movement, [or] a practice." [ 1 ] Agroecologists study a variety of agroecosystems, and the field of agroecology is not associated with any one particular method of farming , whether it be organic , integrated , or conventional ; intensive or extensive .
Agroecology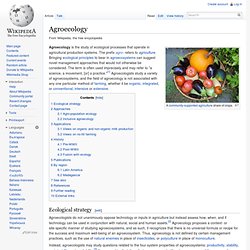 Permaculture is a branch of ecological design , ecological engineering , and environmental design which develops sustainable architecture and self-maintained horticultural systems modeled from natural ecosystems . [ 1 ] [ 2 ] The core tenets of permaculture are: [ 3 ] [ 4 ] Take care of the earth : Provision for all life systems to continue and multiply. This is the first principle, because without a healthy earth, humans cannot flourish. Take care of the people : Provision for people to access those resources necessary for their existence.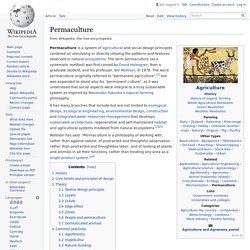 Bioregionalism
Bioregionalism is a political , cultural , and ecological system or set of views based on naturally defined areas called bioregions, similar to ecoregions . Bioregions are defined through physical and environmental features, including watershed boundaries and soil and terrain characteristics.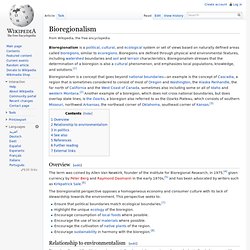 Cogeneration (also combined heat and power , CHP ) is the use of a heat engine [ 1 ] or a power station to simultaneously generate both electricity and useful heat . All thermal power plants emit a certain amount of heat during electricity generation . This can be released into the natural environment through cooling towers , flue gas , or by other means. By contrast, CHP captures some or all of the by-product heat for heating purposes, either very close to the plant, or—especially in Scandinavia and eastern Europe —as hot water for district heating with temperatures ranging from approximately 80 to 130 °C.
Cogeneration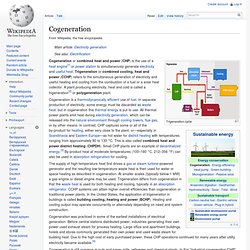 Resource management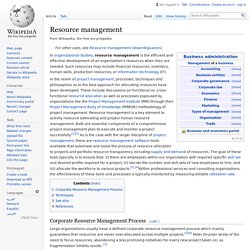 In organizational studies , resource management is the efficient and effective deployment of an organization's resources when they are needed.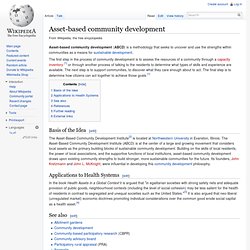 Asset-based community development
Asset-based community development ( ABCD ) is a methodology that seeks to uncover and use the strengths within communities as a means for sustainable development .
Asset management , broadly defined, refers to any system that monitors and maintains things of value to an entity or group. It may apply to both tangible assets such as buildings and to intangible concepts such as intellectual property and goodwill . Asset management is a systematic process of operating, maintaining, upgrading, and disposing of assets cost-effectively, ( American Association of State Highway and Transportation Officials ). Alternative views of asset management in the engineering environment are: The practice of managing assets to achieve the greatest return (particularly useful for productive assets such as plant and equipment), and the process of monitoring and maintaining facilities systems, with the objective of providing the best possible service to users (appropriate for public infrastructure assets). [ edit ] Infrastructure asset management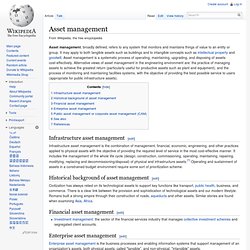 Asset management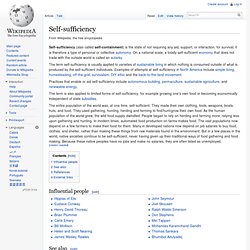 Self-sufficiency is the state of not requiring any aid, support, or interaction, for survival; it is therefore a type of personal or collective autonomy . On a national scale, a totally self-sufficient economy that does not trade with the outside world is called an autarky . The term self-sufficiency is usually applied to varieties of sustainable living in which nothing is consumed outside of what is produced by the self-sufficient individuals.
Self-sustainability
A system is self-sustaining (or self-sufficient ) if it can maintain itself by independent effort. The system self-sustainability is: the degree at which the system can sustain itself without external support the fraction of time in which the system is self-sustaining Self-sustainability is considered one of the "ilities" and is closely related to sustainability and availability .
Resilience is defined as "the positive ability of a system or company to adapt itself to the consequences of a catastrophic failure caused by power outage, a fire, a bomb or similar" event. [ 1 ]
Resilience (organizational)
Autonomy
Autonomy ( Ancient Greek : αὐτονομία autonomia from αὐτόνομος autonomos from αὐτο- auto- "self" + νόμος nomos , "law", hence when combined understood to mean "one who gives oneself their own law ") is a concept found in moral , political , and bioethical philosophy .
Empowerment
Empowerment refers to increasing the spiritual, political, social, educational, gender, or economic strength of individuals and communities. [ edit ] Definitions The term empowerment covers a vast landscape of meanings, interpretations, definitions and disciplines ranging from psychology and philosophy to the highly commercialized self-help industry and motivational sciences. Sociological empowerment often addresses members of groups that social discrimination processes have excluded from decision-making processes through - for example - discrimination based on disability, race , ethnicity, religion, or gender.