Old D&D Art and Artists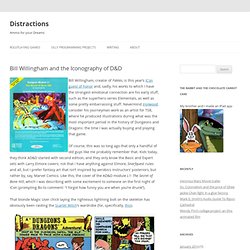 Bill Willingham, creator of Fables , is this year's ICon guest of honor and, sadly, his works to which I have the strongest emotional connection are his early stuff, such as the superhero series Elementals, as well as some pretty embarrassing stuff. Nevermind Ironwood , consider his journeyman work as an artist for TSR, where he produced illustrations during what was the most important period in the history of Dungeons and Dragons: the time I was actually buying and playing that game. Of course, this was so long ago that only a handful of old guys like me probably remember that. Kids today, they think AD&D started with second edition, and they only know the Basic and Expert sets with Larry Elmore covers; not that I have anything against Elmore, Snarfquest rules and all, but I prefer fantasy art that isn't inspired by aerobics instructors' posteriors, but rather by, say, Marvel Comics.
Bill Willingham and the Iconography of D&D | Distractions
Old D&D Tribute Gallery - Andy "ATOM" Taylor's Art Site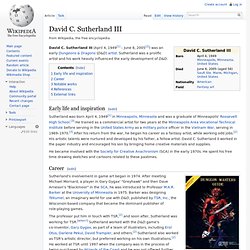 David C. Sutherland III
David C. Sutherland III (April 4, 1949 [ 1 ] – June 6, 2005 [ 2 ] ) was an early Dungeons & Dragons artist . Sutherland was a prolific artist and his work heavily influenced the early development of Dungeons & Dragons . [ edit ] Early life and inspiration
Going somewhere different | C1: The Hidden Shrine of Tamoachan | RPGGeek
David C. Sutherland, III | Image
Tribute Painting
Community » OD&D Workshop » Tribute Painting http://odd74.proboards.com/index.cgi?board=workshop&action=display&thread=969 Tribute Painting Post by kevinmayle on Jun 3, 2008, 7:31pm Continuing on from my Chainmail painting here: http://odd74.proboards76.com/index.cgi?
Jeff Easley (born 1954 in Nicholasville, Kentucky ) [ 1 ] is an oil painter who creates fantasy artwork in the tradition of Frank Frazetta . [ edit ] Early life Easley was born in Nicholasville, Kentucky in 1954. He drew a lot as a child, particularly creatures such as ghosts and monsters. "I watched lots of monster movies on the late show, and built every monster model kit I could get my hands on," he said. [ 1 ] He attended high school in Nicholasville, and then went to college at Murray State University in Murray, Kentucky . Easley earned a BFA in painting from the university [ 2 ] in 1976. [ citation needed ] While there, he met and married his wife Cynthia, a fellow art major.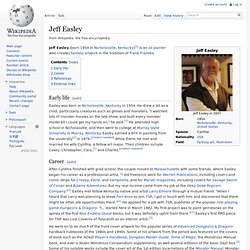 Jeff Easley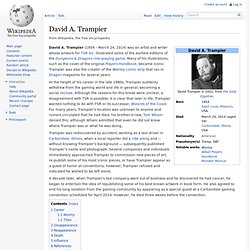 David A. Trampier
Dave A. Trampier is a former artist and writer who worked on some of the earliest editions of the Dungeons & Dragons role-playing game , and who was the creator of the Wormy comic strip that ran in Dragon magazine. He signed his work with his initials "DAT" or with "Tramp". [ edit ] Wormy Trampier's Wormy comic was a feature of Dragon from issue #9 (September 1977) to issue #132 (April 1988). The strip occupied one to four pages of each issue.
The Dave Trampier Wormy Archive.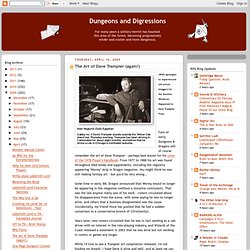 (With apologies to experienced old school bloggers for Yet Another Whatever Happened to Dave Trampier Post) Fans of early Dungeons & Dragons will of course remember the art of Dave Trampier - perhaps best known for his cover of the 1978 Player's Handbook . From 1977 to 1988 his art was found throughout D&D books and supplements, including the regularly appearing "Wormy" strip in Dragon magazine.
The Art of Dave Trampier (again!)
The Art of Dave Trampier
Tramp Tuesday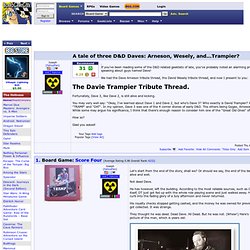 A tale of three D&D Daves: Arneson, Wesely, and...Trampier?
A tale of three D&D Daves: Arneson, Wesely, and...Trampier? Joseph Today, we're all Spaniards! . If you've been reading some of the D&D related geeklists of late, you've probably noted an alarming propensity towards speaking about guys named Dave! We had the Dave Arneson tribute thread, the David Wesely tribute thread, and now I present to you: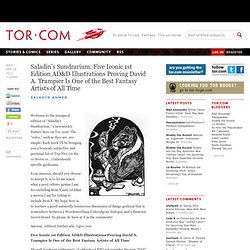 Saladin's Sundrarium: Five Iconic 1st Edition AD&D Illustrations Proving David A. Trampier Is One of the Best Fantasy Artists of All Time
Saladin's Sundrarium: Five Iconic 1st Edition AD&D Illustrations Proving David A. Trampier Is One of the Best Fantasy Artists of All Time Welcome to the inaugural edition of "Saladin's Sundrarium," a new weekly feature here on Tor.com! The "rules," such as they are, are simple: Each week I'll be bringing you a brazenly subjective and personal list of Top Five (or Six or Seven or…) ridiculously specific geekicana. Your mission, should you choose to accept it, is to let me know what a nerd culture genius I am for including Item X and/or what a moron I am for failing to include Item Y.
The impression left on me (and hundreds of thousands of my geeky peers) by Dungeons & Dragons was indelible. Ironically — given all of the Satanist paranoia at the time — D&D was my salvation from the soulless suburban wasteland where I spent my teen years; it not only inspired my friends and me to heights of imaginative collaboration, it empowered me to be a creative person. Without Gygax & Arneson's strange vision, and the love of games and improvisational storytelling that it instilled, I wouldn't be anywhere near the cartoonist I am today (for whatever that's worth).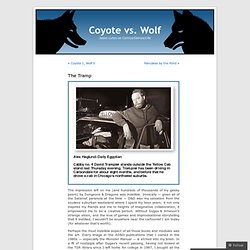 The Tramp « Coyote vs. Wolf
On Nostalgia « Paul S. Kemp, Fictioneer
Have you read Saladin Ahmed's column on Tor.com about David Trampier, who created some of the most iconic D&D art of all time? It's excellent. Go ahead and read it.
In the latest in my irregular series of artist profiles, I have decided to highlight one of my favorite of the early D&D artists, David A. Trampier, often better known for the initials DAT that would appear on many of his gaming works. His is a name that only grognards are likely to be familiar with, but he was one of the formative artists in the early period of roleplaying games. Despite the relatively brief period (if the late 70′s to 1988 is brief, mind you) in which he was involved in gaming art and comics, Trampier had a considerable impact on the feel of gaming, and remains one of the best beloved of the 1st edition-era gaming artists.
Artist Profile: David A. Trampier « Casewerk: More Internet Ravings
Tome of Treasures - AD&D Rogues Gallery
An early artist and game designer at TSR. Sutherland became employee at TSR in 1976 (from: Silver Anniversary History Booklet ). Did much of the artwork for OD&D and early AD&D. A regular tournament judge at Gen Con often running Empire of the Petal Throne and D&D with minis. Sutherland specialized on cartography with the arrival of the "fab four" at TSR (Easley, Caldwell, Elmore, Parkinson). This artist holds one of the most impressive list of contributions to the (A)D&D game of all times, which he accumulated during his over 20 years of work at TSR.
Erol Otus is an American artist and game designer , known internationally for his contributions to the fantasy RPG genre, most notably for the early Dungeons & Dragons franchise. Called "legendary" by RPGnet , [ 1 ] he is also known for his artwork on the multiple award winning [ 2 ] Star Control II as well as providing the voice for one of the character races, the Chmmr , in the same game. [ 3 ] [ edit ] Role-playing games Otus was a prolific contributor to the early Dungeons & Dragons (D&D) franchise, creating full covers as well as many interior illustrations for TSR materials. [ 4 ] For example, he created the cover for the first version of the D&D manual Deities and Demigods and illustrated the Cthulhu pantheon within. Otus has also provided cover art and interior illustrations for Goodman Games , Oracle Games (in particular Alma Mater - The High School RPG ) and the Arduin series.
Erol Otus
Remember the old days. The glory days. The Dungeon Masters Guide had a huge freaking Efreet on the cover, and the Player's Handbook showed some dungeon pillaging... All seemed fine back then.
Erol Otus Home Page
The Art of Erol Otus | The L.A. Gamer
The Unofficial Jeff Dee Gallery