Aliens
NEW ANCIENT MAYAN UFO ARTIFACTS 2012 JUST RELEASED NO ONE CAN DENY WE HAVE VISITORS COMING
Japan Puts Dead Alien On TV For Display
Best UFO Sightings Of May 2013, AFO
Regarding the UFO/ET issue: Some of these statements are difficult to verify, but nearly every day I get confirmation that my perceptions are largely accurate.
The Truth About ETs
The hidden secrets of Egypt Pyramids (Harun Yahya)
the REAL reason why they haven't been back to the Moon
2012-Pleiadian Truth, The War we can not see, NWO Illuminati Alien UFO Connection P1 Join the EDF!
LLOYD PYE - STARCHILD PROJECT - Alien DNA?
ufo-us-air-force-aircraft-identification-chart12.jpg (JPEG Image, 800x504 pixels)
The Antikythera mechanism (Fragment A – front) The Antikythera mechanism (Fragment A – back) The Antikythera mechanism (/ˌæntɨkɨˈθɪərə/ ANT-i-ki-THEER-ə or /ˌæntɨˈkɪθərə/ ANT-i-KITH-ə-rə) is an ancient analog computer[1][2][3][4] designed to predict astronomical positions and eclipses. It was recovered in 1900–1901 from the Antikythera wreck, a shipwreck off the Greek island of Antikythera.[5] Its significance and complexity were not understood until a century later when it was analyzed with modern X-ray technology. Jacques Cousteau visited the wreck in 1978[6] and recovered new dating evidence. The construction has been attributed to the Greeks and dated to the early 1st century BC.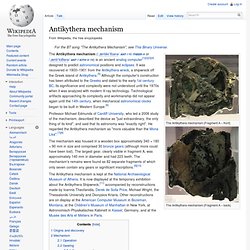 Stanton Friedman - Home
The most authentic UFO ever filmed.
ATS Giant UFOs Scaling Project!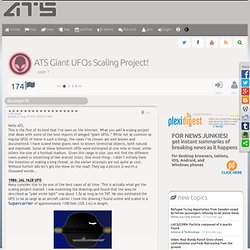 Hello ATS, This is the first of its kind that I've seen on the internet.
This painting is called "The Madonna with Saint Giovannino".
NIBIRU, PLANET X, ANCIENT ASTRONAUTS, NASA, MARS, EARTH
Ancient astronauts or ancient aliens, also known as paleocontact hypothesis,[1] is a pseudo-scientific theory that states intelligent extraterrestrial beings have visited Earth in antiquity or prehistory and made contact with humans. Proponents suggest that this contact influenced the development of human cultures, technologies, and religions. A common claim is that deities from most, if not all, religions are actually extraterrestrials, and their advanced technologies were wrongly understood by primitive men as evidence of their divine status.[2][3]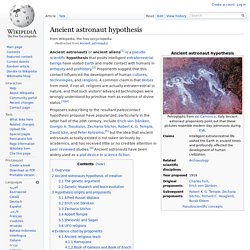 Zecharia Sitchin (Russian: Заха́рия Си́тчин; Azerbaijani: Zaxariya Sitçin) (July 11, 1920 – October 9, 2010)[1] was an Azerbaijani-born American author of books proposing an explanation for human origins involving ancient astronauts.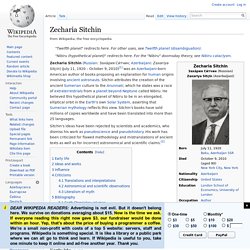 Home Page
Alpha and Omega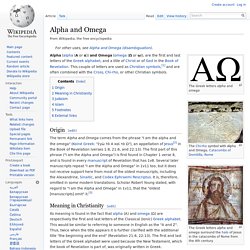 The Greek letters alpha and omega
UFO Religions
After watching this past week's Animal Planet show, "Uncovering Aliens," I'm still without an answer — other than ratings.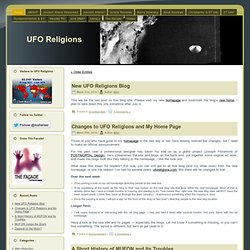 The terms alien abduction or abduction phenomenon describe "subjectively real memories of being taken secretly against one's will by apparently nonhuman entities and subjected to complex physical and psychological procedures".[1] People claiming to have been abducted are usually called "abductees" or "experiencers". Due to a paucity of objective physical evidence, most scientists and mental health professionals dismiss the phenomenon as "deception, suggestibility (fantasy-proneness, hypnotizability, false memory syndrome), personality, sleep paralysis, psychopathology, psychodynamics [and] environmental factors".[2] However, the late Prof.
Alien abduction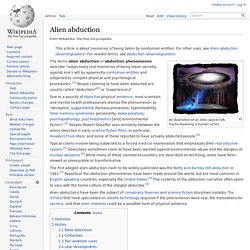 The Dumbasses Guide To Knowledge :: The Evidence For Ancient Communications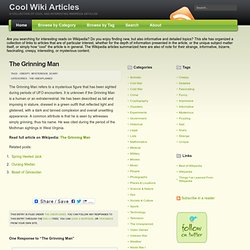 The Grinning Man | Cool Wiki Articles
The Grinning Man refers to a mysterious figure that has been sighted during periods of UFO encounters. It is unknown if the Grinning Man is a human or an extraterrestrial. He has been described as tall and imposing in stature, dressed in a green outfit that reflected light and glistened, with a dark and tanned complexion and overall unsettling appearance.
Chariots of the Gods?
Chariots of the Gods? Unsolved Mysteries of the Past (German: Erinnerungen an die Zukunft: Ungelöste Rätsel der Vergangenheit) is a book authored in 1968 by Erich von Däniken. It involves the hypothesis that the technologies and religions of many ancient civilizations were given to them by ancient astronauts who were welcomed as gods.