UFO/Aliens II
Amazing video of a UFO over Bangor, Ireland 20-Feb-2013
▶ ABC News UFO Over Iceland + Full Video HD 10-22-2013
Daytime UFO filmed over Tokyo, Japan this September 2012
Tonight's Multiple UFO SIGHTING over Cincinnati (OHIO) | September 29, 2012. (Part 2)
UFO FLEET 15TH SEPTEMBER 2012 STARTING FROM UNKNOWN MOONBASE (HD)
UFO police FLIR footage
Best Of UFO Sightings Of August 2012, AFO
Breaking News UFO Sightings Witnessed by Hundreds Over Myrtle Beach August 26, 2012 Watch Now!
Roswell UFO Crash: There Were 2 Crashes, Not 1, Says Ex-Air Force Official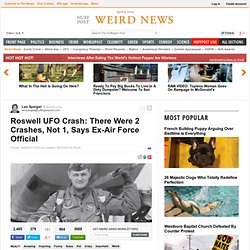 The 1947 UFO controversy of Roswell, N.M. is like a bad penny: It keeps turning up. The legend, rehashed by conspiracy theorists in countless documentaries, revolves around allegations that an unusual object fell from the sky -- an object so bizarre that the U.S. Air Force issued a press release that a flying saucer had crashed. That story was quickly recanted, creating what would become one of the greatest urban legends in American history. Until now, most debunkers doubted that there was even one crash.
UFO Sighting | Brisbane, Australia | 07/30/2012
French Quarter UFO Sighting - New Orleans - July 19, 2012
'Baltic UFO' may be secret Nazi sub-trap
(((BREAKING NEWS))) FBI UFO DISCLOSURE ON FOX NEWS JULY 13, 2012
Breaking news! UFO SIGHTING in HOLLYWOOD 7/8/2012
НЛО в Москве 07.07.12 в 00:24ч, ул. Обручева ЮЗАО.
'Box' of information includes photographs that prove Roswell UFO was realReport by veteran CIA agent who Information concealed in 'Vault' beneath CIA's Langley headquarters By Rob Waugh Published: 08:48 GMT, 9 July 2012 | Updated: 12:11 GMT, 9 July 2012 A long-serving CIA agent has spoken out on the 65th anniversary of the Roswell Incident to reveal a hidden CIA file on the 'UFO' that was supposedly found at the site - and says, 'It really happened.'
Roswell 'UFO' landing: CIA agent Chase Brandon speaks out on 65th anniversary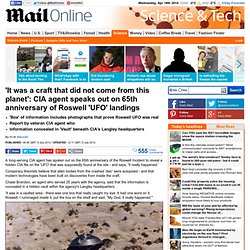 UFO Lights Over Nottingham, England 05/06/2012
Triangle UFO Formation - Apple Valley, CA - June 4, 2012
1995Obs...115...78S Page 78
index
by ANTHONY BRAGALIA Things "blue" are often secret and they are often associated with flight and with aerospace. Military blue has always signified importance and authority. Blue reminds us of the sky and it is the color of the Air Force.
Woman in Contact with ET/Lightbeings 1/5
The Portal - The Hessdalen Lights Phenomenon - FULL
Аномалия в небе Астрахани!
Syfy show captures UFOs during attempt to debunk them
NEW REAL UFO over China sighting filmed by Airline Passenger - AIRPORT CLOSED - (06/10/2010)
User:Bejnar/Sandbox
The Del Rio, Texas UFO Crash is a 1955 UFO case reported by a former jet pilot in the United States Air Force Reserve , Robert Burton Willingham, who lives near Wichita Falls, Texas . While flying a North American Aviation F-86 Sabre jet on a bomber escort mission over West Texas, Willingham observed a large, highly-luminous orb moving toward him from the northwest at about 2,000 miles per hour. At one point, he saw it execute a sudden 90-degree turn without slowing.
Best Of UFO Sightings Of May 2012, AFO
4 UFOs over Vancouver BC May 28 2012
Ci6I9.jpg 1615×1298 pixels
UFO Japan May 31 2012
» Fast flying UFOS over Dallas, Texas – May 29, 2012 - Quasi Mundo
Enorme OVNI sobre Hurley, Michigan
Awesome UFO Sighting May 20th 2012 Stouffville Ontario Canada
President Eisenhower Meets With The Aliens At Holloman AFB
UFO at Reagan National AIRPORT!!!! - check.. it.. OUT - May 16, 2012
(((AMAZING)) UFO sighting over Basel Switzerland May 15 2012
Zappa On UFOs The Supernatural And Intelligent Extra Terrestrials
Nave Nodriza sobre Hong Kong: ¿El origen de los sonidos extraños ha sido revelado?
UFO dropping Lights MAY 1, 2012
NSA Document Admits ET Contact By Kevin W. Smith On October 21, 2004, the NSA approved for release to the public a portion of their NSA Journal Vol.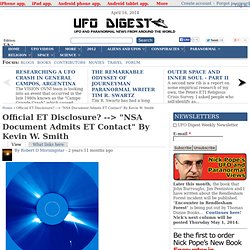 Official ET Disclosure? --> "NSA Document Admits ET Contact" By Kevin W. Smith
НЛО Санкт-Петербург, Гражданка 02.05.2012 / UFO SPb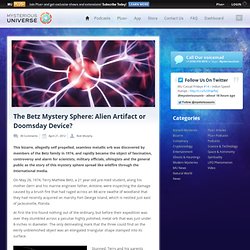 The Betz Mystery Sphere: Alien Artifact or Doomsday Device?
This bizarre, allegedly self propelled, seamless metallic orb was discovered by members of the Betz family in 1974, and rapidly became the object of fascination, controversy and alarm for scientists, military officials, ufologists and the general public as the story of this mystery sphere spread like wildfire through the international media. On May 26, 1974, Terry Mathew Betz, a 21 year-old pre-med student, along his mother Gerri and his marine engineer father, Antoine, were inspecting the damage caused by a brush fire that had raged across an 88-acre swathe of woodland that they had recently acquired on marshy Fort George Island, which is nestled just east of Jacksonville, Florida. At first the trio found nothing out of the ordinary, but before their expedition was over they stumbled across a peculiar highly polished, metal orb that was just under 8-inches in diameter.
Multiple UFOs in low earth orbit NASA 2012
Naves nodriza sobre San Petersburgo en Abril 2012: Parte 1
Scientific UFO Evidence in Norway
UFO OVNI MOON APRIL 2012
2 witnesses caught the same UFO in St Petersburg, Russia. April 9, 2012
Cape Otway : Australia « travelcreepster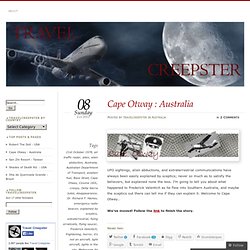 Tags 21st October 1978, air traffic radar, alien, alien abduction, Australia, Australian Department of Transport, aviation fuel, Bass Strait, Cape Otway, Cessna 182L, creepy, Delta Sierra Juliet, disappearance, Dr. Richard F. Haines, emergency radio beacon, explained by sceptics, extraterrestrial, flying erratically, flying saucer, Frederick Valentich, frightening, horror, it's not an aircraft, light aircraft, lights in the sky, Melbourne Air Traffic Control, metallic craft, metallic scraping sound, NASA-Ames, paranormal, paranormal activity, paranormal investigation, Paul Norman, phenomenon, RMIT, Royal Melbourne Institute of Technology, scary, shiny, sightings, Southern Australia, Southern most point in Australia, spooky, strange, Tasmania, UFO, unexplained events, urban myth, vanished, W Auchett, weird
BRAZIL UFO JAN 3 2012 AMAZING FOOTAGE!!! OVNI PART1
NASA's Gemini UFO sightings - Astronaut "VTR" transcripts from the days before Apollo
Unbelievable Night Vision Ufo Events!!!
Pyramid UFO Seen Over Madeira Island on January 1, 2012
Eyewitness UFO Sighting Testimonial: Me and my friends saw an UFO on December 31, 2011 but unfortunately we didn't have any type of video recorder at the time. But on January 1, 2012 we came across the same flying object while driving and this time we had a camera. Its shape and size invalidates any logical assumption of already known existing flying objects made by humans. It was traveling relatively fast, taking different directions, and the first time we saw it, it fell into the sea (USO).If anyone has any idea of what this might be, please do tell. The video recorded by the witnesses tells the rest of the story.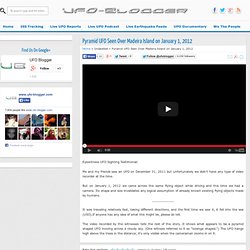 OVNI UFO STARGATE MOTHER SHIP Mexico City Tijuana 25/12/11
5 Witness, UFO, Mysterious Lights in The Sky, Russia, Dec 23, 18:14.mp4
In 1974, Robert Gribble started the National UFO Reporing Center (NUFORC) near Seattle, Washington, U.S.A. The NUFORC's 24 hour hotline number was distributed to police, airports and military bases, with a request to refer claimed UFO witnesses to the NUFORC. Gribble or his associates took hundreds of telephone calls from people who claimed to have seen UFOs. The NUFORC still operates as of March, 2009, now with Peter Davenport as director. Witnesses range from ordinary citizens to pilots, military personnel, Federal Aviation Administration employees, police and scientists.
National UFO Reporting Center recordings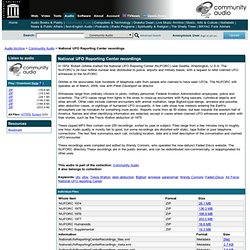 Nevada's Mysterious Cave of The Red-Haired Giants by Terrence Aym Source: Helium.com Many Native American tribes from the Northeast and Southwest still relate the legends of the red-haired giants and how their ancestors fought terrible, protracted wars against the giants when they first encountered them in North America almost 15,000 years ago. Others, like the Aztecs and Mayans recorded their encounters with a race of giants to the north when they ventured out on exploratory expeditions. Who were these red-haired giants that history books have ignored? Their burial sites and remains have been discovered on nearly every continent.
Nevada's Mysterious Cave of The Red-Haired Giants « I R O N L I G H T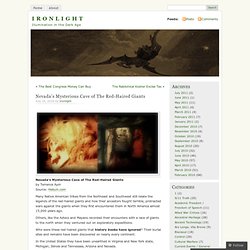 UFO Seen, then Transmission is Stopped.
By NICK POPE Last updated at 01:03 30 June 2007 Exactly 60 years ago, a light aircraft was flying over the Cascade Mountains in Washington State, at a height of around 10,000ft.
Roswell officer's amazing deathbed admission raises possibility that aliens DID visit
free documentaries
The Disclosure Project video.google.com... UFO - The Greatest Story Ever Denied video.google.com... SECRET SPACE (Vol-1) Illuminati Conquest of Space video.google.com...
Disclosure: Confirmations on UFOs
CONFIRMED: Top NASA astronaut discloses shuttle encounter with disc UFO while in orbit It's a bombshell story, a former SCO of NASA's space shuttle fleet announced that he and NASA know that ETs are real. Clark C. McClelland, a senior member of MUFON from 1958 to 1992, has revealed in the Canadian press that secret details of an amazing incident occurred during the STS-80 mission aboard the space shuttle Columbia. Top space officials panicked and rushed to hush it up.
UFO sightings by NASA Astronauts
During James Lovell's flight on Gemini 7: Lovell: BOGEY AT 10 O'CLOCK HIGH. Capcom: This is Houston. Say again 7. Lovell: SAID WE HAVE A BOGEY AT 10 O'CLOCK HIGH. Capcom: Gemini 7, is that the booster or is that an actual sighting?
UFOs / OVNIs UK - September 2011
UFO over Santiago, Chile
Kubricked
Triangular UFO over Chile
Massive UFO Adelaide Australia September 25 2011
UFO Case: Sighting 2/2010 Mexico
Details Category: UFO Cases Published on Monday, 19 September 2011 18:51 Written by Damien Joseph Hits: 2398
Belgian UFO wave
UFO Man Photographed Clear Flying Saucer in Mexico 2010
Robert Hastings • Articles -- UFOs Are Stalking and Intercepting Dummy Nuclear Warheads During Test Flights
UFO SIGHTING BEFORE HUNDREDS!!! SEPT.10, 2011 U.S.A.
UFO Spotted at Notre Dame Stadium?
On a drive in downtown Anchorage, Alaska, this strange light appeared in the sky. It lasted a couple of minutes and then dissapeared
TR-3B Hovering In Moscow September 07, 2011 (Mirror)
UFO Battle Formation over Denver, CO Sept. 5 | online paranormal tv, ghost cams, interactive live ghost hunts, the paranormal experts
Did Comet Elenin disintegrate or reveal alien energy shield? | Exopolitics Institute News Service
Afghan mayor confirms extraterrestrial life in latest wikileaks release | The Golden Rule
Grebennikov's Flying Platform
THE NATURAL PHENOMENA OF ANTIGRAVITATION AND INVISIBILITY IN INSECTS AND THE GREBENNIKOV CAVERNOUS STRUCTURES EFFECT
Phoenix Lights UFO Recorded With Night Vision Over Fremont, California
UFO's In Ancient Art
Multiple UFOs seen hovering over New york City one Day before Hurricane Irene!
Videos | Douglas Trumbull - Immersive Media and Visual Effects
Huge UFOs caught on Telescope - 2011
UFOs over Helsinki Finland July 23rd 2011
MoD Reveals Top Secret Memos of Mysterious UFOs, Aliens
Old West UFO Encounters
UFO Seen By Airplane Passenger - Aug. 2011 (+identical object from 2008!)
UFO spotted in Croydon town centre
Mayan Secrets to Be Revealed by Mexican Government in '2012' Doc
Astronauts Came Forth With The Truth! So Why Are We Still Watching The Skies? | RecognizeReality
Transforming UFO in San Jose, Ca (NON-EDITED) MUST WATCH
‪Mass UFO Sighting in Kansas City, Missouri July 30 2011‬‏
UFO & Paranormal News
Colorado's San Luis Valley Is A UFO Hotspot With A Specially Built UFO Watchtower
dialogue_hh
Mysterious 'structure' discovered on Mars
UFO strange flight Denver Colorado June 3 2011 Xenonics Night Vision
Top 10 Mysteries Surrounding Ancient Aliens
humans working along side aliens at area 51
Milk Hill of June 2009 seems to predict a new, bright astronomical object in our solar system, possibly a comet or even an "extra planet", on the new Moon of June 1, 2011