LBS gaming / EcoMap
Sekai Camera Support Center.
Alex McCauley (anm) Breakout Mobile App at SXSW. Many of us have been anxiously awaiting a smarter Twitter that not only lets us update our status and connect with friends online, but also lets us find our Twitter friends — in real-life — when we're in the same place at the same time.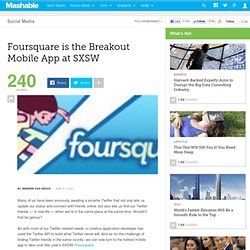 Wouldn't that be genius? As with most of our Twitter-related needs, a creative application developer has used the Twitter API to build what Twitter never will. And as for the challenge of finding Twitter friends in the same vicinity, we can now turn to the hottest mobile app to take over this year's SXSW: Foursquare. Foursquare is essentially a re-envisioning of Dodgeball, Twitter's precursor and a cult phenomenon until Google left it for dead, and actually hails from one of the guys that worked to build that app. Foursquare, which offers an iPhone app or mobile browser experience, works by letting you tell the app where you are and then lets your friends know where to find you. Foursquare NextTwitter?
When we first wrote about Foursquare back in March it had just hit the web scene at SXSW and was taking the social media community by storm.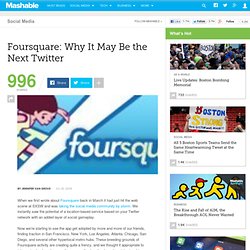 We instantly saw the potential of a location-based service based on your Twitter network with an added layer of social gameplay. Now we're starting to see the app get adopted by more and more of our friends, finding traction in San Francisco, New York, Los Angeles, Atlanta, Chicago, San Diego, and several other hyperlocal metro hubs. Cashmore foursquare is next years twitter. Foursquare BlackBerry. For a while, the only way to play the location-based Foursquare was through its iPhone app or the scant mobile website.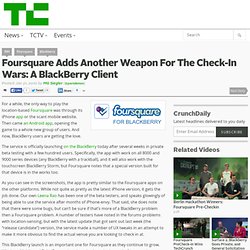 Then came an Android app, opening the game to a whole new group of users. And now, BlackBerry users are getting the love. The service is officially launching on the BlackBerry today after several weeks in private beta testing with a few hundred users. Specifically, the app with work on all 8000 and 9000 series devices (any BlackBerry with a trackball), and it will also work with the touchscreen BlackBerry Storm, but Foursquare notes that a special version built for that device is in the works too. Hyperlocal Business Directory MerchantCircle Signs Up Millionth. Hyperlocal business directory MerchantCircle has been steadily growing as an online network and business directory for merchants in smaller towns to advertise to consumers.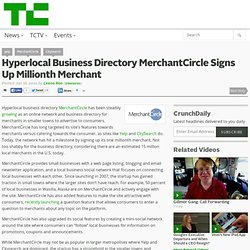 MerchantCircle has long targeted its site's features towards merchants versus catering towards the consumer, as sites like Yelp and CitySearch do. Today, the network has hit a milestone by signing up its one millionth merchant. Foursquare Not Flattered By Yelp Check-Ins. Imitation is the sincerest form of flattery.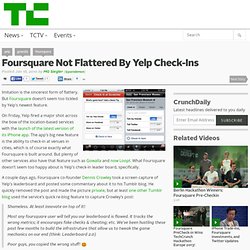 But Foursquare doesn't seem too tickled by Yelp's newest feature. On Friday, Yelp fired a major shot across the bow of the location-based services with the launch of the latest version of its iPhone app. The app's big new feature is the ability to check-in at venues in cities, which is of course exactly what Foursquare is built around. But plenty of other services also have that feature such as Gowalla and now Loopt. What Foursquare doesn't seem too happy about is Yelp's check-in leader board, specifically.
Foursquare's TVcommercial Airs Tonight. First Google, now Foursquare.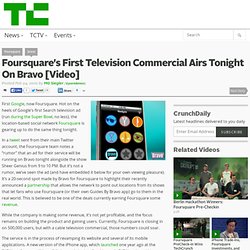 Hot on the heels of Google's first Search television ad (run during the Super Bowl, no less), the location-based social network Foursquare is gearing up to do the same thing tonight. In a tweet sent from their main Twitter account, the Foursquare team notes a "rumor" that an ad for their service will be running on Bravo tonight alongside the show Sheer Genius from 9 to 10 PM. Gatsby: Connecting Foursquare Friends Who Like Cats and Circuses. Here's an interesting idea.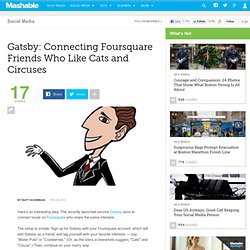 The recently launched service Gatsby aims to connect locals on Foursquare who share the same interests. The setup is simple. Foursquare's New Site Design Starts To Roll Live As Gossip Girl. Since its launch almost exactly a year ago, Foursquare's website has largely had the same basic design.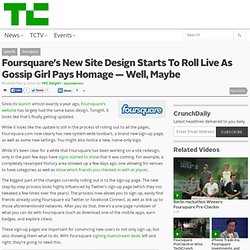 Tonight, it looks like that's finally getting updated. While it looks like the update is still in the process of rolling out to all the pages, Foursquare.com now clearly has new system-wide toolbars, a brand new sign-up page, as well as some new settings. You might also notice a new, name-only logo. While it's been clear for a while that Foursquare has been working on a site redesign, only in the past few days have signs started to show that it was coming. For example, a completely revamped History area showed up a few days ago, one allowing for venues to have categories as well as show which friends you checked-in with at places.
Location History A Lot More Interestin. As has been made abundantly clear to me over the past two weeks, just about every location-based service is planning big things for the SXSW festival, which starts later this week in Austin, Texas.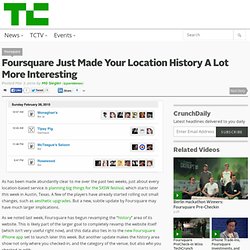 A few of the players have already started rolling out small changes, such as aesthetic upgrades. But a new, subtle update by Foursquare may have much larger implications. As we noted last week, Foursquare has begun revamping the "history" area of its website. This is likely part of the larger goal to completely revamp the website itself (which isn't very useful right now), and this data also ties in to the new Foursquare iPhone app set to launch later this week. Revamped Foursquare for iPhone Hits the App Store. Last week, an App Store error got the latest version of Foursquare for the iPhone into a few users hands a little bit early.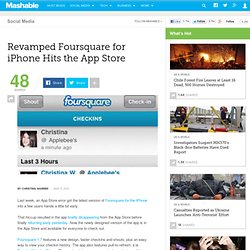 That hiccup resulted in the app briefly disappearing from the App Store before finally returning early yesterday. Now the newly designed version of the app is in the App Store and available for everyone to check out.Foursquare 1.7 features a new design, faster checkins and shouts, plus an easy way to view your checkin history. The app also features pull-to-refresh, a la Tweetie 2 for the iPhone. The app is a lot more responsive in our tests and the new interface is a big enhancement. This is a nice improvement from the old release and a fitting first-birthday gift of sorts as the app is arriving just before SXSW 2010 — where the app made its first big splash last year — begins.
Video foursquare 11 mrt 2010. What to cook for the President? Civil War hero gets medal 150 years later Does Israel's 'Unit 8200' go too far? America's most wanted terrorists China blacks out CNN's report on crackdown Fireball meteor caught on camera Was this man Jack the Ripper? Where should you launch your start-up? Go inside secret hotel bunker Horse riding: You're doing it wrong Surgery ... for a goldfish? Mayor of the North Pole :playing 4square. [NOTE: I've posted some recent developments at the bottom. ] I've been blatantly cheating at foursquare for the past week. I didn't mean to start the week this way.
Most of my friends know me as a responsible father who occasionally plays piano at local open mics, and makes puzzles. Last Sunday, while checking into the Hill Street Cafe in Burbank using the foursquare iPhone app, I idly wondered, "Can I become the mayor of the North Pole?" So I tried checking into a nearby 7-Eleven. A Private, Anti-Foursquare To Geo-Fence Those Neer To You. If you are going to launch a new location app, creating an anti-Foursquare is probably not a bad idea. About a week ago, a Qualcomm-incubated project called Neer quietly launched on the Android market, and has been downloaded more than 10,000 times since then. Neer is a free, location-sharing app designed for private sharing between family members and people with close, real-world relationships.
Unnamed collection. MyTown. Yelp. Feest.je. Feest.je (fstje) Is inchecken tegenwoordig een Feest.je? | Bijgespijkerd. Nadat we in het verleden al Foursquare, Gowalla en Brightkite naast elkaar hebben gelegd voor een vergelijking, is er sinds kort een nieuwe dienst gelanceerd. En het mooiste is misschien nog wel; het is een Nederlandse startup.
Feest.je is een nieuwe locatie-gebaseerde dienst, die erg veel lijkt op Foursquare en Gowalla. Echter, er zijn een paar verschillen. Zo is er bij Feest.je de mogelijkheid om een beoordeling aan een bepaalde spot toe te kennen. In de vorm van een vijftal sterren, bepaal jij samen met de andere mensen die inchecken, hoe gezellig de spot is. Boris (Boris) Aldert Greydanus (aldert) Boris @ At The gate.
Loopt. HUGE: Google Set to Make Gmail Social With Status Update Feature. Gmail is set to become Google's next major push into social media. According to The Wall Street Journal, the popular webmail service will soon launch a new feature for sharing content and status updates with friends. [Update: We think Google might announce these features on Tuesday] As WSJ points out, Gmail users can already update their statuses — sort of — through Gmail's chat feature.
Currently, this feature is more akin to the traditional IM "away message." Google To Unveil Broad New Social Product Tomorrow. Rummble. Foursquare Rummble in the Jungle, as new Android app rel.
FutureEverything. Waag. TrustedOpinions. Trusted Opinions Lets Users Become Local Area Gurus. SCVNGR. ElectroSmog Sustainable Immobility. FixMyStreet. Cellflare.com. Fi Fondation Internet Nouvelle Génération. LaMontre Verte -TheGreenWatch Citypulse. Mscape – GetOut + Explore. HP United States - Computers, Laptops, Servers, Printers and mor. Waze: Way to go. Foursquare Badge Waze - Digits. Waze hits the road with Treasure Hunt and Foursquare support. The Game (treasure hunt) Shopkick. Did Shopkick Just Change The Check-In Game? You Be The Judge [Video] Shopkick Teams With Best Buy To End Fake Retail Check-Ins. Project: MyWorld. Locast M.I.T. CultureClic - Augmented Culture on mobile. Trash Track M.I.T. La mosca ontwikkelt spannende location based games. La mosca (lamoscagames) Xilabs Urban games Studio.
XiLabs Urban Games (XiLabs) Christian Nold. Emotional Cartography - Christian Nold. Pulse of the Nation: U.S. Mood Throughout the Day inferred from Twitter. Pulse of the Nation: U.S. Mood Throughout the Day inferred from Twitter. Espionage Manchester team building platf. Espionagemanchester (espionagemanc) Pachube :: connecting environments, patching the planet. La Vache qui rit. Dubious Views - Subversive Cartography. One Block Radius. Every Bus Stop In Surrey BC. Townsend Retraced.
LivingStory
Mobile Backstage. Mobile Backstage aims to beat Facebook and MySpace for fan interaction. Mobile Backstage - Demonstration Video. Steam Republic. Mobilizing the Fan Experience – An Interview with our Creative Minister | Steam Republic. Share places and events on Twitter. Sciandthecity. Elli Fordyce Trio returns by popular demand. Pervasive Gaming | CreativeTourist. Klimaatkaart - Trouw - Uitstoot - Opwarming - Duurzame Energie. iSpy | A fun new way to explore your city. LBS advert: bij Trouw. GeoDart Game. GeoDart Game Tutorial. Global map - Annex I. Foursquare Metro Newspaper Partnership. The Psychogeophysical Summit.
---