LBS gaming / EcoMap
Sekai Camera Support Center
Alex McCauley (anm) on Twitter
Many of us have been anxiously awaiting a smarter Twitter that not only lets us update our status and connect with friends online, but also lets us find our Twitter friends — in real-life — when we're in the same place at the same time. Wouldn't that be genius?
Breakout Mobile App at SXSW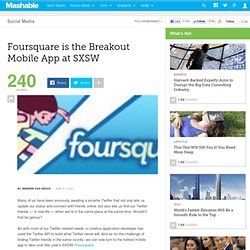 When we first wrote about Foursquare back in March it had just hit the web scene at SXSW and was taking the social media community by storm. We instantly saw the potential of a location-based service based on your Twitter network with an added layer of social gameplay. Now we're starting to see the app get adopted by more and more of our friends, finding traction in San Francisco, New York, Los Angeles, Atlanta, Chicago, San Diego, and several other hyperlocal metro hubs.
Foursquare NextTwitter?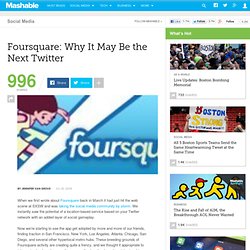 cashmore foursquare is next years twitter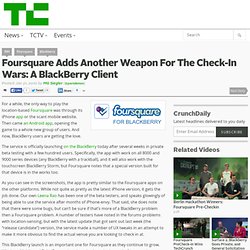 foursquare BlackBerry
For a while, the only way to play the location-based Foursquare was through its iPhone app or the scant mobile website.
Hyperlocal Business Directory MerchantCircle Signs Up Millionth
Hyperlocal business directory MerchantCircle has been steadily growing as an online network and business directory for merchants in smaller towns to advertise to consumers. MerchantCircle has long targeted its site's features towards merchants versus catering towards the consumer, as sites like Yelp and CitySearch do. Today, the network has hit a milestone by signing up its one millionth merchant.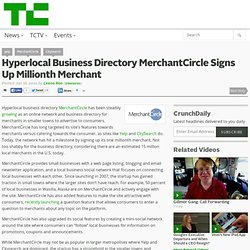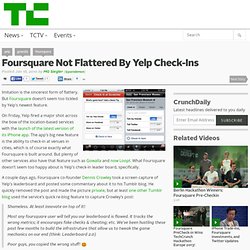 Foursquare Not Flattered By Yelp Check-Ins
Imitation is the sincerest form of flattery. But Foursquare doesn't seem too tickled by Yelp's newest feature.
First Google, now Foursquare. Hot on the heels of Google's first Search television ad (run during the Super Bowl, no less), the location-based social network Foursquare is gearing up to do the same thing tonight. In a tweet sent from their main Twitter account, the Foursquare team notes a "rumor" that an ad for their service will be running on Bravo tonight alongside the show Sheer Genius from 9 to 10 PM.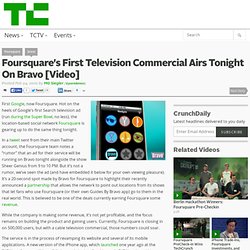 Foursquare's TVcommercial Airs Tonight
Here's an interesting idea. The recently launched service Gatsby aims to connect locals on Foursquare who share the same interests. The setup is simple.
Gatsby: Connecting Foursquare Friends Who Like Cats and Circuses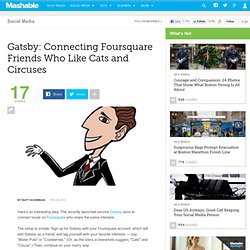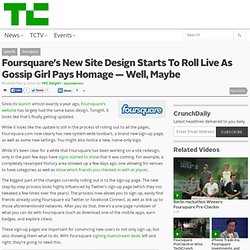 Since its launch almost exactly a year ago, Foursquare's website has largely had the same basic design. Tonight, it looks like that's finally getting updated.
Foursquare's New Site Design Starts To Roll Live As Gossip Girl
As has been made abundantly clear to me over the past two weeks, just about every location-based service is planning big things for the SXSW festival, which starts later this week in Austin, Texas.
Location History A Lot More Interestin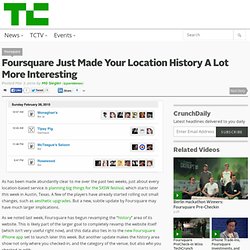 Revamped Foursquare for iPhone Hits the App Store
Raw video shows Schumacher accident route Venezuelan beauty queen shot dead Yao Ming fights ivory trade in China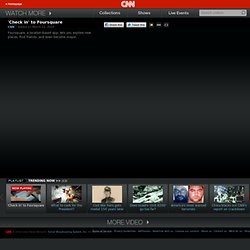 Video foursquare 11 mrt 2010
[NOTE: I've posted some recent developments at the bottom. ] I've been blatantly cheating at foursquare for the past week.
Mayor of the North Pole :playing 4square
A Private, Anti-Foursquare To Geo-Fence Those Neer To You
If you are going to launch a new location app, creating an anti-Foursquare is probably not a bad idea. About a week ago, a Qualcomm-incubated project called Neer quietly launched on the Android market, and has been downloaded more than 10,000 times since then. Neer is a free, location-sharing app designed for private sharing between family members and people with close, real-world relationships.
feest.je
feest.je (fstje) on Twitter
Is inchecken tegenwoordig een Feest.je? | Bijgespijkerd
Datum: 30-08-2010 - Categorie: Mobile, Startups - Auteur: Coen Jacobs Nadat we in het verleden al Foursquare, Gowalla en Brightkite naast elkaar hebben gelegd voor een vergelijking, is er sinds kort een nieuwe dienst gelanceerd.
Boris (Boris) on Twitter
Aldert Greydanus (aldert) on Twitter
Boris @ At The gate
Gmail is set to become Google's next major push into social media.
HUGE: Google Set to Make Gmail Social With Status Update Feature
Google To Unveil Broad New Social Product Tomorrow
Google is planning to unveil a broad new social product on Tuesday that will integrate with at least two existing Google products. Some details emerged earlier today on the Wall Street Journal ("a new feature that makes it easier and faster for users of Gmail to view media and status updates"), but our understanding is that the product goes well beyond a Gmail integration. As I wrote last night, there is still a lot of room for improvement in online social services.
Rummble
Foursquare Rummble in the Jungle, as new Android app rel
TrustedOpinions
Trusted Opinions Lets Users Become Local Area Gurus
ElectroSmog Sustainable Immobility
FixMyStreet
Cellflare.com
Fi Fondation Internet Nouvelle Génération
LaMontre Verte -TheGreenWatch Citypulse
Mscape – GetOut + Explore
HP United States - Computers, Laptops, Servers, Printers and mor
Waze: Way to go
Foursquare Badge Waze - Digits
Waze hits the road with Treasure Hunt and Foursquare support
The Game (treasure hunt)
shopkick
Did Shopkick Just Change The Check-In Game? You Be The Judge [Video]
Shopkick Teams With Best Buy To End Fake Retail Check-Ins
Project: MyWorld
Locast M.I.T.
CultureClic - Augmented Culture on mobile
Trash Track M.I.T.
La mosca ontwikkelt spannende location based games
La mosca (lamoscagames) on Twitter
Xilabs Urban games Studio
XiLabs Urban Games (XiLabs) on Twitter
Christian Nold
Emotional Cartography - Christian Nold
Pulse of the Nation: U.S. Mood Throughout the Day inferred from Twitter
Pulse of the Nation: U.S. Mood Throughout the Day inferred from Twitter
Espionage Manchester team building platf
espionagemanchester (espionagemanc) on Twitter
pachube :: connecting environments, patching the planet
La Vache qui rit
Dubious Views - Subversive Cartography
One Block Radius
Every Bus Stop In Surrey BC
Townsend Retraced
Mobile Backstage
Mobile Backstage aims to beat Facebook and MySpace for fan interaction
Mobile Backstage - Demonstration Video
Steam Republic
Mobilizing the Fan Experience – An Interview with our Creative Minister | Steam Republic
share places and events on Twitter
sciandthecity
Elli Fordyce Trio returns by popular demand
Pervasive Gaming | CreativeTourist.
Klimaatkaart - Trouw - Uitstoot - Opwarming - Duurzame Energie
iSpy | A fun new way to explore your city
LBS advert: bij Trouw
GeoDart Game
GeoDart Game Tutorial
Global map - Annex I
Foursquare Metro Newspaper Partnership
The Psychogeophysical Summit