Arduino & microcontroller projects
Get flash to fully experience Pearltrees
This tutorial shows you how to wire up an Arduino used as an ISP (programmer) to an ATtiny45 or ATtiny85.
This is the start page for my series of over fifty Arduino tutorials .
Note for Arduino 1.0 An updated version with 1.0 support is available on github . Installation instructions are at the bottom of that page. Let me know if you encounter any problems. Do you want to control your Arduino with an IR remote? Do you want to use your Arduino to control your stereo or other devices?
I am a Physicist and the nicest part of working in this field is that I get to build my own instruments. With this way of thinking, I decided to build a homebrew Arduino Oscilloscope. This instructable was written with the purpose of teaching a bit about microcontrollers and data acquisition. This is an extreme project because I wanted to squeeze out from Arduino as much velocity as I could, I have not seen any other Arduino Oscilloscope as fast as this one.
Dimensions of the Wii Motion Plus are quite similar to Arduino Pro Mini card's one. This is useful for designing a small and homogeneous card. The 2 PCBs are simply connected by four wires. Wii Motion Plus extension is powered by the regulated 5V of the Arduino Pro Mini.
When I first ordered my Arduino Experimentation Kit from those nice people at oomlout I also ordered a 16 character by 2 line LCD display. It was really easy to set up and use thanks to the instructions that came with it and the LiquidCrystal library bundled with the Arduino software. The only problem is that it takes up a lot of valuable output pins, 6 in 4bit mode and 10 in 8bit mode, this makes it difficult to use in large projects, as you can quickly run out of pins. The solution to this was quite obvious; use a shift register. So I fired up Google and had a look to see what other people had done. I found a great article on the Arduino playground ( here ) except I could figure out how to get their circuit to work with my shift register, as they use 74*LS*164 but I had a few 74HC595 registers knocking about.
Recently I worked on a project where I wanted to control a servo using an ATtiny85. I checked online for ready made code that did this but I couldn't find anything satisfactory. Not wanting to switch to a larger microcontroller I decided to write my own servo library for the ATtiny85.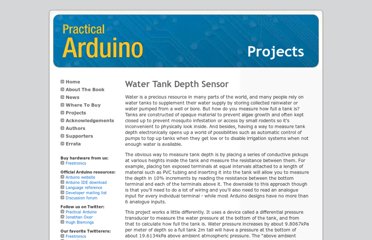 Water is a precious resource in many parts of the world, and many people rely on water tanks to supplement their water supply by storing collected rainwater or water pumped from a well or bore. But how do you measure how full a tank is? Tanks are constructed of opaque material to prevent algae growth and often kept closed up to prevent mosquito infestation or access by small rodents so it's inconvenient to physically look inside. And besides, having a way to measure tank depth electronically opens up a world of possibilities such as automatic control of pumps to top up tanks when they get low or to disable irrigation systems when not enough water is available. The obvious way to measure tank depth is by placing a series of conductive pickups at various heights inside the tank and measure the resistance between them.