Cooking Swag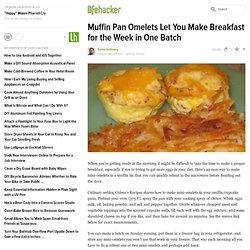 Muffin Pan Omelets Let You Make Breakfast for the Week in One Batch
When you're getting ready in the morning it might be difficult to take the time to make a proper breakfast, especially if you're trying to get more eggs in your diet. Here's an easy way to make mini-omelets in a muffin tin that you can quickly reheat in the microwave before heading out the door. Culinary weblog Coleen's Recipes shares how to make mini-omelets in your muffin/cupcake pans.
whole milk, red chile powder, unsweetened cocoa powder, dark chocolate and salt B 20 mins, 5 ingredients unsalted butter, large eggs, salt, sugar and bittersweet chocolate
Yummly | The best site for recipes, recommendations, food and cooking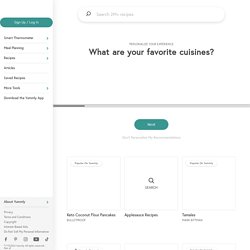 As a mother, and as someone who has an amazing mother, I feel it is my responsibility to tell you that Mother's Day is going to be here in a little over one short month. That gives you about 5 weeks or so to find the perfect gift for the person who, in addition to one million other things, may have spent her birthday in 20 hours of labor, thereby missing going out to eat for her birthday dinner at a swanky restaurant. And okay, Southern daughter, you ARE the best birthday present I ever have or will get, but there's still that 20 hours of labor thing. And so for all of you looking (as I am sure the Southern daughter is doing Right This Minute) for the perfect unusual Mother's Day gift, I am here to help! Continue Reading …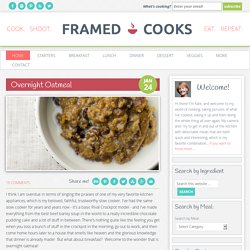 The best new recipes from Framed Cooks — punchfork.com
The Crepes of Wrath
As previously stated, I'm trying to eat better and shed some winter poundage as we head into the warmer months. So far, success. It's been four days, but whatever.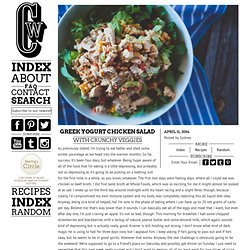 A Cozy Kitchen
I spent this past weekend in one of my favorite cities, Palm Springs. It's about an hour and half-long drive east of Los Angeles, making it the most perfect weekend getaway to Angelenos. I really really love it out there, even in the summers when the temperatures soar above a hundred. In terms of aesthetics, it doesn't get more beautiful. It's a dreamy combination of mid-century meets Moroccan meets Spanish.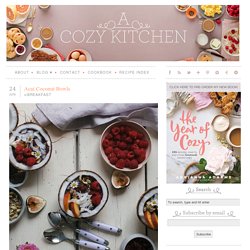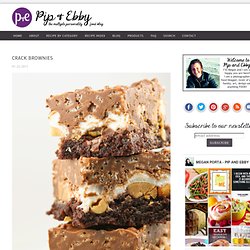 Pip & Ebby - Pip &Ebby - Crack&brownies
Have you ever tried crack? Yeah, me either. After eating these brownies, though, I feel like I would probably be less addicted to crack. I mean, how can that not be the case with brownies, peanuts, marshmallows, Reese's peanut butter cups, chocolate, peanut butter and Rice Krispies all present in a single bite?! This recipe comes from my very good Heather, and I am very grateful that she shared it! Prepare 1 package of brownie mix according to the package directions.
StillTasty: Your Ultimate Shelf Life Guide - Save Money, Eat Better, Help The Environment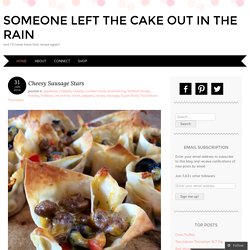 Someone Left The Cake Out In The Rain
Goodbye. Adieu. Adios. Ciao. Arrivederci. Auf Wiedersehen.
Michael Phelps Olympic Diet - Pizza and Pasta Recipes - The Daily Green
Pass the Cheese! 20 Delicious Pizza Recipes - iVillage
How do you make bread even better? You stuff it with pepperoni and cheese. Then, you bake it in a bundt pan that allows you to pull off little chunks and dip them in pizza sauce. This is the perfect thing to bring to a party (and I did, where it disappeared quickly!) or to eat during a football game. Or, make it for dinner and serve with a salad.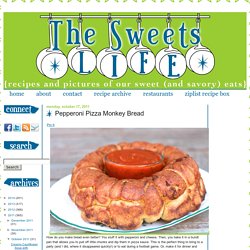 The Sweets Life: Pepperoni Pizza Monkey Bread
In the realm of Scalloped Potatoes, this recipe is the winner . . . at least in my book. It's a Family Favorite. We make these for almost every holiday dinner, and in between. When I was younger, we would devour these very quickly at the dinner table. If there were any left-overs, we would fight for them!
CREAMY CHEESY POTATOES & Get Off Your Butt and BAKE!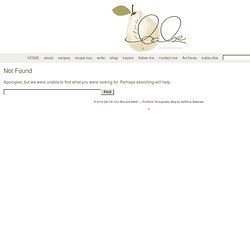 Sweet Potato Gnocchi with Gouda Cheese Sauce - StumbleUpon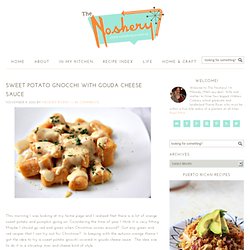 This morning I was looking at my home page and I realized that there is a lot of orange sweet potato and pumpkin going on. Considering the time of year I think it is very fitting. Maybe I should go red and green when Christmas comes around?