Artists
Tristan-Edern Vaquette. Un article de Wikipédia, l'encyclopédie libre.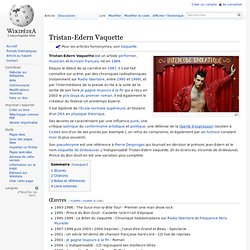 Pour les articles homonymes, voir Vaquette. Tristan-Edern Vaquette est un artiste performer, musicien et écrivain français, né en 1969. Depuis le début de sa carrière en 1987, il s'est fait connaître sur scène, par des chroniques radiophoniques (notamment sur Radio libertaire, entre 1995 et 1999), et par l'intermédiaire de la presse écrite à la suite de la sortie de son livre Je gagne toujours à la fin qui a reçu en 2003 le prix Goya du premier roman.
Il est également le créateur du festival Un printemps bizarre. BANKSY, GRAFFEUR ANARCHISTE ET CLANDESTIN, DEVIENT UNE VALEUR MONTANTE DES GALERIES LONDONIENNES. Un graphe effacé News News News.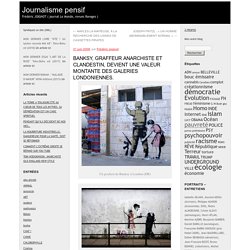 En avril dernier, le célèbre graffeur inconnu Banksy a réalisé son oeuvre urbaine la plus monumentale, "ONE NATION UNDER CCTV", "Une nation sous vidéo-surveillance" (Ci-dessus), où il dénonce l'inquiétante généralisation des caméras de surveillance dans toute l'Angleterre. Home. Jeremie Brunet 3D fractals by bib993 on Shapeways. Let me invite you to a journey at the borders of the imaginary, in a land of organic intricacies and geometrical maze.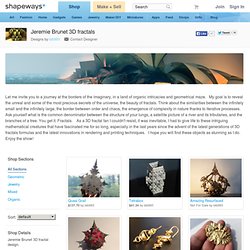 My goal is to reveal the unreal and some of the most precious secrets of the universe, the beauty of fractals. Think about the similarities between the infinitely small and the infinitely large, the border between order and chaos, the emergence of complexity in nature thanks to iterative processes. Ask yourself what is the common denominator between the structure of your lungs, a satellite picture of a river and its tributaries, and the branches of a tree. You get it. Fractals. Astronaut Don Pettit's Photos of Earth from the International Space Station. Chris Cunningham: jaqapparatus1. «Chris Marker, en mémoire» Dialector - Thoma Vuille et Louise Traon Montréal 30s d'interlude - 2006 Portrait écrit : Remo Forlani Portrait photo : Sylvie Biscioni Extrait du livre "Changement de bobines" éditions Denoël oct 1995.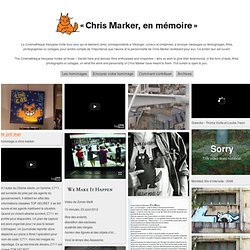 Beksinski. AntiVJ is a visual label. Tim Knowles - Art - Home page - British - Artist - London - UK. Home Info Work Windwalks.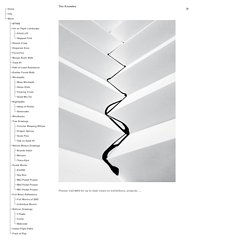 Kris Kuksi. Pep Ventosa | Photography | Daddygothisgunloaded. Pep Ventosa's work is focused on an exploration of the medium itself--deconstructing and reconstructing photographic images to create new visual experiences.
His photographs have received top honors, exhibited in the U.S., U.K., Spain, Germany, France and Switzerland. Born in 1957 in Vilafranca del Penedès (Barcelona), Spain, his lifelong passion for photography began with his first camera at the age of 10. Braun Tube Jazz Band by Wada Ei. ORIGINAL Elephant Painting. Jim Kazanjian. Manabe | Artist, Designer, Programmer, DJ, VJ, Composer. Daito Manabe Key work&activity Left Apple – Macの30年.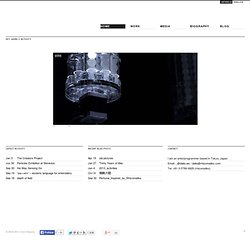 ---