Artists
Jeremie Brunet 3D fractals by bib993 on Shapeways
Astronaut Don Pettit's Photos of Earth from the International Space Station
Chris Cunningham: jaqapparatus1
«Chris Marker, en mémoire»
"123 bricollages façon dromadaire", d'après les collages de Chris Marker. Réalisé par David Sanson avec François Sarhan, Rainier Lericolais, Elisabeth Pelon. Musique : Par les douceurs du verger (featuring Lalan, Maurice Ravel, Albert Marcoeur, Henry Jacques Glaçon, Rudyard Kipling…).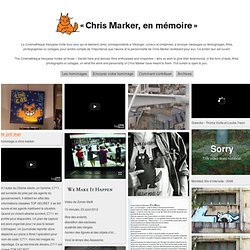 beksinski
Ryan Church
Tim Knowles - Art - Home page - British - Artist - London - UK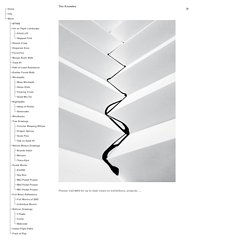 Home Info Work Windwalks
Pep Ventosa's work is focused on an exploration of the medium itself--deconstructing and reconstructing photographic images to create new visual experiences. His photographs have received top honors, exhibited in the U.S., U.K., Spain, Germany, France and Switzerland. Born in 1957 in Vilafranca del Penedès (Barcelona), Spain, his lifelong passion for photography began with his first camera at the age of 10.
Pep Ventosa | Photography | Daddygothisgunloaded
Braun Tube Jazz Band by Wada Ei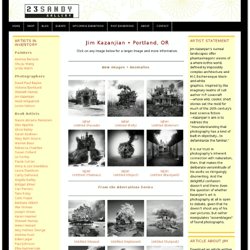 Jim Kazanjian's surreal landscapes offer phantasmagoric visions of a where-is-this world, defined by impossibly complex architecture and M.C.Escher-esque black-and-white graphics. Inspired by the imaginary realms of cult author H.P. Lovecraft—whose wild, cosmic short stories set the mold for much of the 20th century's best science fiction—Kazanjian's aim is to redress the "misunderstanding that photography has a kind of built-in objectivity…to defamiliarize the familiar." It is our trust in photography's inherent connection with naturalism, then, that makes the deliberate verisimilitude of his works so intriguingly disorienting.
Jim Kazanjian • Current Inventory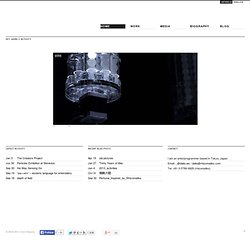 Manabe | Artist, Designer, Programmer, DJ, VJ, Composer
Daito Manabe Key work&activity Left dance + projection mapping