40 Must-See Photos From The Past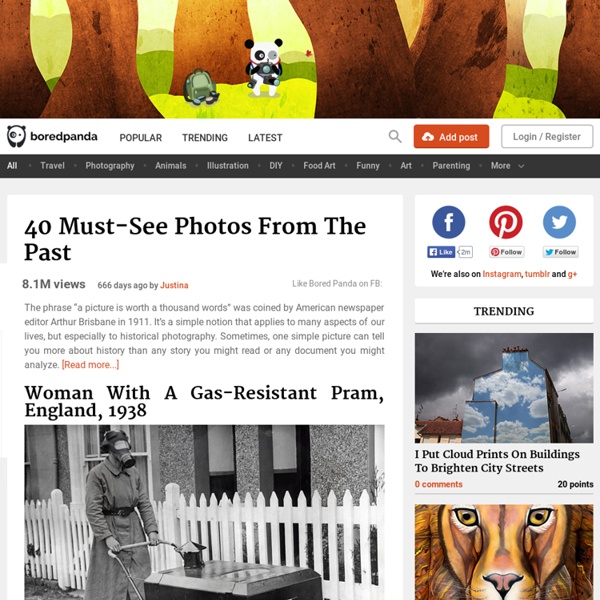 Thanks! Like us on FB for more awesome posts! The phrase "a picture is worth a thousand words" was coined by American newspaper editor Arthur Brisbane in 1911. It's a simple notion that applies to many aspects of our lives, but especially to historical photography. Sometimes, one simple picture can tell you more about history than any story you might read or any document you might analyze. These photographs all tell stories about the historical figures or events that they represent.
http://www.boredpanda.com/must-see-historic-moments/
photo/picture • FOTO III • photos • Photos vintage • pour les collegues
How People React When Complete Strangers Fall Asleep On Them On The Subway Thanks! Like us on FB for more awesome posts! Most of us are all about compassion towards our fellow man, but would you let a tired stranger rest their head on your shoulder for a quick snooze? New York-based artist George Ferrandi has put that to the test in her quirky and fun photo project "It felt like I knew you." The premise of Ferrandi's project is simple – she pretends to fall asleep on a total stranger on the NY subway system, and her associate Angela Gilland captured their reactions on her phone. 40 Of The Most Powerful Photographs Ever Taken Sisters pose for the same photo three separate times, years apart. A Russian war veteran kneels beside the tank he spent the war in, now a monument. A Romanian child hands a heart-shaped balloon to riot police during protests against austerity measures in Bucharest. Retired Philadelphia Police Captain Ray Lewis is arrested for participating in the Occupy Wall Street protests in 2011. A monk prays for an elderly man who had died suddenly while waiting for a train in Shanxi Taiyuan, China. A dog named "Leao" sits for a second consecutive day at the grave of her owner, who died in the disastrous landslides near Rio de Janiero on January 15, 2011.
Witness to war: five photographers discuss their images from Syria GORAN TOMASEVIC A Free Syrian Army sniper fires from a house in Aleppo, August 14 2012 'To me, the picture shows that in war personal belongings don't exist. There is destruction, and with the sniper looking out of the window there is no mercy. I don't know who had lived there, although I did think a lot about that. I tried to imagine a family inside the house and what they were doing. Heart-Breaking Pictures of Child Labour In USA by Lewis Hine As hard as things might seem right now for high school or university students entering the job market, it's probably nothing compared to what these kids had to go through in early 1900s America. This photo series, archived by the Library of Congress, shows what conditions were like for child laborers before child labor was largely eliminated in 1938. The photo series, taken by photographer Lewis Hine on behalf of the National Child Labor Committee, illustrates the dangers and hardships working children were subject to, especially in dangerous work where the modern safety equipment we're used to was not yet available. The kids, some as young as 4, worked in factories, mines, plantations and textile mills. Children in coal mines inhaled damaging dust daily, while those working in canneries or textile mills could lose fingers.
Correspondance entre logiciels libres et logiciels propriétaires Un article de Wikipédia, l'encyclopédie libre. Faisant suite à l'article liste de logiciels libres, cet article est une liste d'alternatives libres proposant des fonctionnalités proche de logiciels propriétaires bien établis dans leur domaine d'application. Cette liste est loin d'être exhaustive et n'a pas pour but de mettre en avant des logiciels particuliers mais seulement de présenter différents logiciels (propriétaires ou libres) dans un même domaine d'application. Présentant les logiciels disponibles sur les systèmes Windows, GNU/Linux, Mac OS et BSD, la liste est divisée en plusieurs catégories ainsi qu'en domaines d'application afin de mieux s'y retrouver. Les logiciels[modifier | modifier le code] Vous pourrez en savoir plus sur un logiciel quelconque en suivant son lien.
lifehacker If my objective was to gain Likes on Instagram, I would want to see a more detailed explanation of why blue-toned photos generate more likes. It's quite possible that users actually bestow likes based on content, not tint. For example, if people tend to like duck-face selfies taken at the beach that incidentally have a blue sky in the background, a photo of your feet next to several cartons of blueberries on a table won't necessarily be popular. 11/18/13 7:26am Rara fotografía de la bomba nuclear sobre Hiroshima tomada casi en el instante de la explosión La explosión de sendas bombas nucleares sobre las ciudades japonesas de Hiroshima y Nagasaki, en agosto de 1945, marcan uno de los momentos más importantes de la historia moderna, una suerte de tope en la escala de (auto)destrucción de la que el ser humano es capaz. Y si bien los testimonios y elaboraciones posteriores que intentan entender el suceso (destaca, por ejemplo, Hiroshima, mon amour, de Alain Resnais), en esta ocasión compartimos un documento poco conocido que pertenece al instante inmediatamente posterior a la caída de la bomba sobre Hiroshima. La imagen fue encontrada en los archivos de la escuela primaria Honkawa, localizada en Hiroshima, y captura el momento de la explosión según fue avistado en Kaitaichi a casi 10 km al este de esta ciudad y que además del momento en que fue tomada, tiene como segunda particularidad que la nube radioactiva se mira desde una perspectiva a ras del suelo.
Photos: Everyday objects that look like solar system planets. Simon Wright is a graphic designer in Australia*. He decided he needed to challenge himself to give his brain a workout, so he created what he calls his "Solar System Challenge": without using Photoshop or any additional after-effects (with the exception of Instagram), create a set of pictures of everyday objects that look like the planets in the solar system. The results are pretty cool: Image credit: Simon Wright If you go to his Facebook page where he has those shots, you can see them in more detail. Click on each one to get an explanation of what it is and which planet it is.
20 photographies édifiantes sur les conditions de travail des enfants au début du XXème siècle Les conditions de travail au début du XXème siècle étaient bien différentes d'aujourd'hui. Par ailleurs, les emplois pénibles n'étaient pas seulement réservés aux adultes mais aussi aux enfants. Lewis a réalisé une série de photographies bouleversantes montrant de jeunes américains embauchés pour des tâches très difficiles pour un très faible salaire. Ces images compilées par Lewis Hine montrent à quel point les préoccupations de nombreux gamins de l'époque étaient tout autres que la peur d'aller à l'école ou la fainéantise liée aux devoirs. Les dangers de blessure lors de l'utilisation de machines non sécurisées ou encore la poussière nocive qui saturait les mines faisaient partie de leurs petits soucis quotidiens.
La «classe inversée»: le pari d'enseigner à l'envers | Annie Mathieu | Éducation Assise devant l'ordinateur familial dans la petite pièce adjacente à la cuisine, Alyss-Ann Moisan, 11 ans, regarde la capsule du jour en mathématiques. Éric Tremblay, son professeur de sixième année de l'école Alexander-Wolff à Shannon, explique le concept d'«unité». Derrière lui, un tableau qui lui sert à donner des exemples. Rare Historical Photos Show 1910s Imperial Russia In Glorious Color Thanks! Like us on FB for more awesome posts! Given how many historical photos are video are shot in black and white, many of us can forget that the past was also in full color – we just don't get to see it. However, these photos of Russia in the beginning of the 20th century by photographer Sergey Prokudin-Gorsky give us a rare glimpse into the past in full and glorious color.
Winners of the National Geographic Photo Contest 2012 - In Focus The winners have just been announced of this year's National Geographic photo contest. The Society received more than 22,000 entries from over 150 countries. Presented here are the winners from the three categories of People, Places, and Nature, captions provided by the photographers. The Grand Prize Winner receives $10,000 and a trip to National Geographic headquarters in Washington, D.C., to participate in the annual National Geographic Photography Seminar in January 2013. Be sure to also see earlier In Focus collections of entries: Part I and Part II. [14 photos]
The Amazing Photo Manipulation Art of Erik Johansson Here's an awesome TED lecture in which digital artist Erik Johansson discusses creating realistic "photographs" of impossible scenes. Erik Johansson creates realistic photos of impossible scenes — capturing ideas, not moments. In this witty how-to, the Photoshop wizard describes the principles he uses to make these fantastical scenarios come to life, while keeping them visually plausible. Here's a sampling of his work:
Photo • WTF !! / Goodies • Bygone Days • Photos • pictures • FOTO • Photos • To Be Checked • mahua • wild and amazing • 2 • 20 • Curious • webdesigners • Photography • trevorfun • Blog • Coolness