40 Must-See Photos From The Past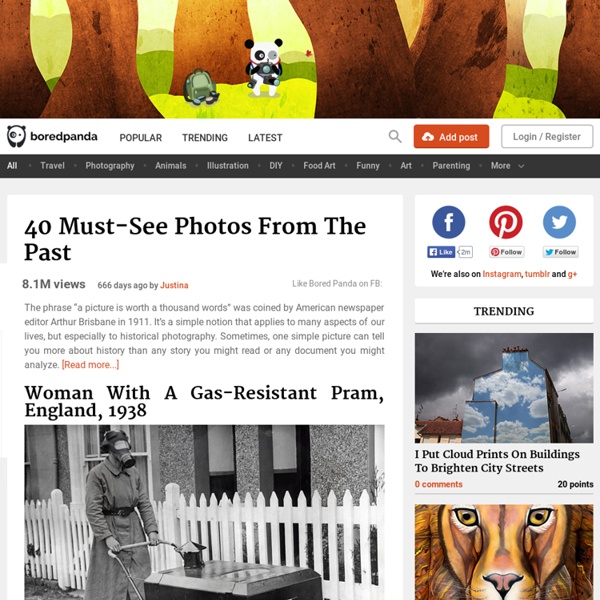 The phrase "a picture is worth a thousand words" was coined by American newspaper editor Arthur Brisbane in 1911. It's a simple notion that applies to many aspects of our lives, but especially to historical photography. Sometimes, one simple picture can tell you more about history than any story you might read or any document you might analyze. These photographs all tell stories about the historical figures or events that they represent. Once taken simply to document their present, they now help us witness the past. Many photographs only become iconic shots years later, once we understand their importance and historical context.
http://www.boredpanda.com/must-see-historic-moments/
Photos vintage • photos • photo/picture • FOTO III • Photographies historiques, rares et anciennes
Heart-Breaking Pictures of Child Labour In USA by Lewis Hine As hard as things might seem right now for high school or university students entering the job market, it's probably nothing compared to what these kids had to go through in early 1900s America. This photo series, archived by the Library of Congress, shows what conditions were like for child laborers before child labor was largely eliminated in 1938. The photo series, taken by photographer Lewis Hine on behalf of the National Child Labor Committee, illustrates the dangers and hardships working children were subject to, especially in dangerous work where the modern safety equipment we're used to was not yet available. The kids, some as young as 4, worked in factories, mines, plantations and textile mills. Children in coal mines inhaled damaging dust daily, while those working in canneries or textile mills could lose fingers.
Witness to war: five photographers discuss their images from Syria GORAN TOMASEVIC A Free Syrian Army sniper fires from a house in Aleppo, August 14 2012 'To me, the picture shows that in war personal belongings don't exist. There is destruction, and with the sniper looking out of the window there is no mercy. I don't know who had lived there, although I did think a lot about that. I tried to imagine a family inside the house and what they were doing. How People React When Complete Strangers Fall Asleep On Them On The Subway Most of us are all about compassion towards our fellow man, but would you let a tired stranger rest their head on your shoulder for a quick snooze? New York-based artist George Ferrandi has put that to the test in her quirky and fun photo project "It felt like I knew you." The premise of Ferrandi's project is simple – she pretends to fall asleep on a total stranger on the NY subway system, and her associate Angela Gilland captured their reactions on her phone. Most people were, not surprisingly, surprised. Some commuters, however, let Ferrandi snooze, while others either woke her or moved their seats.
40 Of The Most Powerful Photographs Ever Taken Sisters pose for the same photo three separate times, years apart. A Russian war veteran kneels beside the tank he spent the war in, now a monument. A Romanian child hands a heart-shaped balloon to riot police during protests against austerity measures in Bucharest. Retired Philadelphia Police Captain Ray Lewis is arrested for participating in the Occupy Wall Street protests in 2011. A monk prays for an elderly man who had died suddenly while waiting for a train in Shanxi Taiyuan, China. A dog named "Leao" sits for a second consecutive day at the grave of her owner, who died in the disastrous landslides near Rio de Janiero on January 15, 2011.
Historical photos Miss America 1924 Helen Keller Meeting Charlie Chaplin Leather gloves worn by Lincoln to Ford's Theater on the night of his assassination. Blood stains are visible at the cuffs. Phoebe Mozee (aka: Annie Oakley). National Geographic Found – 42 trésors cachés des archives de National Geographic National Geographic Found – 42 trésors cachés des archives de National Geographic Explorez les trésors cachés des archives de National Geographic grâce à "National Geographic Found", un excellent tumblr qui creuse parmi les milliers de photographies afin d'exhumer les perles rares et oubliées. Plongée fascinante dans le passé avec une petite sélection… (thx Alex!) Dummy pilot and seat soar, as engineers test a catapult escape system in Arizona, March 1963. – PHOTOGRAPH BY ROBERT SISSON, NATIONAL GEOGRAPHIC
Photos: Everyday objects that look like solar system planets. Simon Wright is a graphic designer in Australia*. He decided he needed to challenge himself to give his brain a workout, so he created what he calls his "Solar System Challenge": without using Photoshop or any additional after-effects (with the exception of Instagram), create a set of pictures of everyday objects that look like the planets in the solar system. The results are pretty cool: Image credit: Simon Wright If you go to his Facebook page where he has those shots, you can see them in more detail. Click on each one to get an explanation of what it is and which planet it is.
Rare Historical Photos Show 1910s Imperial Russia In Glorious Color Given how many historical photos are video are shot in black and white, many of us can forget that the past was also in full color – we just don't get to see it. However, these photos of Russia in the beginning of the 20th century by photographer Sergey Prokudin-Gorsky give us a rare glimpse into the past in full and glorious color. Color photography, in the way that we understand it, was not possible at the time, but it was possible to create a color image for the viewer by completing three separate photographs. Prokudin-Gorsky had to take three separate photographs of the same subject – once with a red filter over the lens, once with a green filter, and once with a blue filter (red, green, blue – RGB – is a set of color channels used by many digital images as well).
Winners of the National Geographic Photo Contest 2012 - In Focus The winners have just been announced of this year's National Geographic photo contest. The Society received more than 22,000 entries from over 150 countries. Presented here are the winners from the three categories of People, Places, and Nature, captions provided by the photographers. The Grand Prize Winner receives $10,000 and a trip to National Geographic headquarters in Washington, D.C., to participate in the annual National Geographic Photography Seminar in January 2013. Be sure to also see earlier In Focus collections of entries: Part I and Part II. [14 photos]
Historical pics Part2 (49 pics) The construction of the Hoover Dam American construction workers Last known picture of Samuel Clemens Shell-shocked WW1 soldier Historical photos (part 3) Historical photos (part 3) 'Powder Monkey' on the USS New Hampshire (1864) 'The moment a dragon is slain' Puppet Show (Paris 1963) (COLORIZED) Lt.
The Amazing Photo Manipulation Art of Erik Johansson Here's an awesome TED lecture in which digital artist Erik Johansson discusses creating realistic "photographs" of impossible scenes. Erik Johansson creates realistic photos of impossible scenes — capturing ideas, not moments. In this witty how-to, the Photoshop wizard describes the principles he uses to make these fantastical scenarios come to life, while keeping them visually plausible. Here's a sampling of his work:
New York City's Central Park from Above Russian photographer Sergey Semenov shows you the NYC Central Park the way you've never seen it before. The amazing picture that won Semenov the best amateur award from the International Pano Awards, is stitched together from a bunch of 360-degree panoramic pictures, taken from a helicopter. The interactive version below allows you to zoom in so much you can see every house around the park! sources: AirPano.com, dailymail, geekologie
Bygone Days • pictures • To Be Checked • C1 - C3 Histoire photo • Coolness • Photos • webdesigners