Guide de la prononciation en Anglais - Forvo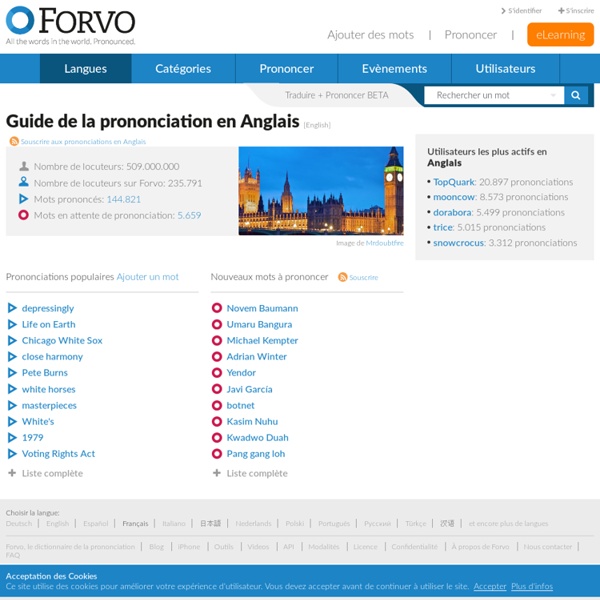 http://fr.forvo.com/languages/en/
English literature • Listening - Speaking / Ecouter - Parler • francisgernet • deirdrieu62 • B2i - C2i2e Anglais
Fahrenheit 451 Fahrenheit 451 is a dystopian novel by Ray Bradbury published in 1953. It is regarded as one of his best works.[3] The novel presents a future American society where books are outlawed and "firemen" burn any that are found.[4] The title refers to the temperature that Bradbury understood to be the autoignition point of paper.[5][6] The novel has been the subject of interpretations primarily focusing on the historical role of book burning in suppressing dissenting ideas. In a 1956 radio interview,[7] Bradbury stated that he wrote Fahrenheit 451 because of his concerns at the time (during the McCarthy era) the threat of book burning in the United States. In later years, he stated his motivation for writing the book in more general terms. The novel has won multiple awards.
LinkedIn top 7 des applications In order to make the most of your networking experience, we tested and selected for you the best LinkedIn applications. Behance is an application that enables you to showcase your creative work on your LinkedIn profile. So how does it work? Behance is an online platform where creative professionals can display and update their work in one place to broadcast it widely and efficiently. Companies explore the work and access talent on a global scale.
Free Educational Movies Our Free Educational Movies bring your student on a fun and interactive journey through the world around us. Each movie begins by introducing students to the topics that they will be learning about, and ends with an online quiz. In order to successfully complete each online video, your student must watch, and then successfully answer the quiz questions with 80% or higher accuracy. 13 fiches actions Responsabilités dans les usages du numérique (Académie d'Aix-Marseille) L'espace Responsabilités dans les usages numériques de l'Académie d'Aix-Marseille a mis en ligne début février 2014, 13 fiches actions avec conseils pour les professionnels « afin de les éclairer et les conseiller sur la mise en pratique d'usages numériques » avec des jeunes. Chaque fiche rappelle la problématique posée, délivre un constat, indique des pratiques pédagogiques possiblement mobilisables. Il est indiqué par ailleurs des préconisations et des ressources en ligne pour approfondir les thématiques présentées. Fiches partageables Ces fiches établies par le Comité Responsabilités dans les usages numériques (RUN) de l'Académie sont mis à disposition sous licence Creative Commons.
Vocabulary - Fahrenheit 451 Part I: The Hearth and the Salamander 1. Kerosene [care-oh-seen]: Colorless flammable oil (noun). a. 10 Awesome Infographics for Graphic Designers As a graphic designer, you've probably designed at least a few infographics for your clients – or even for fun. You can create (and sell) infographics for any topic or industry, which means infographics can be a lucrative source of income. Some designers make a full-time living designing infographics alone. Learn English Through Movies ESL Lessons Home of English Trough Song and English Through Movies and offer of the "Speak English Here And Now" Program. A Free Lesson is at my website. It's designed to help you learn to speak attractive English easier and faster. With this program, you can speak smartly by learning important social rules of really good English conversation. Home of English Trough Song and English Through Movies and offer of the "Speak English Here And Now" Program.
British Pathé Subscribe now to the largest archive of history on YouTube. Follow us through the 20th Century and dive into the good and the bad times of the past. Feel free to explore more than 80,000 videos of filmed history and maybe you'll find stuff no one else has ever seen. From next week on you'll get a new playlists each Monday and Thursday, a special collection of videos we've picked out for you. Get ready to travel back into the past with our host Indy. On top of that you'll get a weekly highlight video every friday!
Home :: Life and Times The "Soest" portrait. Reproduced by permission of the Shakespeare Birthplace Trust. Shakespeare's Life and Times introduces you to the world Shakespeare lived and worked in. This section of the Internet Shakespeare Editions is like a shelf of books, each of which is listed in the navigational bar beneath the page header. Each book, in turn, is divided into chapters dealing with related topics.
AnglaisFacile la compétence orthoépique - cadot Qu'est ce que c'est que cette compétence là? En fait, ce grand mot orthoépique implique que « les élèves, amenés à lire un texte préparé à haute voix ou à utiliser dans un discours des mots rencontrés pour la première fois, sous leur forme écrite, devront être capables de produire une prononciation correcte à partir de la forme écrite. Cela suppose : -la connaissance des conventions orthographique
Othello on Cambio Othello opens in the stately city of Venice, a worldwide hub for trade and commerce. The first characters introduced are Iago, an ensign denied promotion by Othello, and Roderigo, a jealous ex-suitor of Desdemona. The two are in route to describing to Senator Brabantio the elopement of Othello and Desdemona, Brabantio's daughter. Quickly revealing Iago's deceitful nature, the matter is breached to Brabantio and soon afterward brought before the Duke of Venice to be discussed. Othello and Desdemona plead their love to the Duke, refuting the Senator's claims that Othello bewitched his daughter, and that their marriage was true. After Othello claims that he wooed her with his adventurous stories, Desdemona herself testifies that she fell honestly in love with the Moor and freely married him.
WinLibre - Logiciels libres et gratuits pour Windows Historical Thesaurus :: About the Thesaurus The Historical Thesaurus of English is a unique resource charting the semantic development of the huge and varied vocabulary of English. It is the first historical thesaurus ever produced for any language, containing almost every word in English from Old English to the present day. Of major interest to historians, philologists, linguists, and the general reader, the Thesaurus is an unrivalled resource for the historical study of the language.
anglais 3-4-5-6 • prononciation