FOOOOD
Breakfast Omelet Casserole Recipe. Simple Deep Dish Pizza. Pie, pie, I made you a pie.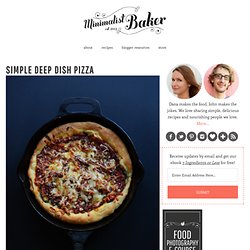 A pie on the fly. Without any ryyyeee! Sorry. Loaded Baked Potato and Buffalo Chicken Casserole. Hash Brown Wrapped Eggs. It's been hard for me to switch gears from the whole "Stuffed" concept.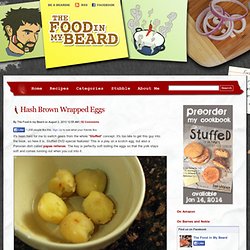 It's too late to get this guy into the book, so here it is, Stuffed DVD special features! This is a play on a scotch egg, but also a Peruvian dish called papas rellenas. The key is perfectly soft boiling the eggs so that the yolk stays soft and comes running out when you cut into it. Green Mac and Cheese. Mac and cheese is the ultimate comfort meal for Mandi and me.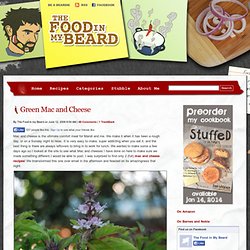 We make it when it has been a rough day, or on a Sunday night to relax. It is very easy to make, super addicting when you eat it, and the best thing is there are always leftovers to bring in to work for lunch. We wanted to make some a few days ago so I looked at the site to see what Mac and cheeses I have done on here to make sure we made something different I would be able to post. I was surprised to find only 2 (full) mac and cheese recipes! We brainstormed this one over email in the afternoon and feasted on its amazingness that night. Crash Hot Sweet Potatoes. How to To Make Your Food Taste Awesome | Easy Food.
Crash Hot Potatoes. Man, do I love Australia.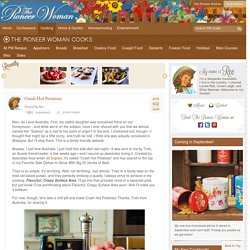 First, my oldest daughter was conceived there on our honeymoon…and while we're on the subject, have I ever shared with you that we almost named her "Sydney" as a nod to her point of origin? In the end, I chickened out, though—I thought that might be a little corny, and truth be told, I think she was actually conceived in Brisbane. But I'll stop there. This is a family-friendly website. Closet Cooking. Hasselback Garlic Cheesy Bread. Hasselback Garlic Cheesy Bread First thing: this Calphalon Giveaway ends on Friday!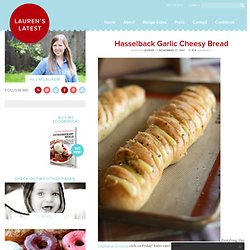 Enter enter enter! Second thing: this bread is the bomb. Last week, I got some evil Kerrygold Samples in the mail. Basically, it was a box filled with cheese and butter. Crispy Baked Spicy Pumpkin Wontons. Sadly, I haven't always been kind to pumpkins.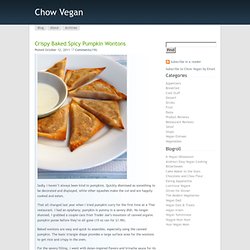 Quickly dismissed as something to be decorated and displayed, while other squashes make the cut and are happily cooked and eaten. That all changed last year when I tried pumpkin curry for the first time at a Thai restaurant. I had an epiphany; pumpkin is yummy in a savory dish. No longer shunned, I grabbed a couple cans from Trader Joe's mountain of canned organic pumpkin puree before they're all gone (15 oz can for $1.99). Chipotle Guacamole & Grilled Tortilla Chips. I'm such an avocado freak.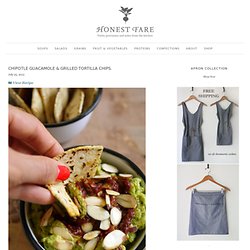 It ends up in nearly everything I eat, without even trying. And when it comes to guacamole, I'm all over it. Not-so-Dumb Salad Recipe with Cucumbers, Tomatoes, Onions, Avocado, and Balsamic Vinegar. There are a lot of salads with tomatoes and cucumbers on this blog.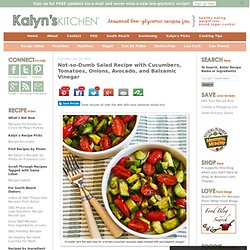 That's partly because I love tomatoes and cucumbers and grow them in my garden every year. To me that combination just screams summer, but I also eat tomatoes and cucumbers all year (whenever I can get good flavorful tomatoes and Persian cucumbers from Costco.) So when a reader from Hawaii named Lisa sent me her recipe for "dumb salad" and said it was something she made often, I was interested. Lisa discovered this combination when she was going out of town and needed to use what was on hand, and I promise you, this salad idea that combines cucumbers, tomatoes, onion, avocado, and balsamic vinegar is not dumb at all! Beef & Beer Stew with Cheese Dumplings aka The Marriage Maker. !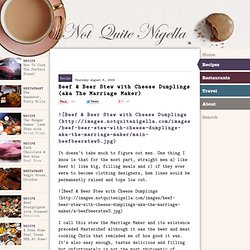 [Beef & Beer Stew with Cheese Dumplings ( It doesn't take much to figure out men. Broccoli parmesan fritters. Last week, it was pointed out to me that among the 750 recipes in the archives, there is but a single recipe that utilizes broccoli.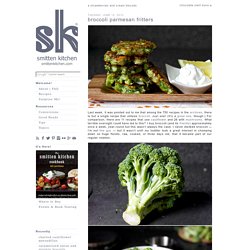 Just one! (It's a great one, though.) For comparison, there are 11 recipes that use cauliflower and 26 with mushrooms. What terrible oversight could have led to this? 24 exotic ways to eat a hot dog. Today we are celebrating our freedom, and as we know, with freedom comes options, with options comes choices, and with choices comes serious indigestion.
Keeping that in mind, here are 24 ways to eat America's favorite 4th of July snack—one for each hour of the day. 1. On a pizza ( The Snack Pot ) Ginger Fried Rice + 5-Minute Fried Egg. I know on this blog (and Twitter/Instagram) I come off as "SUPER HAPPY AND CHEERFUL AND EATING/COOKING ALL OF THE TIME." And yes, most of the time I am actually pretty stoked on life, and I do, in fact, cook a lot. But something you probably don't know about me is that I have anxiety like whoa. It's not like "nervous-nancy, annoying to be around" type anxiety. Nah. Recipe: Spicy Oven Fries. The Ultimate Sandwich Recipe: Feast your eyes on this! First things first, the CellarVie Wines team cannot lay claim to being responsible for the making of the 'Ultimate Sandwich'. This remarkable feat of culinary engineering, complete with the beautiful pictures displayed below, arrived in our inbox courtesy of an anonymous email chain on Tuesday afternoon.
Jamie Oliver would undoubtedly and perhaps quite correctly, not endorse this as a healthy meal, and it certainly isn't for the faint-hearted but we thought it was a bit of fun nonetheless. So feast your eyes on the 'Ultimate sandwich'… Spicy Buffalo Cauliflower 'Wings' Looking for a healthier (and kinder) alternative to chicken wings? Try these juicy, tangy, and spicy buffalo cauliflower "wings"! Deliciously versatile and with just enough "kick," these bite-sized pieces of cauliflower offer an eerily similar experience to eating chicken wings.
With all the flavor and none of the guilt, this is a secret-weapon recipe that every vegan cook should have in his or her kitchen. Jamaican Banana Fritters | ThatsSoYummy.com. Cucumber Dill Tea Sandwiches. Oreo Cookies-Recipe Oreo-Oreo Recipes-Cheese Cupcakes-Oreo Cheesecakes. French Onion Grilled Cheese. Deviled Eggs Recipes: 12 Twists On The Classic Party Appetizer. Camping Recipes - Easy Peach Cobbler. Honey Mustard Chicken with Bacon and Mushrooms. Potato Rings with Homemade Buttermilk Ranch. Scalloped Hasselback Potatoes. Lobster Macaroni and Cheese: Decadence Defined. Most favorited all-time. Baked Egg Boat recipe. Zucchini fritters. 100 Ways to Cook… 50 Things to Make With Bacon : Recipes and Cooking. Caramelized Onion and Bacon Tart. Kitchen Helpers. Stay hungry, my friends. Recipes. Chinese Crispy Fried Tofu with Sweet Chili Sauce Recipe.
Veg For Life — A Farm Sanctuary Campaign. Easy Tofu Cooking Tips - How to Press and Cook Tofu. Baked Parmesan Tomatoes -EW. Potato and Kale Hash,Vegan Shamrock Shake,Spicy nacho sauce for your Superbowl celebration,Double Hummus Sandwich,Use what you have on hand to make this Chickpea Curry,Healthy "caramel" dip for apples,Seaweed and Mushroom Hot Pot,Dark chocolat. Cauliflower Crust Pizza. How to Store Vegetables & Fruit Without Plastic. Avocado Mac and Cheese Recipe | Stovetop Mac and Cheese. Crispy Baked Tofu. Faken (Veggie Bacon) Recipe. Baked Zucchini Sticks and Sweet Onion Dip: that bloomin' zucchini!
Apple Pies. Cinnamon Roll Pancakes. Cinnamon Roll Waffles. Lemon-Blueberry Yogurt Loaf. Punchfork — The best new recipes from top food sites. Allrecipes.com - recipes, menus, meal ideas, food, and cooking tips.
---