FOOOOD
Breakfast Omelet Casserole Recipe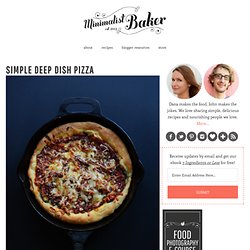 Pie, pie, I made you a pie.
Simple Deep Dish Pizza
Loaded Baked Potato and Buffalo Chicken Casserole
It's been hard for me to switch gears from the whole "Stuffed" concept.
Hash Brown Wrapped Eggs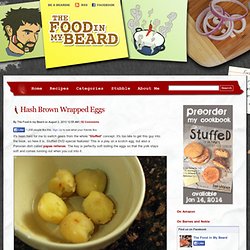 Mac and cheese is the ultimate comfort meal for Mandi and me. We make it when it has been a rough day, or on a Sunday night to relax.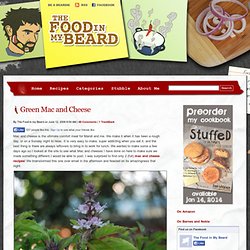 Green Mac and Cheese
Crash Hot Sweet Potatoes | dlyn
Posted by admin on Aug 19, 2012 in Food Preparation | 211 comments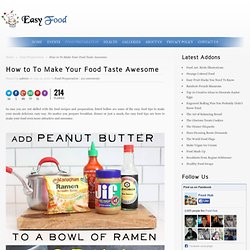 How to To Make Your Food Taste Awesome | Easy Food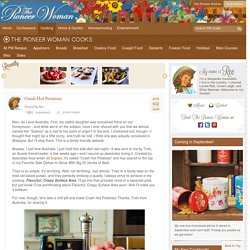 Crash Hot Potatoes
Man, do I love Australia.
Closet Cooking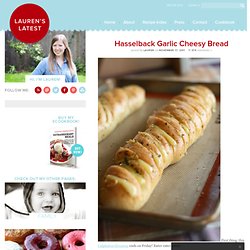 Hasselback Garlic Cheesy Bread First thing: this Calphalon Giveaway ends on Friday!
Hasselback Garlic Cheesy Bread
Sadly, I haven't always been kind to pumpkins.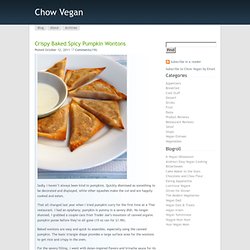 Crispy Baked Spicy Pumpkin Wontons | Chow Vegan
Chipotle Guacamole & Grilled Tortilla Chips.
I'm such an avocado freak. It ends up in nearly everything I eat, without even trying. And when it comes to guacamole, I'm all over it.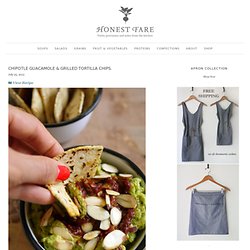 Not-so-Dumb Salad Recipe with Cucumbers, Tomatoes, Onions, Avocado, and Balsamic Vinegar
There are a lot of salads with tomatoes and cucumbers on this blog.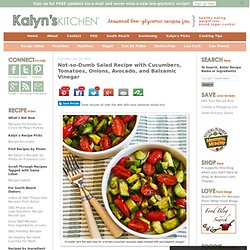 I uploaded a podcast; it's my first ever podcast (bearing in mind it's a pilot and they're bound to get better, listen to the podcast here .)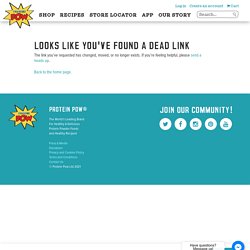 An Insanely Delicious Buried-Banana Whey Protein Banana Bread Recipe
![Beef & Beer Stew with Cheese Dumplings (http://images.notquitenigella.com/images/beef-beer-stew-with-cheese-dumplings-aka-the-marriage-maker/main-beefbeerstew5.jpg) It doesn't take much to figure out men.
Beef & Beer Stew with Cheese Dumplings aka The Marriage Maker
broccoli parmesan fritters
Last week, it was pointed out to me that among the 750 recipes in the archives, there is but a single recipe that utilizes broccoli.
Today we are celebrating our freedom, and as we know, with freedom comes options, with options comes choices, and with choices comes serious indigestion.
24 exotic ways to eat a hot dog
Ginger Fried Rice + 5-Minute Fried Egg
I know on this blog (and Twitter/Instagram) I come off as "SUPER HAPPY AND CHEERFUL AND EATING/COOKING ALL OF THE TIME."
Recipe: Spicy Oven Fries
First things first, the CellarVie Wines team cannot lay claim to being responsible for the making of the 'Ultimate Sandwich'.
The Ultimate Sandwich Recipe: Feast your eyes on this!
Spicy Buffalo Cauliflower 'Wings'
Jamaican Banana Fritters | ThatsSoYummy.com
Cucumber Dill Tea Sandwiches
Oreo Cookies-Recipe Oreo-Oreo Recipes-Cheese Cupcakes-Oreo Cheesecakes
French Onion Grilled Cheese « Go Bold with Butter
Deviled Eggs Recipes: 12 Twists On The Classic Party Appetizer
Camping Recipes - Easy Peach Cobbler
Honey Mustard Chicken with Bacon and Mushrooms
Potato Rings with Homemade Buttermilk Ranch
Scalloped Hasselback Potatoes
Lobster Macaroni and Cheese: Decadence Defined
most favorited all-time
Baked Egg Boat recipe
zucchini fritters
100 Ways to Cook…
50 Things to Make With Bacon : Recipes and Cooking
Caramelized Onion and Bacon Tart
Kitchen Helpers
Stay hungry, my friends.
recipes
Chinese Crispy Fried Tofu with Sweet Chili Sauce Recipe
Veg For Life — A Farm Sanctuary Campaign
Easy Tofu Cooking Tips - How to Press and Cook Tofu
Baked Parmesan Tomatoes -EW
Potato and Kale Hash,Vegan Shamrock Shake,Spicy nacho sauce for your Superbowl celebration,Double Hummus Sandwich,Use what you have on hand to make this Chickpea Curry,Healthy "caramel" dip for apples,Seaweed and Mushroom Hot Pot,Dark chocolat
Cauliflower Crust Pizza
How to Store Vegetables & Fruit Without Plastic | Washington's Green Grocer
Avocado Mac and Cheese Recipe | Stovetop Mac and Cheese
Crispy Baked Tofu | Chow Vegan
Faken (Veggie Bacon) Recipe
Baked Zucchini Sticks and Sweet Onion Dip: that bloomin' zucchini!
Apple Pies
Cinnamon Roll Pancakes
Cinnamon Roll Waffles
Punchfork — The best new recipes from top food sites
Allrecipes.com - recipes, menus, meal ideas, food, and cooking tips.