UFO's & Related Info
March 13, 2012 at 12:01 am EDT by in5d Alternative News Last updated on April 10, 2012 at 8:25 pm EDT by in5d Alternative News * Visit in5D Connection where you can find your soul mate or join one of our amazing groups. EVERYONE is welcome! by Gregg Prescott, M.S.www.in5d.comwww.HolisticCancerResearch.com Amazing new Mayan artifacts prove the extraterrestrial connection between the Maya and their galactic visitors, furthering the preponderance on the December 21, 2012 end date to the Long Count calendar.
Newly Discovered Artifacts Prove Mayans Had Alien Contact! | in5d.com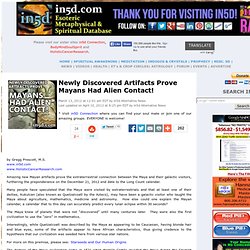 Spiricom Report 1
We present here the Original Report from George W. Meek edited for better use in the Internet. No content changes have been made. direct to Table of Contents Please paste this inside the front cover of the SPIRICOM TECHNICAL MANUAL in your possession.
UFO Home: Subversive Element.com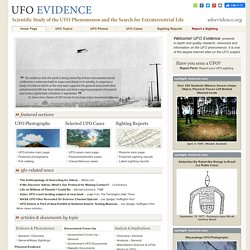 January, 5, 2000 - Columbia, Illinois, United States Passed over my Res. Viewed from bedroom window. Clearly visible, triangular and blocky shaped like a military landing craft. Seem to also recall regular red left wing running light, green right wing running light and a blue light.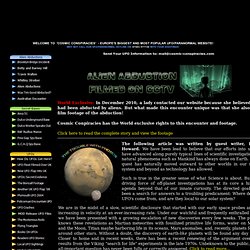 Bridget Grant looks like an ordinary housewife more at home making the school run than giving speeches at public conferences around the world. But her extraordinary experiences mean she is in big demand both here and in America. For Bridget is widely recognised in the UFO world as the Briton most visited by aliens. Cosmic Conspiracies first met Bridget in 2001 when she appeared alongside Nick Pope (former head of the UFO Desk for the Ministry Of Defence) at the 20th Leeds UFO Conference organized by the now defunct UFO Magazine (UK). In her 40 years she claims to have had at least 17 encounters with UFOs, including five up close.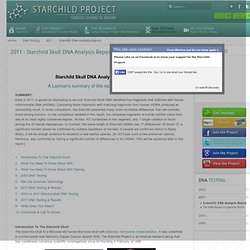 Starchild Skull DNA Analysis Report—2011 A Layman's summary of this report is available HERE SUMMARY: Early in 2011, a geneticist attempting to recover Starchild Skull DNA identified four fragments that matched with human mitochondrial DNA (mtDNA). Comparing those fragments with matching fragments from human mtDNA produced an astonishing result.
Stephenville Lights: A Comprehensive Radar and Witness Report Study Glen Schulze and Robert Powell Stephenville Lights: A Comprehensive Radar and Witness Report Study This report details the January 8, 2008 sighting in the Dublin-Stephenville area of Texas, as detailed by Glen Schulze and Robert Powell. How to Digitally Record/Video a UFO sighting: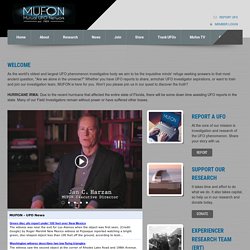 Official NICAP Web Site