The RSA - Digital Ecosystem
FRSA digital explorers commutiny Oct 28
Matthew Taylor's blog
It was more than slightly intimidating earlier this week to host an event with David Harvey, one of the world's leading Marxist thinkers. Nevertheless listening to the great man and reading his book I was reminded of why – although there are many powerful aspects of Marxist analysis – I have never been attracted by the whole world view. It comes down to human motivation: In essence Marxists tend to blame what they see as the most regrettable aspects of human behaviour on the capitalist system. So, for Harvey, capitalism relies upon and inculcates blind greed among the capitalist class (exhibited, for example, by the efforts made by the very rich to avoid their tax obligations) while fostering a combination of mob consumerism and bovine acquiescence among most of the rest of us. Conversely, Harvey's happy, enlightened post capitalist society seems to rely upon the emergence or a much more benign human psychology.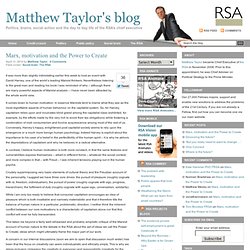 #RSABeyondGDPOur politicians are hung up on keeping the growth curve rising. But does GDP really tell us all we need to know about a country's wealth and well-being? In this new RSA Short, Kate Raworth makes a powerful argument to look beyond economic growth alone for a true measure of prosperity and progress. Kate Raworth is a renegade economist teaching at Oxford University, and is focused on the rewriting of economics to make it a fit tool for addressing the 21st century's social and ecological challenges.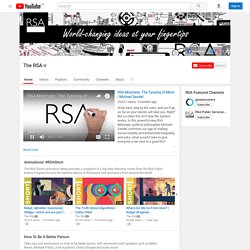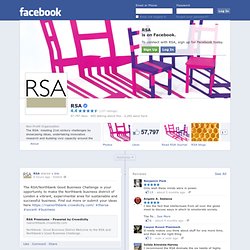 -- Change the world with a cup of coffee… back this workspace in Manchester -- Many of us rely on our morning cup of coffee to get us through the day, but how many of us have envisaged coffee as being the tool with which to change the world? Future Artists are proposing to do just that, as they embark on a campaign to shoulder-barge their way between the market dominating chains and onto the city centre's high streets to bring us a coffee shop with a real difference. You c...an back 'The Home of Honest Coffee' here: bitly.com/rsacrowdfunding
RSA - Facebook
Royal Society of Arts, London The Royal Society for the encouragement of Arts, Manufactures and Commerce (RSA) is a British organisation committed to finding practical solutions to today's social challenges.[1] Based in London, it is usually known as the RSA or Royal Society of Arts for brevity (including on the building's frieze — see photograph). The Society was founded in 1754, was granted a Royal Charter in 1847,[2] and the right to use the term Royal in its name by King Edward VII in 1908.
RSA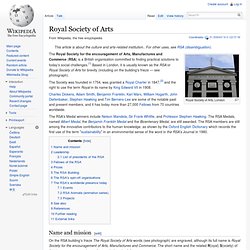 Projects
rsaacademy
2020 PSH | 2020 Public Services Hub
Past Projects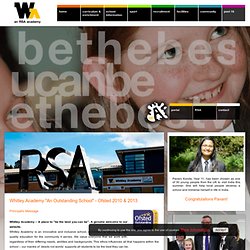 Our aim is to ensure each child develops into a responsible young adult with high self-esteem, excellent examination grades and the skills and competencies to equip them for success into the future. As an independent school our expectations are high, attendance, punctuality, behaviour, uniform and attitude to learning should be excellent. In return Whitley Academy provides a safe stimulating environment with high quality teaching designed to ensure motived and effective learners.
Whitley Abbey Community School, a Business and Enterprise College, Abbey Road, Coventry, UK – Home
Whole Education - Introduction - Who we are
Whole Education is a partnership of like-minded schools, organisations and individuals that believe that all young people should have a fully rounded education, developing the knowledge, skills and qualities needed to help them thrive in life and work. Education should be much more than examination syllabuses, national tests or the national curriculum so Whole Education encourages everyone involved in education to look outside the narrow confines of these externally imposed constraints. The government is giving schools new curriculum freedoms. Now is the time to re-think the curriculum and ensure that all young people have access to the right blend of knowledge and skills. If you agree with us about the purpose of education then why not join us? Explore our website; if you're a school - find out about becoming a Pathfinder school, see our partner organisations' exciting projects and meet people who share your views at our range of events.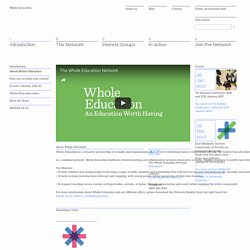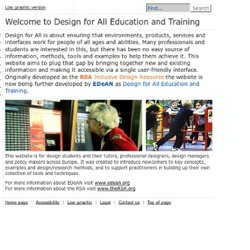 Design for All is about ensuring that environments, products, services and interfaces work for people of all ages and abilities. Many professionals and students are interested in this, but there has been no easy source of information, methods, tools and examples to help them achieve it. This website aims to plug that gap by bringing together new and existing information and making it accessible via a single user-friendly interface.
EDeAN - Design for All - Welcome to Design for All Education and Training
Environment Awards
RSA Fellowship Social Network - Social Network for RSA Fellows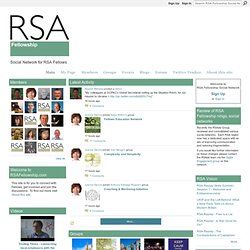 Britain's Moral Crisis, and How We Can Fix It Leading political philosopher David Marquand argues that money, greed and selfishness have taken over our society. Can our moral economy be fixed? The Self is Not an Illusion Is there anything more to the self than brain cells and processes? Mary Midgley, one of Britain's most respected moral philosophers, and writer and comedian Rob Newman discuss the implications of the scientific materialism that equates self with brain.
Royal Society for the encouragement of Arts, Manufactures and Commerce
William Shipley Group for RSA History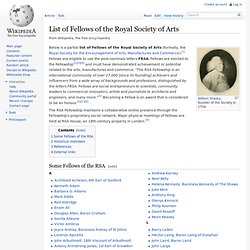 Below is a partial list of Fellows of the Royal Society of Arts (formally, the Royal Society for the Encouragement of Arts, Manufactures and Commerce).[1] Fellows are eligible to use the post-nominals letters FRSA. Fellows are elected to the Fellowship[2][3][4] and must have demonstrated achievement or potential related to the arts, manufactures and commerce. "The RSA Fellowship is an international community of over 27,000 [since its founding] achievers and influencers from a wide array of backgrounds and professions, distinguished by the letters FRSA. Fellows are social entrepreneurs to scientists, community leaders to commercial innovators, artists and journalists to architects and engineers, and many more
List of FRSA
#FRSA twitter list
#FRSA daily news