The RSA - Digital Ecosystem
FRSA digital explorers
The RSA. Matthew Taylor's blog. TheRSAorg's Channel. RSA - Facebook. RSA. Royal Society of Arts, London The Royal Society for the encouragement of Arts, Manufactures and Commerce (RSA) is a British organisation committed to finding practical solutions to today's social challenges.[1] Based in London, it is usually known as the RSA or Royal Society of Arts for brevity (including on the building's frieze — see photograph).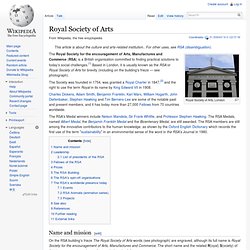 The Society was founded in 1754, was granted a Royal Charter in 1847,[2] and the right to use the term Royal in its name by King Edward VII in 1908. Projects. Rsaacademy. 2020 PSH | 2020 Public Services Hub. Past Projects. Whitley Abbey Community School, a Business and Enterprise College, Abbey Road, Coventry, UK – Home. Whole Education - Introduction - Who we are. EDeAN - Design for All - Welcome to Design for All Education and Training. Environment Awards. RSA Fellowship Social Network - Social Network for RSA Fellows. Royal Society for the encouragement of Arts, Manufactures and Commerce. William Shipley Group for RSA History. List of FRSA. Below is a partial list of Fellows of the Royal Society of Arts (formally, the Royal Society for the Encouragement of Arts, Manufactures and Commerce).[1] Fellows are eligible to use the post-nominals letters FRSA.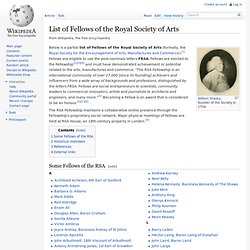 Fellows are elected to the Fellowship[2][3][4] and must have demonstrated achievement or potential related to the arts, manufactures and commerce. "The RSA Fellowship is an international community of over 27,000 [since its founding] achievers and influencers from a wide array of backgrounds and professions, distinguished by the letters FRSA. Fellows are social entrepreneurs to scientists, community leaders to commercial innovators, artists and journalists to architects and engineers, and many more. #FRSA twitter list. #FRSA daily news.
---