Web Ecosystem
Rocket Internet. First Instance of iOS App Store Malware Detected, Removed | Gadget Lab. The iOS App Store has been malware-free for five years.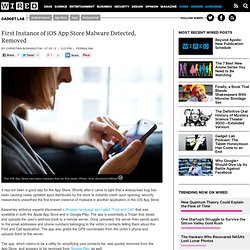 Photo: Ariel Zambelich/Wired It has not been a good day for the App Store. Shortly after it came to light that a widespread bug has been causing newly updated apps distributed by the store to instantly crash upon opening, security researchers unearthed the first known instance of malware in another application in the iOS App Store. Kaspersky antivirus experts discovered a Russian-language app called "Find and Call" that was available in both the Apple App Store and in Google Play. Curation: How the Global Brain Evolves | Underwire. By Eliot Van Buskirk, Evolver.fm "Those who can, do.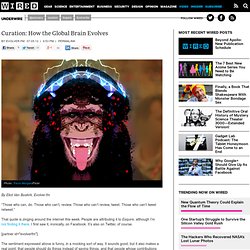 Those who can't, review. KPCB Internet Trends 2012.
Locaux. Internet 2011 in numbers. Posted in Tech blog on January 17th, 2012 by Pingdom So what happened with the Internet in 2011?
How many email accounts were there in the world in 2011? How many websites? How much did the most expensive domain name cost? Welcome To The Future Of Media [IGNITION DECK] Last week, we hosted our IGNITION: Future of Media conference in New York.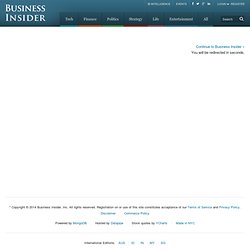 To kick off the conference, our BI Intelligence team--Pascal-Emmanuel Gobry, Eleanor Miller, Alex Cocotas, and I--put together a deck on the current trends in the digital media business. We looked closely at advertising, access, and content. You can flip through the deck below (click on the link). (BI Intelligence, by the way, is a new industry research service for executives and investors. We're launching it soon, and we hope you'll all become members. The Future Of Mobile [DECK] Free Web. Investing In The Cultural Revolution. In a talk with Erick Schonfeld at Disrupt a couple weeks ago, we talked about what is coming next for the Internet.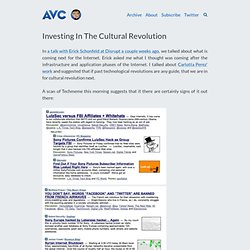 Erick asked me what I thought was coming after the infrastructure and application phases of the Internet. I talked about Carlotta Perez' work and suggested that if past technological revolutions are any guide, that we are in for cultural revolution next. A scan of Techmeme this morning suggests that it there are certainly signs of it out there: The Internet is not controlled by anyone or anything. It is a highly distributed global network that has at its core the concepts of free speech and individual liberty. Mary Meeker's annual Internet Trends report. Top 10 Mobile Internet Trends (Feb 2011) Internet Trends 2010 by Morgan Stanley Research. Internet, c'est quoi ?
Internet, c'est quoi ?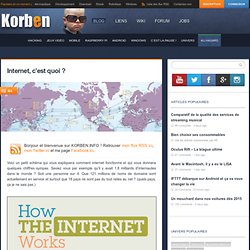 Voici un petit schéma qui vous expliquera comment internet fonctionne et qui vous donnera quelques chiffres sympas. Saviez vous par exemple qu'il y avait 1,8 milliards d'internautes dans le monde ? Soit une personne sur 4. Que 121 millions de noms de domaine sont actuellement en service et surtout que 18 pays ne sont pas du tout reliés au net ? The Business of Big Data - IA Ventures. iPad & iPhone apps.
Learning from Facebook. Learning from Google. Learning from others failures. Apple vs Google war. Web thinking. Architecture & ecosystem. LAUNCH - Techcrunch50 2009. Web Watch.
Europe wide web
San Francisco vs Nyc. Réseaux sociaux. Pq je suis pas né 10 ans plus tot...? :) Web & economy. Dark web. Identity Wars: Google & Yahoo! Bow to Facebook & Twitter.
Yahoo!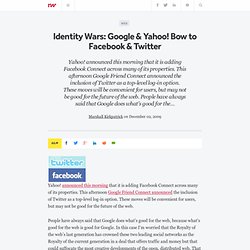 Announced this morning that it is adding Facebook Connect across many of its properties. This afternoon Google Friend Connect announced the inclusion of Twitter as a top-level log-in option. These moves will be convenient for users, but may not be good for the future of the web. People have always said that Google does what's good for the web, because what's good for the web is good for Google.
E commerce
---