Light Based Projects
Get flash to fully experience Pearltrees
Before we dive in, let's take a look at the anatomy of a Wiremap. The diagram below is a bird's eye view of a projector throwing it's light. In regular situations, the projector hits a surface at a given distance.
You can find such lasers at price ranges from $10000 to $10000000. Please, I don't guarantee that all 10000 terahertz lasers will be enough, but THAT, is where you come in. Find the correct laser.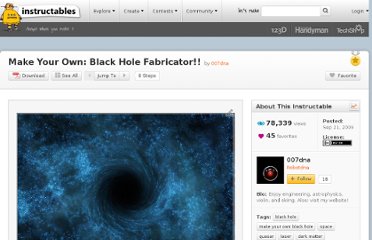 This project recreates Faraday's 1845 experiment that revealed the fundamental nature of light: electromagnetic waves. History: • In 1845, Michael Faraday used a powerful electromagnet to rotate the polarization of a beam of light, unifying electromagnetic force with light in one of the most elegant and seminal experiments ever.
Although we've long seen LEDs glow, we haven't always known why it happens Crystal Method Large silicon carbide crystals like this (sometimes available for sale on eBay) grow inside blast furnaces from a combination of the silica lining and the carbon in the coke that fires the furnace. Mike Walker Editor's note: A big congratulations today to Theo Gray, whose Gray Matter column was nominated for a 2010 ASME award in the Columns and Commentary category.
Edit Edited by Alecander, Ben Rubenstein, Nicole Willson, Krystle and 36 others It's easier to make a 3D hologram than you think. In fact, each year thousands of hobbyists, students, and teachers make holograms at home and school.
The word hologram comes from Greek, with holos meaning whole and graphe meaning writing. A hologram is an advanced form of photography that allows an image to be recorded in three dimensions, in fact a recording of an interference pattern made by the interaction of two beams of light. If two stones are dropped into water, waves radiate from the points of impact. Where the two sets of waves meet, the waves appear to pass through each other; however, where a crest of one wave coincides with a crest of the other wave, an extra high crest will form. Similarly, two troughs coinciding will form an extra low trough. A crest and a trough meeting will cancel each other out.
"Everything should be made as simple as possible, but not simpler" - Albert Einstein We attempt to follow this dictum so you can make holograms easily. The procedures we propose herein are as simple as it is physically possible. In the process, we make holography not only as simple as possible, but safer, less expensive, and more accessible to young people. Most of the essential items described in this article can be found in Integraf's holography kits or are available separately. The kits provide materials for you to make many kinds of holograms, including reflection holograms and transmission holograms . The figure below shows a Class IIIa diode laser with an output of 3 to 4 mW when operated by 3.0 v dc.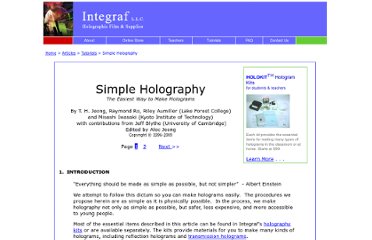 Two photographs of a single hologram taken from different viewpoints Holography is a technique which enables three-dimensional images to be made. It involves the use of a laser , interference , diffraction , light intensity recording and suitable illumination of the recording. The image changes as the position and orientation of the viewing system changes in exactly the same way as if the object were still present, thus making the image appear three-dimensional . The holographic recording itself is not an image; it consists of an apparently random structure of either varying intensity, density or profile.