African Tensions & conflicts
Welcome to the New Age of Military Intervention in Africa — War is Boring. Last week, Uganda's president Yoweri Museveni acknowledged that thousands of Ugandan soldiers are fighting on the side of the government in South Sudan's civil war.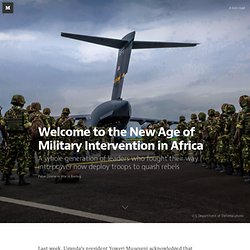 Ugandan soldiers are also fighting in Somalia against the extremist group Al Shabab, alongside troops from Kenya, Ethiopia and Burundi. The U.S. Air Force recently airlifted Burundian and Rwandan soldiers to take part in peacekeeping efforts in the Central African Republic. Other African peacekeepers and expeditionary forces are engaged in combat missions in Mali and the Democratic Republic of the Congo, among other war zones.
US Military Operations Growing In Africa. President Obama's announcement that United States has deployed 80 troops to Chad came as a surprise to many.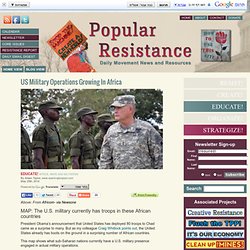 But as my colleague Craig Whitlock points out, the United States already has boots on the ground in a surprising number of African countries. This map shows what sub-Saharan nations currently have a U.S. military presence engaged in actual military operations. Washington's Back-to-the-Future Military Policies in Africa—Colonialism 2.0? March 13, 2014 | To stay on top of important articles like these, sign up to receive the latest updates from TomDispatch.com here.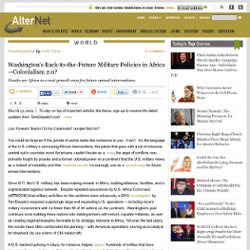 Lion Forward Teams? Echo Casemate? Juniper Micron? Djibouti a growing hub for clandestine US combat operations. Islamist rebels vow assault on Malian capital if international forces attack | World news. Islamist rebels will attack Mali's capital city if international military intervention is launched to regain control of the country's north, a senior member of an insurgent group closely linked to al-Qaida has told the Guardian .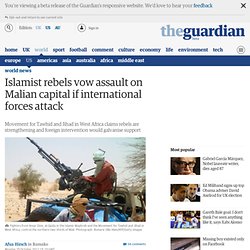 Oumar Ould Hamaha, head of security for the Movement for Tawhid and Jihad in West Africa (Mujao) claimed that rebels have recruited thousands of new fighters and warned that intervention would galvanise the international jihadist movement. "If an international or Malian military force attacks us, we will take Bamako in 24 hours," Hamaha said in a telephone interview. "The international community is slow to strike because it knows that if it does, it will spark a worldwide jihad. "Plans for a military intervention do not diminish in any way our determination to promote jihad," Hamaha added. Emeutes à Mombasa : Nairobi met en garde contre une "guerre de religions" Une attaque à la grenade contre un camion de police à Mombasa, grande ville côtière en proie à des émeutes depuis lundi, a fait un mort et quatre blessés, ont indiqué mercredi 29 août des responsables kenyans.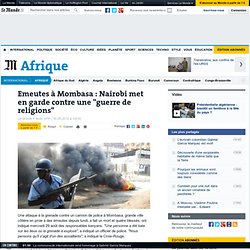 "Une personne a été tuée sur les lieux où la grenade a explosé", a indiqué un officier de police. "Nous pensons qu'il s'agit d'un des assaillants", a indiqué la Croix-Rouge. Le bilan des émeutes était jusque là de quatre personnes, deux policiers qui ont succombé à leurs blessures dans la nuit de mardi à mercredi, et un civil retrouvé mort dès le premier jour des violences lundi. White House widens covert war in North Africa. The damage inside the burnt U.S.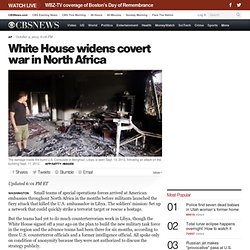 Consulate in Benghazi, Libya, is seen Sept. 13, 2012, following an attack on the building Sept. 11, 2012. AFP/Getty Images Updated 6:01 PM ET WASHINGTON Small teams of special operations forces arrived at American embassies throughout North Africa in the months before militants launched the fiery attack that killed the U.S. ambassador in Libya.
African paradigm shift. US spy network in Africa. Chinese in Africa. Border battles threaten the new Sudans. 15 November 2011Last updated at 13:06 By James Copnall BBC News, Bentiu, South Sudan The steady, low drone of the Antonov over their temporary shelters sent the refugees running - and announced a dangerous new phase in Sudan-South Sudan relations.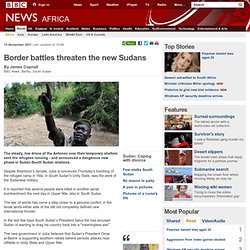 Despite Khartoum's denials, Juba is convinced Thursday's bombing of the refugee camp in Yida, in South Sudan's Unity State, was the work of the Sudanese military. It is reported that several people were killed in another aerial bombardment the next day in Upper Nile, also in South Sudan. The war of words has come a step closer to a genuine conflict, in the tense lands either side of the still not completely defined new international frontier.
Libyan Uprising
Chinese Navy Missile ship around Libya - mediterranean sea. Lybian Civil War. Obama sends military advisers to fight Africa rebels - World news - Africa. Reports: U.S. Military to Help Fight Nigerian Terrorists | Danger Room. The Pentagon's shadow war in Africa could have a new front, if reports coming out of Nigeria are accurate.
U.S. troops are headed to Nigeria to help local forces do battle with Boko Haram , an Islamic terror group that has killed up to 400 people this year in an escalating campaign of bombings and shootings. At least that's what Nigerian military sources tell Scott Morgan , a journalist based in Washington, D.C. who writes under the pseudonym "Confused Eagle." The Guardian also has the story . U.S. officials have refused to confirm the deployment. However, a new U.S. assistance mission would be consistent with steadily increasing Pentagon involvement in a wide range of African conflicts.
Kenyan troops push into Somalia.
Liberian civil war
---