University College's corporate sponsors
15 januari 2013 - The greater the parents' financial support, the lower their offspring's' grades. New research by Laura Hamilton counters the 'more is more'-theory. In the recent study "More Is More or More Is Less?"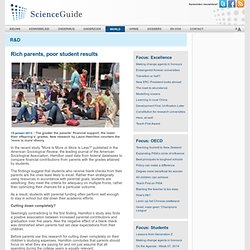 scienceguide: Rich parents, poor student results
DUB: Grote verschillen in kosten university colleges | Afbeelding
Deze website gebruikt cookies om informatie op uw computer op te slaan. Sommige cookies op deze website zijn van essentieel belang voor de werking ervan.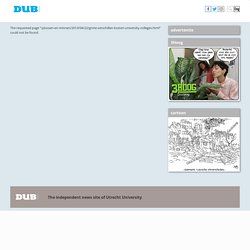 krek
AUC - Amsterdam University College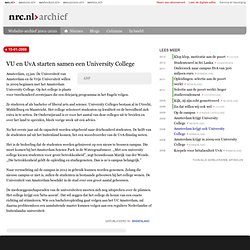 NRC: VU en UvA starten samen een University College
Amsterdam, 15 jan.
UCU - UniversityCollege Utrecht
EUC: Erasmus University College
Atlas - University College UTwente
UCM - University College Maastricht
LUC - Leiden University College
UVC - University College Venlo
UCG - University College Groningen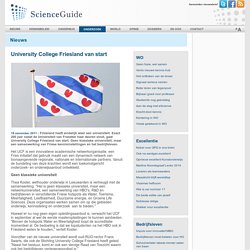 University College Friesland van start
18 november 2011 - Friesland heeft eindelijk weer een universiteit. Exact 200 jaar nadat de Universiteit van Franeker haar deuren sloot, gaat University College Friesland van start. Geen klassieke universiteit, maar een samenwerking van Friese kennisinstellingen en het bedrijfsleven.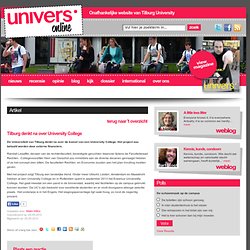 Univers: *Tilburg denkt na over University College
De Universiteit van Tilburg denkt na over de komst van een University College. Het project zou betaald worden door externe financiers.
University College in kloostercomplex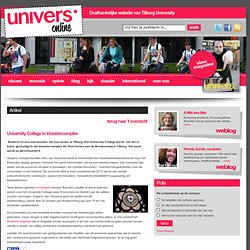 Studeren in een oud klooster, het kan straks in Tilburg.
Univers: UPDATE: Wel of geen University College
Komt er nu een University College of komt dat er niet? Het lijkt er steeds meer op dat de plannen van de baan zijn of, op zijn minst, minder vergevorderd dan eerst werd gedacht.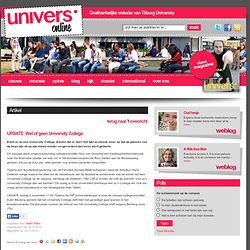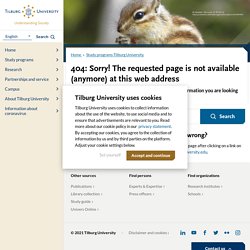 BA Liberal Arts and Sciences
Designed for ambitious, globally-minded students from all around the world, the Liberal Arts and Sciences program offers the unique opportunity to attain a specialized qualification in one of four Majors, combined with a broad and interdisciplinary liberal arts education.
Managing for a sustainable World - Windesheim Honours College
HBO 'college' van start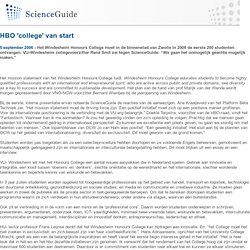 5 september 2006 - Het Windesheim Honours College moet in de binnenstad van Zwolle in 2008 de eerste 200 studenten ontvangen.
Introducing Liberal Education to a Dutch University of Technology: Jennifer Herek at TEDxLawrenceU
In the Netherlands, the growth of liberal arts colleges has influenced the higher ed sector as a whole
The traditionally American liberal arts model continues to gain popularity around the globe, but perhaps nowhere has it become so well-established so quickly as in the Netherlands.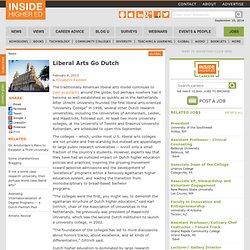 England hails Dutch HE dream
13 maart 2012 - British media discover the Netherlands as education hotspot across the Channel.
NRC: 1-06-2004 Solliciteren om te mogen studeren
Selectie van studenten is omstreden, maar wordt binnenkort wettelijk mogelijk. Op de nieuwe universiteit van Middelburg wordt er al volop mee gewerkt. ,,Saaie jongen, niet geschikt.''
VK: 18/06/04 Crèche voor rijkeluiskinderen
Elitair en weinig wetenschappelijk. Zo betitelde Ronald Plasterk als columnist van de Volkskrant ooit het Utrechtse University College.
'Plasterk-effect' levert UCU-studente prijs op
Dutch pioneering in Liberal Arts
19 januari 2012 - With Erasmus University, another major Dutch institute sets up a University College. No other European country has pushed Liberal Arts as decisively. Hans Adriaansens, pioneer in this field, has now retired from Roosevelt Academy and will be wished farewell in a ceremony next week.
15 juli 2008 - Fysicus Hans van Himbergen vertrekt als decaan van het University College Utrecht (UCU). Zijn voorganger Hans Adriaansens was de pionier, Van Himbergen zorgde voor continuïteit. Bij de meest recente accreditatie kwam het UCU als eerste opleiding in Nederland als excellent uit de bus.
'Na pionieren heb je Ausdauer nodig'
"beurzen die betaald worden door de overige studenten" by notpicnic May 31
How to build an elite research university
Wonen op campus University College
Revealed: State Colleges Giving Wealthy Kids More Financial Aid Than Poor Kids