3.4.1. Credit, Corporate & Country Rating
Riskergy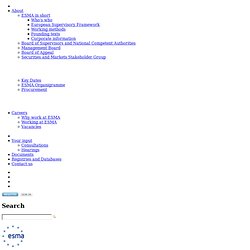 The credit rating agencies listed below have been registered or certified in accordance with Regulation (EC) No 1060/2009 of the European Parliament and of the Council of 16 September 2009 on credit rating agencies (the Credit Rating Agencies Regulation). The list is published by ESMA in accordance with Article 18(3) of the Credit Rating Agencies Regulation and is updated within five working days of adoption of a registration or certification decision. The European Commission republishes the list in the Official Journal of the European Union within 30 days of any update. There may therefore be differences between the list published by ESMA and the list available in the Official Journal during that period.
List of registered and certified CRA's | Esma
Esma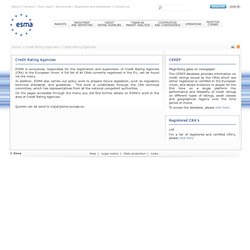 ESMA is exclusively responsible for the registration and supervision of Credit Rating Agencies in the European Union. A full list of all CRA's currently registered in the EU, can be found via the menu. In addition, ESMA also carries out policy work to prepare future legislation, such as regulatory technical standards, and guidelines. This work is undertaken through the CRA technical committee, which has representatives from all the national competent authorities.
DBRS
Carte des notations pays par Coface
Egan-Jones
Moody's Analytics