3.4.1. Credit, Corporate & Country Rating
Spread Research
Preface (online)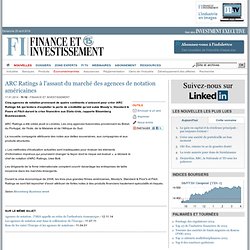 ARC Ratings
17.01.2014 - 11:12 - Finance et Investissement Cinq agences de notation provenant de quatre continents s'unissent pour créer ARC Ratings SA qui tentera d'exploiter la perte de crédibilité qu'ont subie Moody's, Standard & Poors et Fitch durant la crise financière aux Etats-Unis, rapporte Bloomberg Businessweek. ARC Ratings a été créée jeudi à Londres. Les cinq agences fusionnées proviennent du Brésil, du Portugal, de l'Inde, de la Malaisie et de l'Afrique du Sud. La nouvelle compagnie attribuera des notes aux dettes souveraines, aux compagnies et aux produits structurés.« Les méthodes d'évaluation actuelles sont inadéquates pour évaluer les éléments d'information imprévus qui pourraient changer la façon dont le risque est évalué », a déclaré le chef de notation d'ARC Ratings, Uwe Bott.
Riskergy
RISKERGY develops a ground-breaking rating methodology to assess sovereign credit risks. It relies on macro-economic modeling as a predictive tool and integrates energy resilience. RISKERGY integrates energy resilience as one of the main factors impacting wealth production. It will translate energy risks into financial risks and allow for a better anticipation of energy constraints and shocks. Our consortium gathers firms with an expertise in financial and energy markets as well as laboratories which have an international track-record in macro-economic modeling, market risk analysis and financial regulation.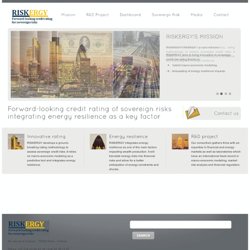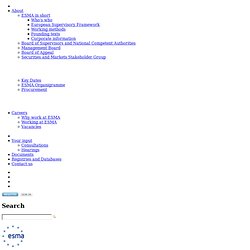 The credit rating agencies listed below have been registered or certified in accordance with Regulation (EC) No 1060/2009 of the European Parliament and of the Council of 16 September 2009 on credit rating agencies (the Credit Rating Agencies Regulation). The list is published by ESMA in accordance with Article 18(3) of the Credit Rating Agencies Regulation and is updated within five working days of adoption of a registration or certification decision. The European Commission republishes the list in the Official Journal of the European Union within 30 days of any update. There may therefore be differences between the list published by ESMA and the list available in the Official Journal during that period.
List of registered and certified CRA's | Esma
Esma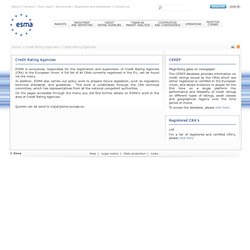 ESMA is exclusively responsible for the registration and supervision of Credit Rating Agencies in the European Union. A full list of all CRA's currently registered in the EU, can be found via the menu. In addition, ESMA also carries out policy work to prepare future legislation, such as regulatory technical standards, and guidelines. This work is undertaken through the CRA technical committee, which has representatives from all the national competent authorities.
DBRS
Début janvier, Cofacerating devient Elliscore. Un nouvel accueil est proposé aux clients, la partie « abonnés » restera identique. Pour autant, les prestations globales, les produits, les fonctionnalités et les contrats restent identiques sur la partie Information d'entreprises. Seuls les termes à connotation « cofacienne » (tels que @rating) ont été remplacés au fur et à mesure depuis quelques mois afin de s'approprier des noms de produits propres à Ellisphere :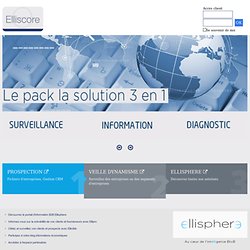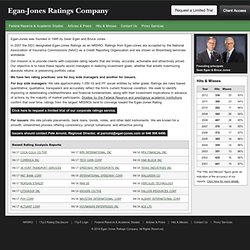 We are very proud of our history of highly accurate corporate ratings and their contribution to preservation of portfolio value and incremental returns. Egan-Jones Ratings is an independent ratings firm and not paid by corporations issuing bonds. Our only mission is to assist our buy-side institutional clients through accurate, risk averse, market sensitive credit ratings with predictive value. Clients will take care of the rest.
Egan-Jones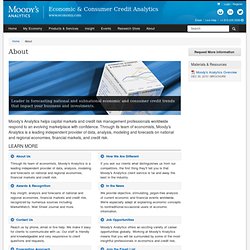 Economic & Consumer Credit Analytics Moody's Analytics helps capital markets and credit risk management professionals worldwide respond to an evolving marketplace with confidence. Through its team of economists, Moody's Analytics is a leading independent provider of data, analysis, modeling and forecasts on national and regional economies, financial markets, and credit risk. Download our overview brochure. Moody's Analytics tracks and analyzes trends in consumer credit and spending, output and income, mortgage activity, population, central bank behavior, and prices.
Moody's Analytics