Corporate Loopholes, Fraud and Tax Evasion
Inside the SC Johnson vs. David Cay Johnston dispute on corporate taxes. By Dave Umhoefer Published on Sunday, September 11th, 2011 at 10:00 p.m.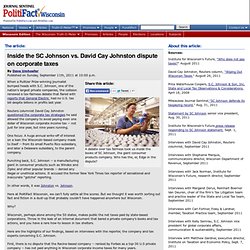 When a Pulitzer Prize-winning journalist bumped heads with S.C. Johnson, one of the nation's largest private companies, the collision renewed a tax-fairness debate that flared with reports that General Electric had no U.S. tax bill despite billions in profits last year. An Investment Manager's View on the Top 1% This article was written by an investment manager who works with very wealthy clients. him from decades ago, but in 2011 he e-mailed me with some concerns he had about what was happening with the economy.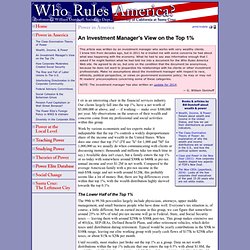 What he had to say was informative enough that I asked if he might fashion what he had told me into a document for the Who Rules America Web site. He agreed to do so, but only on the condition that the document be anonymous, because he does not want to jeopardize his relationships with his clients or other investment professionals. Make no assumptions about the investment manager with respect to race, ethnicity, political perspective, or views on government economic policy; he may or may not fit readers' preconceptions concerning some of these categories.
Corporate Tax Holiday in Debt Ceiling Deal: Where's the Uproar? | Rolling Stone Politics | Taibblog | Matt Taibbi on Politics and the Economy. Rupert Murdoch's News Corp made 'profit' of $4.8bn in US gov income tax refunds. CORRECTIONThis story was based on a Reuters piece by David Cay Johnston, which he has since retracted and correctedHis full explanation can be read by clicking here By Daily Mail Reporter Updated: 17:59 GMT, 14 July 2011 Rupert Murdoch's News Corp. collected $4.8 billion in income tax refunds in the last four years, an investigation has uncovered.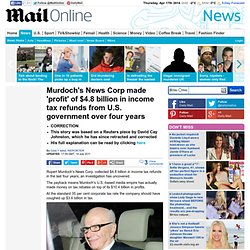 How News Corp. Received Billions In Tax Refunds. Editor's Note: Reuters issued an advisory indicating that the column written by David Cay Johnston, on which this interview with Johnston was based, was wrong: "Please be advised that the David Cay Johnston column published on Tuesday stating that Rupert Murdoch's U.S.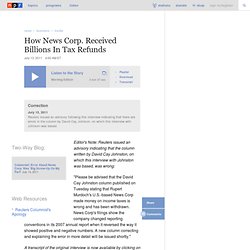 -based News Corp made money on income taxes is wrong and has been withdrawn. News Corp's filings show the company changed reporting conventions in its 2007 annual report when it reversed the way it showed positive and negative numbers. Apple | US Uncut. iLove Apple but iHate the Tax Cheat.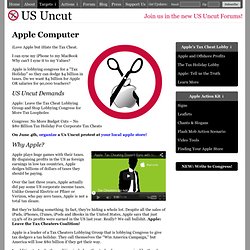 I can sync my iPhone to my MacBook Why can't I sync it to my Values? Apple is lobbying congress for a "Tax Holiday" so they can dodge $4 billion in taxes. Do we want $4 billion for Apple OR salaries for 90,000 teachers? US Uncut Demands Apple: Leave the Tax Cheat Lobbying Group and Stop Lobbying Congress for More Tax Loopholes. Goldman Traders Tried to Manipulate Derivatives Market in '07, Report Says. Goldman Sachs Group Inc.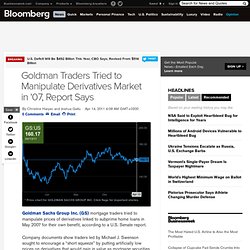 (GS) mortgage traders tried to manipulate prices of derivatives linked to subprime home loans in May 2007 for their own benefit, according to a U.S. Senate report. Company documents show traders led by Michael J. Swenson sought to encourage a "short squeeze" by putting artificially low prices on derivatives that would gain in value as mortgage securities fell, according to the report yesterday by the Permanent Subcommittee on Investigations. Top 10 US Corporate Tax Avoiders Named on Senate Floor.
Despite complaints about the U.S.'s burdensome 35% corporate tax rate, two-thirds of American corporations pay no taxes in a given year.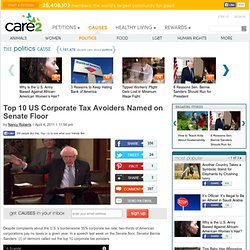 In a speech last week on the Senate floor, Senator Bernie Sanders (I) of Vermont called out the top 10 corporate tax avoiders: Among those actually getting money back from the Feds: ExxonMobil made $19 billion in profits in 2009, paid no federal income taxes, received a $156 million rebateBank of America received a $1.9 billion IRS refund despite $4.4 billion of profitsGeneral Electric had $26 billion in profits, and $4.1 billion refund (GE made it onto another top 10 list of top corporate lobbyists in 2010, spending $39 million)Chevron nabbed a $19 million refund after making $10 billion in profits.
The Double Irish - How Companies Bypass the US High Income-Tax Rate. Tim DeChristopher: A Monkey Wrencher comes to Trial. From Rising Tide: A little over two years ago, ..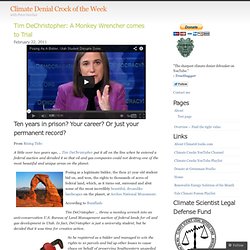 Tim DeChristopher put it all on the line when he entered a federal auction and derailed it so that oil and gas companies could not destroy one of the most beautiful and unique areas on the planet. Posing as a legitimate bidder, the then 27 year old student bid on, and won, the rights to thousands of acres of federal land, which, as it turns out, surround and abut some of the most incredibly beautiful, dreamlike landscapes on the planet, at Arches National Monument. According to Buzzflash: Tim DeCristopher … threw a monkey wrench into an anti-conservation U.S. Bank of America to pay $137M in state fraud cases. Bank of America will pay $137.3 million to settle allegations that it defrauded schools, hospitals and dozens of other state and local government organizations, federal officials said Tuesday.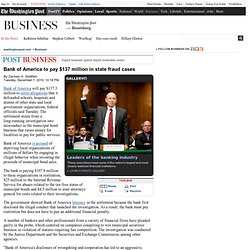 The settlement stems from a long-running investigation into misconduct in the municipal bond business that raises money for localities to pay for public services. Bank of America is accused of depriving local organizations of millions of dollars by engaging in illegal behavior when investing the proceeds of municipal bond sales. Cable Companies' $46+ Billion Robbery -- Subscribers Have Been Ripped off for $5 a Month Since 2000 | Media and Culture. November 7, 2010 | Like this article?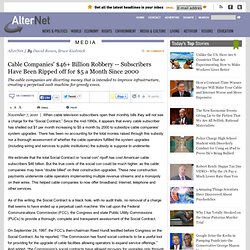 Join our email list: Stay up to date with the latest headlines via email. Guest Post: Mortgages Were Pledged to Multiple Buyers at the Same Time. By George Washington Bank of America alleged in a court filing this June: It appears as though many loans and other mortgage-related assets have been double and even triple-pledged to various constituencies Boa Answer to Freddie Objection in Re Taylor Bean & Whitaker Mortgage Corp. April Charney – a consumer lawyer with Jacksonville Area Legal Aid – and CNBC's Dennis Kneale noted in February 2009 that courts have found that some mortgages have been sold again and again to different trusts, when they should have only been sold once.
Google 2.4% Rate Shows How $60 Billion Lost to Tax Loopholes. Google Inc. cut its taxes by $3.1 billion in the last three years using a technique that moves most of its foreign profits through Ireland and the Netherlands to Bermuda. Google's income shifting -- involving strategies known to lawyers as the "Double Irish" and the "Dutch Sandwich" -- helped reduce its overseas tax rate to 2.4 percent, the lowest of the top five U.S. technology companies by market capitalization, according to regulatory filings in six countries.
"It's remarkable that Google's effective rate is that low," said Martin A. Sullivan, a tax economist who formerly worked for the U.S. Treasury Department. Banking malfeasance Inside the fraud factory. Home | About Us | Our Advertisers | Contact | Subscribe Inside the fraud factory An unwitting foot soldier inthe Wall Street mortgage mega-scam. G.E.'s Strategies Let It Avoid Taxes Altogether. Drew Angerer/The New York Times <strong>A PRESIDENT'S BUSINESS LIAISON</strong>In January, President Obama named Jeffrey R. Immelt, General Electric's chief executive, to head the President's Council on Jobs and Competitiveness. "He understands what it takes for America to compete in the global economy," Mr. Shocking Fraud from Financial Scum : Good Math, Bad Math. Against my better judgement, I've ended up writing a lot about the financial mess that we're currently going through.
If you've read that, you know that my opinion is that the mess amounts to a giant pile of fraud. But even having spent so much time reading and studying what was going on, the latest news from the financial mess shocks me. Even knowing how utterly sleazy and dishonest many people in the financial world have been, even knowing about the stuff they've been doing, the kinds of out and out fraud that they've perpetrated, the latest news makes them look even more evil than I could have imagined. Let's start by reviewing a bit. The basic thing at the root of the problem is something called acollateralized debt obligation – CDO. Whistle Blower Comes Forward With Solid Proof The Price Of Gold And Silver Is Being Manipulated By Major Financial Institutions. Pentagon Paid Billions To Contractors Suspended For Fraud.
Servicer-Driven Foreclosures: The Perfect Crime?
---