Art_cybernetique
Cybernetics - 2nd Edition: or the Control and Communication in the Animal and the Machine: Or Control and Communication in the Animal and the Machine eBook: Norbert Wiener: Amazon.fr: Boutique Kindle
Norbert Wiener, by his own admission, was a big fan of what today might be called "interdisciplinary studies", or "the no-man's land between established fields" as he describes it. In the process of describing his past accomplishments as a sort of cross-pollinator/evangelizer of cybernetics, he makes the case for a broad educational background, as a useful alternative to the darwinian academic trend of earning a living from increasing specialization. Despite being an extremely sharp mathematician, and openly pooh-poohing the use of emipiricism and the application of maths to the social sciences, he nonetheless understood and even cared about the immense social impact of the technology ("technique" as he calls it), being developed by him and colleagues on the lay man of the future.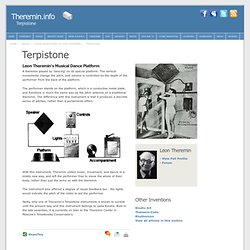 Leon Theremin's Musical Dance Platform A theremin played by 'dancing' on its special platform. The vertical movements change the pitch, and volume is controlled by the depth of the performer from the back of the platform. The performer stands on the platform, which is a conductive metal plate, and functions in much the same way as the pitch antenna on a traditional theremin. The difference with this instrument is that it produces a discrete series of pitches, rather than a portamento effect. With this instrument, Theremin united music, movement, and dance in a totally new way, and left the performer free to move the whole of their body, rather than just the arms as with the theremin.
Terpistone
Histoire Robot
George du Maurier eût pu n'être que le grand-père de Daphné du Maurier, la romancière britannique dont Hitchcock immortalisa la Rebecca. Mais George du Maurier, qui était d'origine française, fut surtout l'un des piliers du magazine satirique britannique Punch (1841 -1901) pour lequel il dessina pendant trente ans des caricatures des inanités de la upper class. Les technologies de communication comme thème de caricature
GEORGE DU MAURIER, Edison's telephonoscope (1878)
Magia optica - Kaspar Schott - Google Livres
Magia universalis naturæ et artis ... - Gaspar Schott
Plus The Dead media Project:Working Notes:32.7Return to Dead Media home page; Return to Dead Media Notes page; Return to Notes numerical index; Return to Notes categorized index; Return to WPS home page ...www.deadmedia.org/notes/32/327.html Athanasius Kircher and the Baroque culture of machinesBETWEEN THE DEMONIC AND THE MIRACULOUS:. Athanasius Kircher and the Baroque culture of machines. Michael John Gorman · mgorman@stanford.edu ...shl.stanford.edu/Eyes/machines/ Collection of Historical Sources on Jesuits SciencesCollection of Historical Sources on Jesuits Sciences.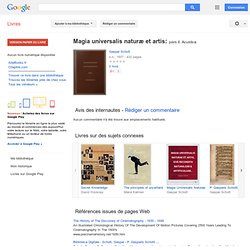 Magia universalis natura et artis - Gaspar Schott
Phonurgia Nova sive Coniugium ... - Athanasius Kircher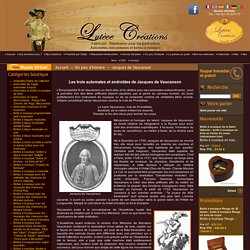 Les trois automates et androïdes de Jacques de Vaucanson L'Encyclopédie fit de Vaucanson un demi-dieu et le célébra pour ses automates extraordinaires : pour la première fois des êtres artificiels étaient capables, par le génie du cerveau humain, de jouer parfaitement d'un instrument de musique ou de se comporter comme de véritables êtres vivants. Voltaire considérait même Vaucanson comme le rival de Prométhée : Le hardi Vaucanson, rival de Prométhée, Semblait, de la nature imitant les ressorts Prendre le feu des cieux pour animer les corps.
Vaucanson
Nicolas Schöffer : page d'accueil
Nicolas Schöffer: CYSP 1.
Site Nicolas Schöffer: Tour Lumière Cybernétique de Kalocsa
THE PNEUMATICS OF HERO OF ALEXANDRIA