User interface
All Public Patterns. 3-04. Amazon works to avoid no results | Flickr – 相片分享! Guide to Website Navigation Design Patterns. In web design, there are certain common design patterns that are used for interaction.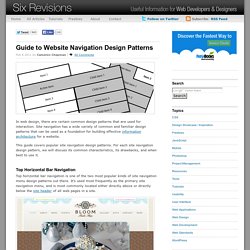 Site navigation has a wide variety of common and familiar design patterns that can be used as a foundation for building effective information architecture for a website. This guide covers popular site navigation design patterns. UI Scraps: user interface designs found by Jason Robb. Hi friends, A list of excuses why I haven't been posting scraps might be nice.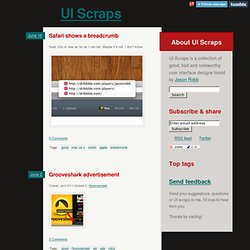 But what would be better is to just start posting more scraps. I have seen plenty of great interface designs worth sharing, but my workflow has been all kinds of messed up lately. I've switched jobs and switched computers. Both have had an unfortunately huge impact on how often I'm able to collect and post new scraps. 40+ Helpful Resources On User Interface Design Patterns - Smashing Magazine.
Advertisement If there is a commonly reoccurring need for a particular solution, there is a great probability that someone has – by now – solved that need and has finished the legwork involved in researching and constructing something that resolves it.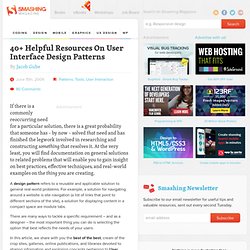 At the very least, you will find documentation on general solutions to related problems that will enable you to gain insight on best practices, effective techniques, and real-world examples on the thing you are creating. A design pattern refers to a reusable and applicable solution to general real-world problems. For example, a solution for navigating around a website is site navigation (a list of links that point to different sections of the site), a solution for displaying content in a compact space are module tabs. Mobile Web Design Pattern: Vertical List. UI Design Patterns and Library Builder. Design|snips | Collecting Snippets of Good Design | CSS Gallery. Interaction Design Pattern Library - Welie.com. Suggest a pattern Have you seen new examples of patterns out there that have not been described on this site?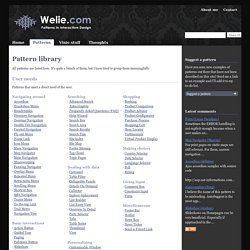 Send me a link to an example and I'll add it to my to-do list. Suggest a pattern Latest comments. UI-Patterns.com.
---