Sleep Cycles
Get rid of junk beds, bedding and pillows.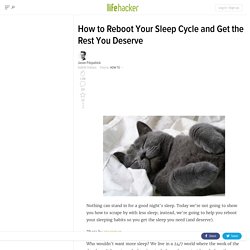 The Power of the Sleep Cycle « Glen Rhodes
Ok, I've been talking to people for a long time about the fact that you can get by on 6 or even 4.5 hours of sleep per day without question. The secret is NOT the amount of sleep, but rather the number itself; a multiple of 90 minutes will change your life.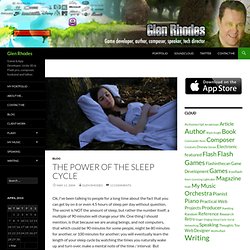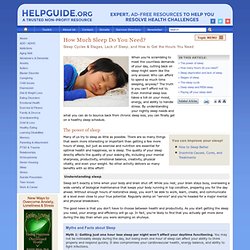 The power of sleep Many of us try to sleep as little as possible. There are so many things that seem more interesting or important than getting a few more hours of sleep, but just as exercise and nutrition are essential for optimal health and happiness, so is sleep.
A couple days ago, I saw a post about polyphasic sleep on LifeHack.org.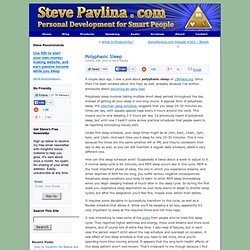 I had a Psychology teacher back at New College (who's now apparently an expert in the Klingon language), who used to talk about how the human body had these ±90-minute cycles. And that if you could become aware of yours, you could do Great Things -- particularly because you could learn the optimal time to snag a nap versus, say, try to cure small-cell carcinoma. Not sure if this is exactly what he was talking about, but I am certainly fascinated by the idea of ultradian rhythms:
Ultradian Rhythms & the 20-minute Break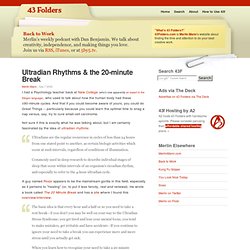 Findings Suggest That A Biphasic Sleep Schedule Not Only Refresh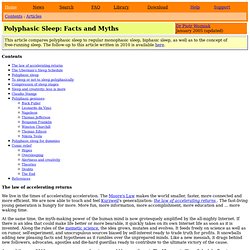 Contents The law of accelerating returns We live in the times of accelerating acceleration.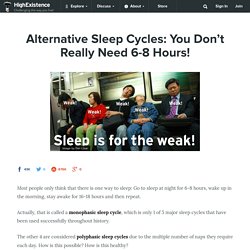 Most people only think that there is one way to sleep: Go to sleep at night for 6-8 hours, wake up in the morning, stay awake for 16-18 hours and then repeat. Actually, that is called a monophasic sleep cycle, which is only 1 of 5 major sleep cycles that have been used successfully throughout history.