Basketball Statistical Analysis
HoopTotals - NBA Statistics Tool
Blake Murphy, 11/25/2012 11:13:00 AM On a recent Raptors Republic podcast, a show I host each week, one of the panellists suggested that he thought the Raptors' decline in defense may have been due to them playing at a faster pace this season. No, the analysis wasn't based on a faulty mathematical basis – he was not mistaking, as many did during the D'Antoni-era in Phoenix, that a faster pace led to more points and more points were indicative of a bad defensive unit. Instead, he was suggesting that, even for an efficiency stat like defensive rating, pace could still have an impact.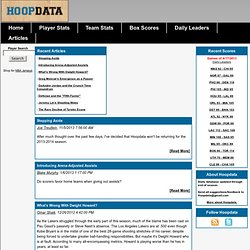 Hoopdata - NBA Statistics and Analysis
Wed, 16 Apr 2014 23:16:31 PDT Jordan Crawford scored a career-high 41 points and Harrison Barnes added 30 as a squad of Golden State backups beat the short-handed Denver Nuggets 116-112 Wednesday night. He surpassed it with a runner that put the Warriors ahead for good at 110-108. The Nuggets thought they tied it up at 115 with seven seconds left when Draymond Green was whistled for goaltending on Randy Foye's 3-pointer, but the call was overturned upon review. Anthony Randolph added 19 points for the Nuggets, who are missing the playoff party for the first time since 2002-03, the year before Carmelo Anthony's arrival.
PopcornMachine's GameFlows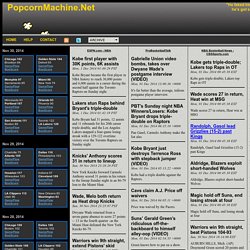 Baseball, Basketball, Hockey and Football Online Statistics Databases - Baseball History, Basketball History, Hockey History, Football History, MLB, NBA, NHL, NFL
Online Interactive Historical Sports Statistics Databases (Pronounced "bee-ball-sports") Online Pro Basketball Database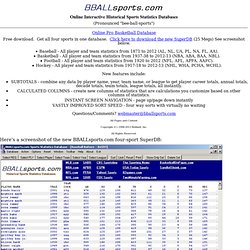 NBAstuffer.com - HOME
Doug's NBA & MLB Stats Home Page
COUNT THE BASKET Advanced Stats for Basketball countthebasket@gmail.com Player stats by season [GUIDE]: BBALLsports SuperDB (37-38 - 06-07) | BBALLsports (37-38 - 03-04, defunct?) | Basketball-Reference (46-47 on, search, player comparisons) | databaseBasketball (46-47 - 06-07) | databaseBasketball Stats Download 2.1 (46-47 - 06-07) | Dean LaVergne's SeasonStats (46-47 - 05-06) | Doug's Stats (88-89 on) | Nbahoopsonline (72-73 - 05-06) | StatsCentral (72-73 - 97-98) | NBA.com (82-83 on) | ESPN (84-85 on) | Yahoo (84-85 on) | STATS Snap (84-85 - 05-06) | STATS HS (89-90 on) | SI (89-90 on) | CBS (89-90 on) | FoxSports (89-90 on) | MSNBC (89-90 on) | USA Today (current, 96-97 - 04-05) | HoopsStats (97-98 on) | AOL (05-06 on) | KnickerBlogger (current, 06-07)
Count The Basket - Stat Links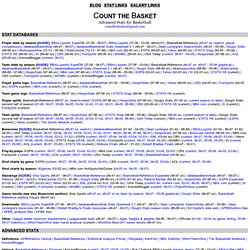 Instructions for Authors Manuscript Preparation Guidelines This document provides authors with details on policy, copyediting, formatting, and layout requirements pertaining to final manuscript submission to this journal. All manuscripts must have correct formatting to be considered ready for publication. The entire manuscript submission and review process is handled through an online system named ScholarOne.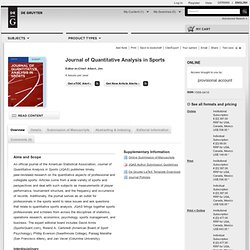 "A Starting Point for Analyzing Basketball Statistics" by Justin Kubatko, Dean Oliver et al.
APBRmetrics (Association for Professional Basketball Research Metrics) is a term used by a few to refer to the analysis of basketball through objective evidence, especially basketball statistics. APBRmetrics is a cousin to the study of baseball statistics, known as Sabermetrics, and similarly takes its name from the acronym APBR, which stands for the Association for Professional Basketball Research. A key tenet for many modern basketball analysts is that basketball is best evaluated at the level of possessions. During a single game, both teams have approximately the same number of possessions, because they alternate possession. (A team can have slightly more if it begins and ends a quarter or half with possession.)
APBRmetrics