Privacy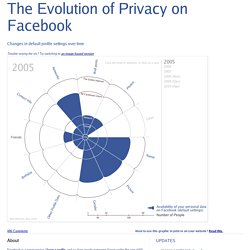 About Facebook is a great service. I have a profile, and so does nearly everyone I know under the age of 60.
Shunned Profiling Technology on the Verge of Comeback
bigbrotherinc
The Surveillance Catalog - The Wall Street Journal
Facebook data storage
600,000 hacks a day, welcome to Facebook
Cookies have been a feature of the web for as long as I can remember. In many cases they are a useful feature to have as they remember your preferences and limit the amount of times you need to login to a service you have signed up for. But there is a dark side to cookie use in the form of them tracking where you go . The advice to anyone concerned about tracking through cookies is to use a good cookie clean-up utility and log out of sites you believe to be tracking you around the web. But in the case of Facebook it turns out that logging out of your account is not enough–Facebook continues to track you. This is possible because when you log out of Facebook the associated cookies are not deleted off your machine.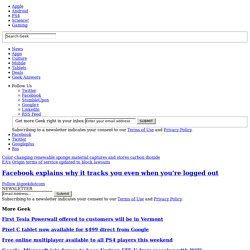 Facebook explains why it tracks you even when you're logged out
Either Mark Zuckerberg got a whole lot less private or Facebook's CEO doesn't understand the company's new privacy settings.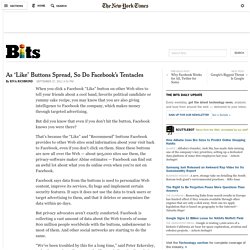 When you click a Facebook "Like" button on other Web sites to tell your friends about a cool band, favorite political candidate or yummy cake recipe, you may know that you are also giving intelligence to Facebook the company, which makes money through targeted advertising.
FB tracking on Like-button sites
Personal Data Requests
Facebook Friend Ranking
Industry Tinkers to Create Privacy Tools for Mobile Devices - NYTimes.com
SExpand Welcome to Privacy Club. You cannot find Privacy Club on the internet. Look for stencils on the sidewalks to find this week's key to the encrypted directions — as usual, we've stashed them steganographically inside a photo posted in a 4Chan forum devoted to politicians having sex with donkeys. You cannot bring your mobile to Privacy Club. While you are at Privacy Club, we ask you to find a reasonable thing for your phone to be doing so that it appears you have gone to a place other than this meeting.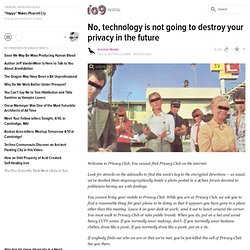 Transparent Society doesn't work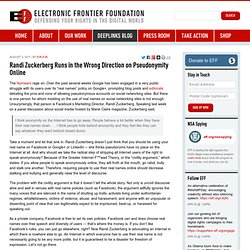 Pseudonomity
The Nymwars rage on. Over the past several weeks Google has been engaged in a very public struggle with its users over its "real names" policy on Google+, prompting blog posts and editorials debating the pros and cons of allowing pseudonymous accounts on social networking sites. But there is one person for whom insisting on the use of real names on social networking sites is not enough. Unsurprisingly, that person is Facebook's Marketing Director, Randi Zuckerberg. Speaking last week on a panel discussion about social media hosted by Marie Claire magazine, Zuckerberg said,
Standardization of Personal Data