Privacy
The Insidiousness of Facebook Messenger's Mobile App Terms of Service | Sam Fiorella. How much access to your (and your friends') personal data are you prepared to share for access to free mobile apps?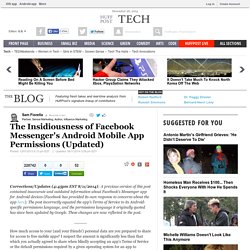 I suspect the amount is significantly less than that which you actually agreed to share when blindly accepting the Terms of Service. Case in point: Facebook's Messenger App, which boasts over 1,000,000,000 downloads, requires the acceptance of an alarming amount of personal data and, even more startling, direct control over your mobile device. I'm willing to bet that few, if any, of those who downloaded this app read the full Terms of Service before accepting them and downloading the app.
The Facebook Messenger app is a standalone version of the instant chat feature within the social network. Your Computer and Phone Cameras Are On -- Beware! | Rebecca Abrahams. Co-authored by Dr.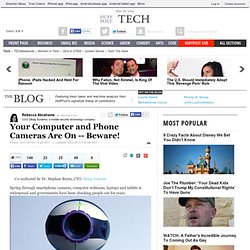 Stephen Bryen, CTO Ziklag Systems Spying through smartphone cameras, computer webcams, laptops and tablets is widespread and governments have been checking people out for years. Between 2008 and 2012, GCHQ, Britain's NSA, ran a program called Optic Nerve that scanned live webcam chats on Yahoo (and probably other chat services). Meet the 'Spy Smurfs': Here's how the NSA, GCHQ target iPhones, Android devices. British and American spy agencies are able to gather vast amounts of personally identifiable information, including age, location, and even sexual orientation and political persuasions, according to the latest documents leaked by former U.S. government contractor Edward Snowden.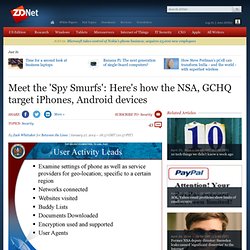 The Guardian, The New York Times and ProPublica working together each published claims that smartphone apps "leak" data from iPhone and Android apps, which are then piggybacked by Britain's GCHQ and the U.S. National Security Agency. Not needing to tap into a user's smartphone directly, other mass surveillance efforts — such as cable taps — provide the intelligence agencies with the bulk of this data. Senator Franken Wants Us to Know When Our Apps Are Tracking Us: | Anita Ramasastry. Cyberstalking apps and geolocation apps can track a mobile-device user's location—and this information can then be shared with third parties such as advertisers, or with jealous spouses—often without the user's knowledge that this is happening.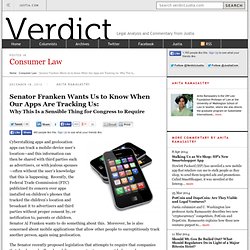 Recently, the Federal Trade Commission (FTC) publicized its concern over apps installed on children's phones that tracked the children's location and broadcast it to advertisers and third parties without proper consent by, or notification to, parents or children. Senator Al Franken wants to do something about this. Moreover, he is also concerned about mobile applications that allow other people to surreptitiously track another person, again using geolocation. The Senator recently proposed legislation that attempts to require that companies that develop and sell such mobile apps must get our consent before such programs are installed on our mobile devices. The bill would prohibit the covert monitoring of a person's location, as well. Students Refusing Tracking ID Cards Unable to Vote for Homecoming? John Jay High School in San Antoni, Texas, has launched a new program to increase attendance.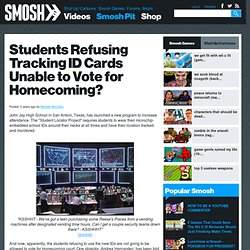 The "Student Locator Project" requires students to wear their microchip-embedded school IDs around their necks at all times and have their location tracked and monitored. "KSSHHT - We've got a teen purchasing some Reese's Pieces from a vending machines after designated vending time hours. Privacy and Security Fanatic: HOPE 9: Whistleblower Binney says the NSA has dossiers on nearly every US citizen. This weekend in New York City was a three-day hackers' conference called HOPE Number 9 which is only held every two years; HOPE stands for "Hackers on Planet Earth" and there's always a lot of great info that comes out of it.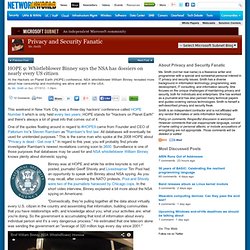 One of the quotes floating around in regard to #HOPE9 came from Founder and CEO of Pallorium Inc's Steven Rambam as "Rambam's first law: All databases will eventually be used for unintended purposes. " This is the same man who spoke at the 2008 HOPE about "Privacy is dead - Get over it. " Note to Self: Siri Not Just Working for Me, Working Full-Time for Apple, Too. It came as a surprise to some folks at a recent SXSW talk that Apple's Siri "personal assistant" isn't just working for us, it's working full-time for Apple too by sending lots of our personal voice and user info to Apple to stockpile in its databases.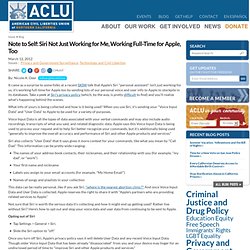 Take a peek at Siri's privacy policy (which, by the way, is pretty difficult to find) and you'll realize what's happening behind the scenes. What info of yours is being collected and how is it being used? When you use Siri, it's sending your "Voice Input Data" and "User Data" to Apple to be used for a variety of purposes. The U.S. joins China in censoring the Internet. A Senate committee passed an act recently called the Protect IP Act but then, just as quickly, a Senator from Oregon, Ron Wyden, put the bill on hold because as he said, it would "muzzle speech and stifle innovation and economic growth."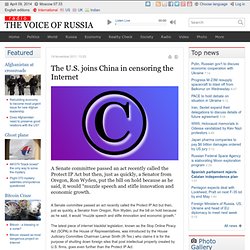 The latest piece of internet blacklist legislation, known as the Stop Online Piracy Act (SOPA) in the House of Representatives, was introduced by the House Judiciary Committee Chairman Lamar Smith (R-Tex.) who claims it is for the purpose of shutting down foreign sites that post intellectual property created by U.S. firms, goes even further than the Protect IP Act. The act would allow the US Justice Department powers to punish and shut down websites, both in the U.S. and anywhere in the world and go after companies that provide support for them, either technically or through payment systems.
Court Says Warrantless Mobile Phone Tracking Is Unconstitutional. In an amazingly short and to the point ruling (embedded below), a judge in a district court in Southern Texas, Lynn Hughes, ruled that letting the government get mobile phone data without a warrant was unconstitutional: When the government requests records from cellular services, data disclosing the location of the telephone at the time of particular calls may be acquired only by a warrant issued on probable cause.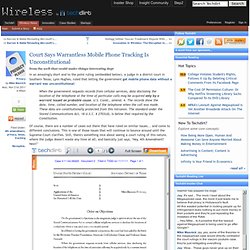 U.S. Const., amend. 4. Fmr. Fox News Executive: Americans' Phones Were Hacked. After helping chairman Roger Ailes create the Fox News channel in 1996, Cooper was fired for doing an anonymous interview with New York Magazine: "I'm frightened right now," said a former Fox employee, noting the vast array of powerful connections Ailes maintains throughout the political and media worlds.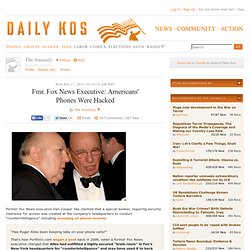 "I've been told that if Ailes figures out I talked to you, he'll hunt me down and kill me." Negotiating the ground rules for an off-the-record meeting, Ailes came on like an Edward G. Robinson character in a B movie. 0zDIw.jpg (JPEG Image, 960x767 pixels) Microsoft Patents 'Legal Intercept' Technology, Will Skype Have A Backdoor? — TheTelecomBlog.com. Microsoft and Skype may represent a match made in mobile heaven but they've been in the news for all the wrong reasons of late.
Skype outages have become a norm rather than an exception. Skype protocol has been cracked through reverse engineering and published as an open source project. And now a newly patented Microsoft technology called 'Legal Intercept' that would allow the company to secretly intercept, monitor and record Skype calls is stoking privacy concerns. The technology would allow Microsoft to silently record communications on VoIP networks such as Skype. The Legislation That Could Kill Internet Privacy for Good - Conor Friedersdorf - Politics. An overzealous bill that claims to be about stopping child pornography turns every Web user into a person to monitor Every right-thinking person abhors child pornography. To combat it, legislators have brought through committee a poorly conceived, over-broad Congressional bill, The Protecting Children from Internet Pornographers Act of 2011. House panel approves broadened ISP snooping bill | Privacy Inc. Internet providers would be forced to keep logs of their customers' activities for one year--in case police want to review them in the future--under legislation that a U.S.
House of Representatives committee approved today. The 19 to 10 vote represents a victory for conservative Republicans, who made data retention their first major technology initiative after last fall's elections, and the Justice Department officials who have quietly lobbied for the sweeping new requirements, a development first reported by CNET. A last-minute rewrite of the bill expands the information that commercial Internet providers are required to store to include customers' names, addresses, phone numbers, credit card numbers, bank account numbers, and temporarily-assigned IP addresses, some committee members suggested.
By a 7-16 vote, the panel rejected an amendment that would have clarified that only IP addresses must be stored. JSaRu.jpg (JPEG Image, 450x337 pixels) - Scaled (77. Aurora critics can remain anonymous, judge rules. In a decision with broader implications for online privacy, a judge has ruled not to force the identification of anonymous bloggers who wrote critical web posts about former Aurora mayor Phyllis Morris. The Ontario Superior Court ruling, which Ms. Morris intends to appeal, is a major blow to her $6-million defamation action, which targets three individuals who authored anonymous posts on the Aurora Citizen website, along with the site's moderators. Interviews - Mark Klein | Spying On The Home Front | FRONTLINE. What did you do for AT&T? How long did you work there?
I worked at AT&T for 22 and a half years. My job was basically to keep the systems going. They were computer systems, network communication systems, Internet equipment, Voice over Internet [Protocol (VoIP)] equipment. I tested circuits long distance across the country. Petewarden/iPhoneTracker @ GitHub. FBI: Customers Might Sue If They Knew Companies Were Helping With Wiretaps. Breaking News on EFF Victory: Appeals Court Holds that Email Privacy Protected by Fourth Amendment. ACLU of Northern California : Don't Hide Your Gun in Your iPhone(?!) One Hundred Naked Citizens: One Hundred Leaked Body Scans. TSA Groping Out Of Control. Facebook's Zuckerberg Says The Age of Privacy is Over.
---