Teen Communication
Study Weighs Academic Effects of Sports, Early Sex, Bullying on Teenagers - Inside School Research. 287539. Teens, kindness and cruelty on social network sites. Social media use has become so pervasive in the lives of American teens that having a presence on a social network site is almost synonymous with being online.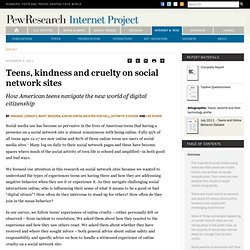 Fully 95% of all teens ages 12-17 are now online and 80% of those online teens are users of social media sites. Many log on daily to their social network pages and these have become spaces where much of the social activity of teen life is echoed and amplified—in both good and bad ways. We focused our attention in this research on social network sites because we wanted to understand the types of experiences teens are having there and how they are addressing negative behavior when they see it or experience it.
As they navigate challenging social interactions online, who is influencing their sense of what it means to be a good or bad "digital citizen"? For Teens 'Going Online' Usually Means 'Going on Facebook' Social media use has become so pervasive in the lives of American teens that having a presence on a social networking site, Facebook in particular, is almost synonymous with being online, according to a report by Pew Research.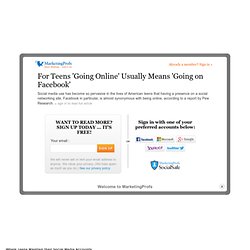 Among key findings issued by Pew: Fully 95% of surveyed teens age 12-17 use the Internet; among them, 80% use social networking sites such as Facebook or MySpace. 16% of online teens age 12-17 use Twitter and teen girls are twice as likely to use the microblogging service. More Teens Twitter but Facebook Still Rules. U.S. Kids Looking Forward to "iHoliday" 2011. As Black Friday and the holiday season approaches, Apple appears to be the consumer electronics brand to beat.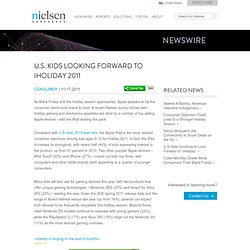 A recent Nielsen survey shows kids' holiday gaming and electronics appetites are whet by a number of top-selling Apple devices - with the iPad leading the pack. Consistent with U.S. kids' 2010 wish lists, the Apple iPad is the most desired consumer electronic among kids ages 6-12 for holiday 2011. In fact, the iPad increases its stronghold, with nearly half (44%) of kids expressing interest in the product, up from 31 percent in 2010. Two other popular Apple devices – iPod Touch (30%) and iPhone (27%) – round out kids' top three, with computers and other tablet brands each appealing to a quarter of younger consumers.
U.S. Teen Mobile Report: Calling Yesterday, Texting Today, Using Apps Tomorrow. If it seems like American teens are texting all the time, it's probably because on average they're sending or receiving 3,339 texts a month.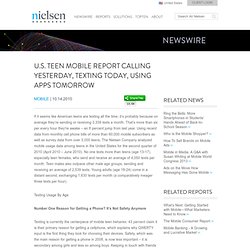 That's more than six per every hour they're awake – an 8 percent jump from last year. Using recent data from monthly cell phone bills of more than 60,000 mobile subscribers as well as survey data from over 3,000 teens, The Nielsen Company analyzed mobile usage data among teens in the United States for the second quarter of 2010 (April 2010 – June 2010). No one texts more than teens (age 13-17), especially teen females, who send and receive an average of 4,050 texts per month. Teens ditch e-mail for texting and Facebook - Technology & science - Tech and gadgets. Online Communication and Adolescent Social Ties: Who benefits more from Internet use?* - Lee - 2009 - Journal of Computer-Mediated Communication. Abstract Literature suggests 4 hypotheses to explain social outcomes of online communication among adolescents: displacement, increase, rich-get-richer, and social-compensation hypotheses.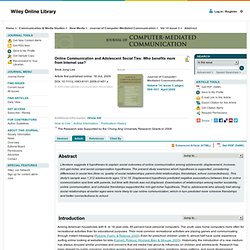 The present study examines which hypothesis is supported, considering differences in social ties (time vs. quality of social relationships; parent-child relationships; friendships; school connectedness). This study's sample was 1,312 adolescents ages 12 to 18. Displacement hypothesis predicted negative associations between time in online communication and time with parents, but time with friends was not displaced. Examination of relationships among earlier sociability, online communication, and cohesive friendships supported the rich-get-richer hypothesis.
Texting as a life phase medium - Ling - 2010 - Journal of Computer-Mediated Communication. Abstract SMS has grown to be a common form of interaction in Norwegian society.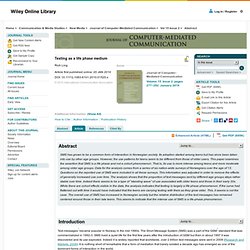 Its adoption started among teens but has since been taken into use by other age groups. However, the use patterns for teens seem to be different from those of older users. This paper examines the assertion that SMS is a life phase and not a cohort phenomenon. Gender, Communication, and Self-Presentation in Teen Chatrooms Revisited: Have Patterns Changed? - Kapidzic - 2011 - Journal of Computer-Mediated Communication. Abstract This study evaluates empirically the proposition implicit in much recent gender and CMC research that expressions of gender distinctness among teens in online environments are becoming less frequent and less traditional.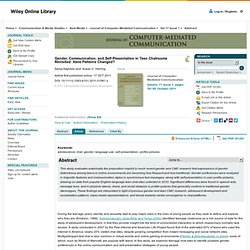 Gender preferences were analyzed in linguistic features and communication styles in synchronous text messages, along with self-presentation in user profile pictures, drawing on data from popular English-language teen chat sites collected in 2010. IMing, Text Messaging, and Adolescent Social Networks. Text messaging explodes as teens embrace it as the centerpiece of their communication strategies with friends. Text messaging explodes as teens embrace it as the centerpiece of their communication strategies with friends.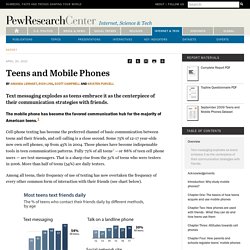 The mobile phone has become the favored communication hub for the majority of American teens. Cell-phone texting has become the preferred channel of basic communication between teens and their friends, and cell calling is a close second. Some 75% of 12-17 year-olds now own cell phones, up from 45% in 2004. Those phones have become indispensable tools in teen communication patterns. Fully 72% of all teens – or 88% of teen cell phone users — are text-messagers.
---