Teen Communication
287539
Teens, kindness and cruelty on social network sites
Overview Social media use has become so pervasive in the lives of American teens that having a presence on a social network site is almost synonymous with being online. Fully 95% of all teens ages 12-17 are now online and 80% of those online teens are users of social media sites. Many log on daily to their social network pages and these have become spaces where much of the social activity of teen life is echoed and amplified—in both good and bad ways.
For Teens 'Going Online' Usually Means 'Going on Facebook'
Social media use has become so pervasive in the lives of American teens that having a presence on a social networking site, Facebook in particular, is almost synonymous with being online, according to a report by Pew Research . Among key findings issued by Pew: Fully 95% of surveyed teens age 12-17 use the Internet; among them, 80% use social networking sites such as Facebook or MySpace. 16% of online teens age 12-17 use Twitter and teen girls are twice as likely to use the microblogging service.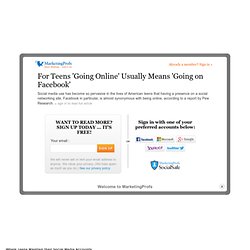 More Teens Twitter but Facebook Still Rules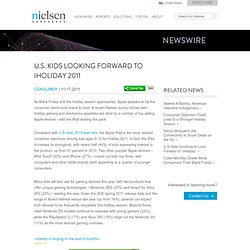 U.S. Kids Looking Forward to "iHoliday" 2011
As Black Friday and the holiday season approaches, Apple appears to be the consumer electronics brand to beat. A recent Nielsen survey shows kids' holiday gaming and electronics appetites are whet by a number of top-selling Apple devices - with the iPad leading the pack. Consistent with U.S. kids' 2010 wish lists , the Apple iPad is the most desired consumer electronic among kids ages 6-12 for holiday 2011. In fact, the iPad increases its stronghold, with nearly half (44%) of kids expressing interest in the product, up from 31 percent in 2010. Two other popular Apple devices – iPod Touch (30%) and iPhone (27%) – round out kids' top three, with computers and other tablet brands each appealing to a quarter of younger consumers.
U.S. Teen Mobile Report: Calling Yesterday, Texting Today, Using Apps Tomorrow
If it seems like American teens are texting all the time, it's probably because on average they're sending or receiving 3,339 texts a month.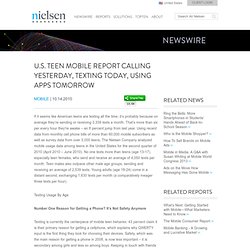 Earlier this week, Nielsen Co. released a report revealing how Americans spend their time online has changed dramatically over the past 12 months. As people spend more time on social networking sites such as Facebook, time spent e-mailing was down 28 percent and instant messaging dropped 15 percent. This news has industry executives speculating how the trend could affect how teenagers who have grown up texting and using social networking sites will communicate with each other in the future.
Teens ditch e-mail for texting and Facebook - Technology & science - Tech and gadgets
Online Communication and Adolescent Social Ties: Who benefits more from Internet use?* - Lee - 2009 - Journal of Computer-Mediated Communication
Introduction Among American households with 8- to 18-year-olds, 85 percent have personal computers. The youth uses home computers more often for recreational activities than for educational purposes. Their most common recreational activities are playing games and communicating through instant messaging ( Roberts, Foehr, & Rideout, 2005 ). Even for preschool children under 6, almost half have some experience surfing online looking at websites for kids ( Calvert, Rideout, Woolard, Barr, & Strouse, 2005 ). Historically, the introduction of a new medium has always aroused similar promises and concerns that old media had about its influences on children and adolescents.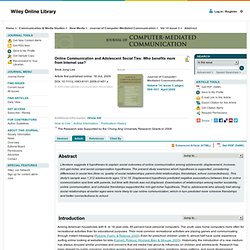 Introduction Text messages 1 became popular in Norway in the mid 1990s. The Short Message System (SMS) was a part of the GSM 2 standard that was commercialized in 1992-3. SMS lived a quiet life for the first few years after the introduction of GSM but then in about 1997 it was discovered and its use exploded. Indeed it is widely reported that worldwide, over 2 trillion text messages were sent in 2008 ( Research and Markets, 2008 ).
Texting as a life phase medium - Ling - 2010 - Journal of Computer-Mediated Communication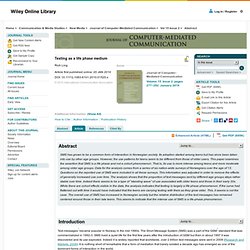 During the teenage years, identity and sexuality start to play major roles in the lives of young people as they seek to define and explore who they are (Erickson, 1968). Subrahmanyam, Greenfield, and Tynes (2004) identified teenage chatrooms as a rich source of data for the study of adolescent development, in that they provide insight into the kind of unmonitored interaction to which researchers normally lack access. A study conducted in 2007 by the Pew Internet and American Life Project found that of the estimated 93% of teens who used the Internet in America, nearly 20% visited chat sites, despite growing competition from instant messaging and social network sites.
Gender, Communication, and Self-Presentation in Teen Chatrooms Revisited: Have Patterns Changed? - Kapidzic - 2011 - Journal of Computer-Mediated Communication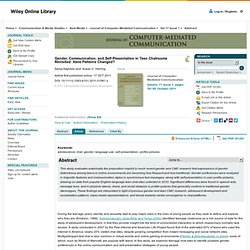 IMing, Text Messaging, and Adolescent Social Networks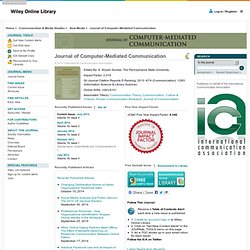 IMing, Text Messaging, and Adolescent Social Networks J. Alison Bryant Ashley Sanders-Jackson Amber M. K.
The mobile phone has become the favored communication hub for the majority of American teens. Cell-phone texting has become the preferred channel of basic communication between teens and their friends, and cell calling is a close second. Some 75% of 12-17 year-olds now own cell phones, up from 45% in 2004. Those phones have become indispensable tools in teen communication patterns. Fully 72% of all teens – or 88% of teen cell phone users — are text-messagers. That is a sharp rise from the 51% of teens who were texters in 2006.
Text messaging explodes as teens embrace it as the centerpiece of their communication strategies with friends.