Rosenberg Nonviolent Communication
Nonviolent Communication (NVC) is based on the principles of nonviolence-- the natural state of compassion when no violence is present in the heart.
NVC begins by assuming that we are all compassionate by nature and that violent strategies—whether verbal or physical—are learned behaviors taught and supported by the prevailing culture. NVC also assumes that we all share the same, basic human needs, and that each of our actions are a strategy to meet one or more of these needs.
People who practice NVC have found greater authenticity in their communication, increased understanding, deepening connection and conflict resolution. The Basics of Non Violent Communication 1.1. Nonviolent Communication Part 1 Marshall Rosenberg. How to Resolve Conflicts and Create Connection with Nonviolent Communication. Www.lifefocusedcommunication.com/Sarah_FinalAutWinter2010.pdf. Www.shadowwork.com/cleantalk-nvc.pdf. Www.business.brookes.ac.uk/research/areas/coachingandmentoring/documents/vol03issue1-paper-04.pdf?err404=research/areas/coachingandmentoring/volume/vol-3-1-a-cox&dannahy.pdf.
Www.cnvc.org/sites/cnvc.org/files/no-enemies.pdf. The Center for Nonviolent Communication | Center for Nonviolent Communication. How to Practice Nonviolent Communication: 4 steps (with video) Edit Article Edited by Ben Kovitz, Sondra C, Krystle, John Abbe and 35 others Nonviolent Communication (NVC)[1] includes a simple method for clear, empathic communication, consisting of four steps: ObservationsFeelingsNeedsRequests.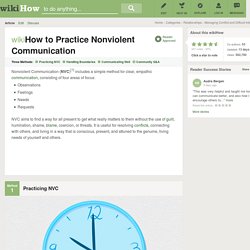 ---