The Age of Aries (The Arian Age)
A lamb holding a Christian banner is a typical symbol for Agnus Dei.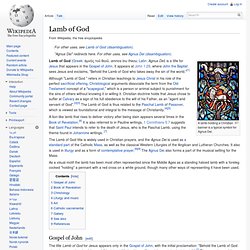 Agnus Dei
Akhenaten ( pron.: / ˌ ɑː k ə ˈ n ɑː t ən / ; [ 1 ] also spelled Echnaton , [ 7 ] Akhenaton , [ 8 ] Ikhnaton , [ 9 ] and Khuenaten ; [ 10 ] [ 11 ] meaning "living spirit of Aten") known before the fifth year of his reign as Amenhotep IV (sometimes given its Greek form, Amenophis IV , and meaning Amun is Satisfied ), was a Pharaoh of the Eighteenth dynasty of Egypt who ruled for 17 years and died perhaps in 1336 BC or 1334 BC. He is especially noted for abandoning traditional Egyptian polytheism and introducing worship centered on the Aten , which is sometimes described as monotheistic or henotheistic . An early inscription likens the Aten to the sun as compared to stars, and later official language avoids calling the Aten a god, giving the solar deity a status above mere gods.
Akhenaten
Monotheism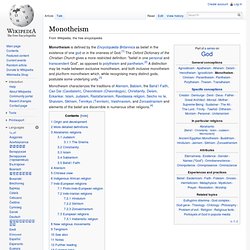 Monotheism is defined by the Encyclopædia Britannica as belief in the existence of one god or in the oneness of God. [ 1 ] The Oxford Dictionary of the Christian Church gives a more restricted definition: "belief in one personal and transcendent God", as opposed to polytheism and pantheism . [ 2 ] A distinction may be made between exclusive monotheism, exemplified by Judaism , Christianity and Islam , and both inclusive monotheism and pluriform monotheism which, while recognising many distinct gods, postulate some underlying unity. [ 3 ] Atenism , Bahá'í Faith , Cao Dai , Christianity , deism , Eckankar , Hinduism , Islam , Judaism , Ravidassia , Sikhism , Tenrikyo and Zoroastrianism are all monotheistic religions. [ 4 ]
Polytheism is the worship or belief in multiple deities usually assembled into a pantheon of gods and goddesses , along with their own religions and rituals . Polytheism is a religious construct and a type of theism . Within theism, it contrasts with monotheism , the belief in a singular God .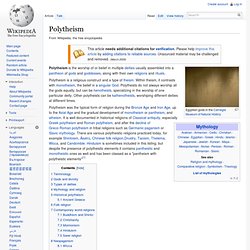 Polytheism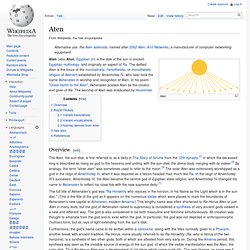 Aten
Alternative use: the Aten asteroids , named after 2062 Aten Aten
Double-faced Mithraic relief. Rome, 2nd to 3rd century AD ( Louvre Museum )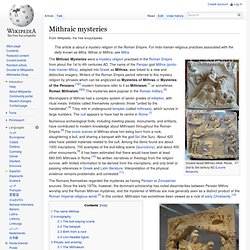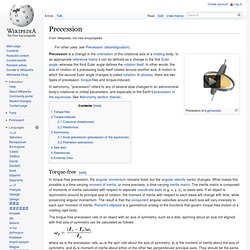 Precession is a change in the orientation of the rotational axis of a rotating body.
Precession
The Exodus (from Greek ἔξοδος, exodos, "going out") is the story of the enslavement of the Israelites in Egypt following the death of Joseph , their departure under the leadership of Moses , the revelations at Sinai, and their wanderings in the wilderness up to the borders of Canaan. [ 1 ] Significant portions of the story told in the books of Exodus, Leviticus, Numbers and Deuteronomy may not have been intended to be historiographic, but the overall intent was historical according to the understanding of the ancient writers: to demonstrate God's actions in history, to recall Israel's bondage and salvation, and to demonstrate the fulfillment of Israel's covenant . [ 2 ] No archeological evidence exists which can be directly related to Exodus , and most archaeologists have abandoned the investigation of Moses and the Exodus as "a fruitless pursuit".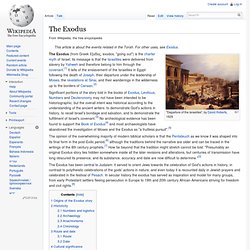 The Exodus