GFCF Low Oxalate Dessert Recipes
Cauliflower Wraps (SCD, GAPS, Paleo) Exciting update!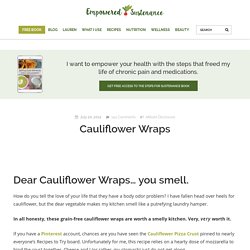 Nora Gedgaudas, author of the popular Primal Body, Primal Mind, just emailed me and said she tried this recipe and thinks "it is brilliant." She said I could quote her on that! I'm smiling so big right now How do you tell the love of your life that they have a body odor problem? The Easiest Way To Eat Liver! (No taste, no fuss) Empowered Sustenance Eat well and heal!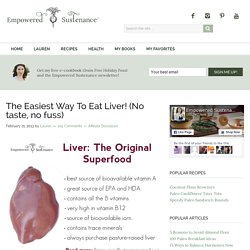 ™ Tulsi Geleé for Natural Hormone Healing. Tulsi tea, also called holy basil, is a herb renowned for it's healing properties.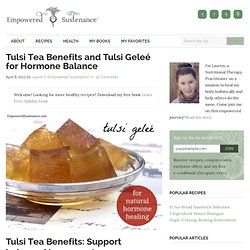 "The Queen of Herbs" – is the most sacred herb of India. Tulsi (Ocimum sanctum), although also known as Holy Basil, is a different plant from the pesto variety of Basil (Ocimum basilicum). Tulsi has been revered in India for over five thousand years, as a healing balm for body, mind and spirit, and is known to bestow an amazing number of health benefits. (Source) Grain Free Butternut (or Sweet Potato) Flatbread. I know, that's sounds like an extreme claim.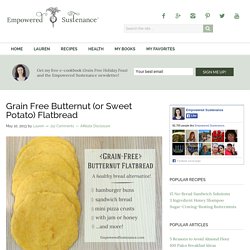 But if you follow a restricted diet, then you know just how liberating it is to have a never-fail staple recipe in your culinary arsenal. This healthy bread alternative fits the bill when you crave something–for lack of a better term– bready . Even better, it requires only about 5 minutes of prep! Dairy and Egg Free Strawberry Mousse (GAPS, SCD) Empowered Sustenance Eat well and heal!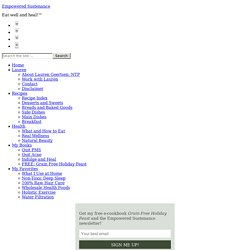 ™ Dairy and Egg Free Strawberry Mousse. Recipe: Spring Fritata. A fritata is slightly different from an omelette and perhaps a little more trendy.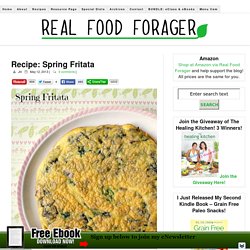 Fritata is from the italian word, fritta , the feminine past participle of the verb "to fry." But it is way more than just fried eggs or even an omelette. Asparagus Chicken in Lemon Garlic Sauce. I was at the market the other day and I saw very thin asparagus.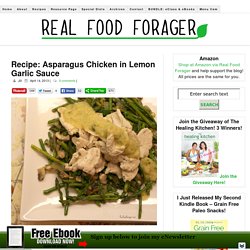 They actually reminded me of spaghetti so I thought I would use them in a similar way. Depending on where you live, asparagus may be in season. Here in the northeast it is just about ready. Using asparagus in this dish makes me think of spring and warmer weather! Asparagus is part of the lily family and is related to onions, leeks and garlic. Lasagna Courgette. Lasagna is a classic Italian dish that is a true comfort food.
The word lasagna comes from the Greek word lasagnum which means bowl or pot. The Greeks used that style of dish and passed it on to the Romans and the name of the dish became the name of the food. The Romans eventually passed the recipe onto the British who published in the very first cookbook. Delta Search. Gluten Free Frosting Marshmallow Recipes. Butter, marshmallows, powdered sugar, cream cheese, softened and vanilla extract B 25 mins, 5 ingredients confectioners sugar, marshmallow cream, unsalted butter and pure vanilla extract B 25 mins, 4 ingredients.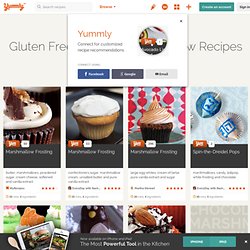 How to Make Marshmallow Fluff Without Corn Syrup. I wanted to make homemade fudge the other day, but I wanted to make it without the industrial food, Marshmallow Fluff that you buy in jars at the store.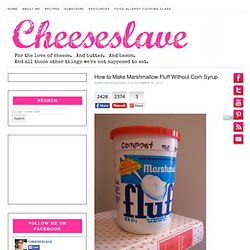 I did a little research online and found out that Marshmallow Fluff is made from powdered egg whites, corn syrup, and fake vanilla (vanillin). These are just cheap versions of real foods. Simple Meringue Frosting~ Refined Sugar Free | Health, Home, & Happiness. White Fluffy Frosting - Dairy, Soy, And Sugar Free!!! Kids (and adults) love this recipe because it tastes like marshmallow cream. Yes, marshmallow cream! It's easy to make, has a great shine, and holds it's shape well.
---