Cultura
Collateral - Any creative form
Everything Design and Culture From Around The World
Critical digital culture and media arts · Since 1993
Future Exploration Network
ZuZu Top
Nouveau Projet - Idées, récits et modes d'emploi pour le 21e siècle
Shzamm! Daily news, articles and videos
TheFWA
blog buzz & tendances
Thought Catalog
Wired.com
WIRED
Now it's become one of the company's big selling points.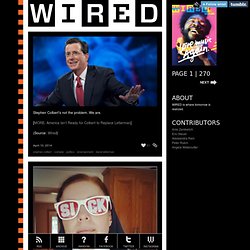 w3sh : Lifestyle magazine. Design, fashion, gadgets, art, tendances, cultures urbaines, technologies
ShortList Magazine
Blog en bois - Nouvelles tendances, marketing, publicité, web, mode, musique
The New Inquiry
Internet Meme Database
Visboo Magazine - The Best Filtered Stories Of the Net
Knowtex
Cool Hunting
minima&moralia
Future-Giraffes
obvious
The Flop Box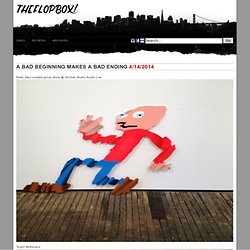 Several excuses are always less convincing than one 10/27/2013 Judith Supine in some federal building
Tendances Com | Le blog des tendances de la communication
Top trends on TrendSpottr
Explore
You can finally stop chugging the dreamwine — HBO's Game of Thrones is officially back for its second season, and you'll want to be as clearheaded as possible for what's about to go down in the Seven Kingdoms. But before we get into that, how about a quick refresher on where things currently stand? Warning: Possible spoilers ahead! The long summer is finally drawing to a close.
Flavorwire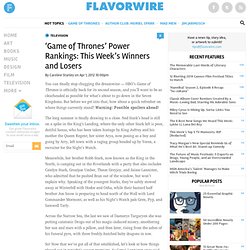 More Intelligent Life
Josh Spear, Trendspotting
Bored Panda
The World's Best Ever: Design, Fashion, Art, Music, Photography, Lifestyle, Entertainment
things magazine
DeMilked - Design Milking Magazine
OK Great
My Modern Metropolis
& the feeling must go.
Monster Children » Home
Inspired Magazine
Anticlown Media - A Publisher of Great Things
Lost At E Minor: For creative people
Little Box Of Ideas
Blog Neo2
TRENDLAND
Big Think
BuzzFeed
Cahiers de tendances
The A.V. Club
Brain magazine
Let'smotiv, magazine des cultures et tendances urbaines - Musique, Spectacles, Cinéma, Mode, Design, Portfolio, Agenda culturel... - www.letsmotiv.com
AlloCiné
Your Comic Book, Fantasy, SciFi, Horror
Confessions of a Pop Culture Addict
retroCRUSH
Darkplanneur
okcowboy : Société, Tendances, Lifestyle
as-awkward-as-anna-of-arendelle: lithium-flameburst: saintlyrabbit:
I'll be the sinner, you be the saint.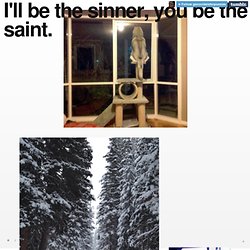 chocolateandwhiskey.tumblr