GOAL TRACKING
"Expect your every need to be met. Expect the answer to every problem. Expect abundance on every level." -Eileen Caddy 101 SMART goals is a free online goal setting and goal tracking tool.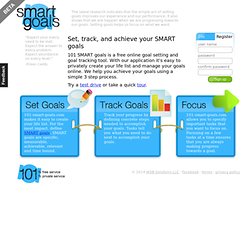 Create New Habits! - Login
Online goal setting software
Online goal setting software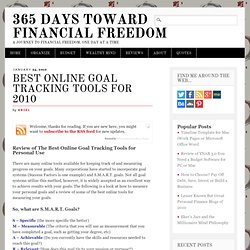 Review of Best Goal Tracker Tools | How to Keep Your Goals On Track | Free Online Goal Tracking Tools | SMART Goal Tracking Tools
Review of The Best Online Goal Tracking Tools for Personal Use There are many online tools available for keeping track of and measuring progress on your goals. Many corporations have started to incorporate goal systems (Success Factors is one example) and S.M.A.R.T. goals. Not all goal systems utilize this method, however, it is widely accepted as an excellent way to achieve results with your goals. The following is a look at how to measure your personal goals and a review of some of the best online tools for measuring your goals.
- Get Started Today. - One step signup form: What is Joe's Goals? Joe's Goals is a simple yet powerful tool to make tracking your goals the easiest part of accomplishing them. Use the simple single page interface to setup daily goals and track them with just a click.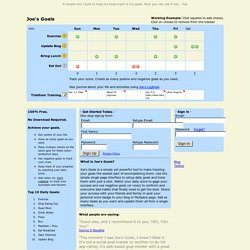 Goal Setting Solutions & Tips that are the Simple Keys to Success - Goalforit