Goverments mass tracking
Get flash to fully experience Pearltrees
A new security research project is designed to scan millions of IMs, texts and emails every day. - A new security research project scans IMs, texts and emails. - The system can reportedly read a quarter billion messages a day. - It then scans the records for unusual behavior. Cherie Anderson runs a travel company in southern California, and she's convinced the federal government is reading her emails.
That social networking sites and applications such as Facebook, Twitter and their competitors can facilitate communication and information sharing amongst diverse groups and individuals is by now a cliché. It should come as no surprise then, that the secret state and the capitalist grifters whom they serve, have zeroed-in on the explosive growth of these technologies. One can be certain however, securocrats aren't tweeting their restaurant preferences or finalizing plans for after work drinks. No, researchers on both sides of the Atlantic are busy as proverbial bees building a "total information" surveillance system, one that will, so they hope, provide police and security agencies with what they euphemistically call "actionable intelligence." Build the Perfect Panopticon, Win Fabulous Prizes!
Business Overview World News, Human Right, Activist, Politics, Social Media, WikiLeaks Libya, Japan, Egypt, protesters fight for freedom.
The government's home minister, Theresa May, according to one account of the meeting, said that the aim was not to "discuss restricting Internet services," but to instead "crack down on the networks being used for criminal behavior." A spokeswoman for Ms. May said the government "would not be seeking any additional powers."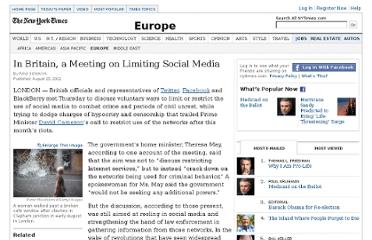 Last day at Salon Glenn Greenwald Wednesday, Aug 15, 2012 9:30 PM UTC Politics The sham "terrorism expert" industry
By David Edwards Wednesday, June 22, 2011 13:48 EDT
A woman uses her BlackBerry at a shopping mall in Dubai, UAE. In neighbouring Saudi Arabia, authorities have blocked the device's instant messaging services.
posted on 2011.08.25 by Katitza Rodriguez As part of an emerging international trend to try to 'civilize the Internet' , one of the world's worst Internet law treaties--the highly controversial Council of Europe (CoE) Convention on Cybercrime --is back on the agenda.