Online Tracking
By STEVE STECKLOW and PAUL SONNE
DPI & Phorm in US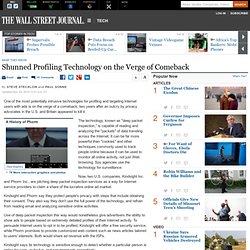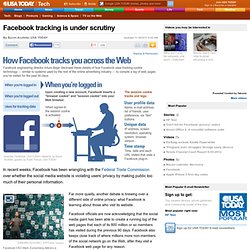 In recent weeks, Facebook has been wrangling with the Federal Trade Commission over whether the social media website is violating users' privacy by making public too much of their personal information. Far more quietly, another debate is brewing over a different side of online privacy: what Facebook is learning about those who visit its website. Facebook officials are now acknowledging that the social media giant has been able to create a running log of the web pages that each of its 800 million or so members has visited during the previous 90 days.
14 November 2011 Last updated at 11:24 ET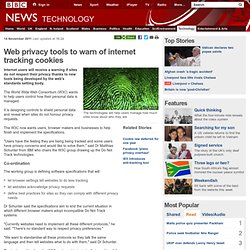 Web privacy tools to warn of internet tracking cookies
Anonymity tools
NEW YORK (CNNMoney) -- Your phone company knows where you live, what websites you visit, what apps you download, what videos you like to watch, and even where you are. Now, some have begun selling that valuable information to the highest bidder.
Phone carriers sell personal data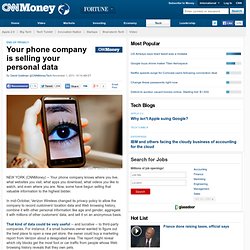 Tech that can track all electr. devices
Social Science res on DPI
Analytics company KISSmetrics and Web video site Hulu.com have been hit with another privacy lawsuit over their alleged use of "supercookies" to track people. The lawsuit is the third against KISSmetrics since July, when it emerged that the company was using ETag technology to track users even when they deleted their cookies. Hulu also is facing a separate lawsuit for allegedly working with KISSmetrics, as are two dozen other Web companies. This latest action, filed on behalf of four Texas residents -- Susan Couch, Cristina Garza, Concepcion Jauregui, and Silviana Moncada -- alleges that KISSmetrics and Hulu violated the federal wiretap law, computer fraud law, various state laws and a privacy law that applies specifically to video rental records. "Defendants' activities caused both economic harm and non-economic harm," the consumers allege in papers filed on Wednesday in U.S.
HULU Sued for SuperCookies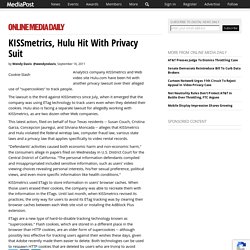 posted by Ryan Calo Online privacy has been getting quite a bit of attention of late.
DRM for Privacy: Part 1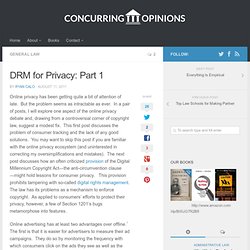 A 1993 New Yorker cartoon famously proclaimed, "On the Internet, nobody knows you're a dog." The Web is a very different place today; you now leave countless footprints online. You log into websites.
There is no such thing as anonymous online tracking | Stanford Center for Internet and Society