Individual Radio Stations & Programs
Zelina's Mixed Bag of Showtunes & More! Welcome to Zelina's Mixed Bag of Showtunes & More!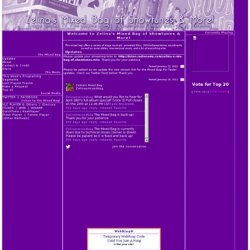 This mixed bag offers a variety of stage musicals, animated films, TV/Film/Game/Anime soundtracks, as well as some oldies, international music, and a bit of everything else. Updates. 89.5 FM - KLUX. 95.7 Kiss Country. 106.3 The Lounge. Radio Art, Anti Stress. Radio Cascade. Radio OTR. Radio Polaris. Radio Starburst. RCN Clasica. The Rush Limbaugh Show. Capital Public Radio's Classical Station. CKBI. Cruisin' Oldies Radio. KBAQ 89.5FM. KRLD. NewsRadio 1080 KRLD has been a part of North Texas for more than 80 years.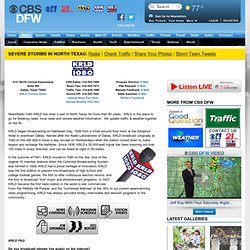 KRLD is the place to go for breaking news, local news and severe weather information. We update traffic & weather together on the 8s. KRLD began broadcasting on Halloween Day, 1926 from a small second floor room at the Adolphus Hotel in downtown Dallas. Named after the Radio Laboratories of Dallas, KRLD broadcast (originally at 1040 on the AM dial) 6 hours a day, except on Wednesdays when the station closed down to make repairs and recharge the batteries. Since 1938, KRLD's 50,000-watt signal has been booming out over 100 miles in every direction, and can be heard at night in 38 states. WBAP. WFAS. WOW 1043. A Prairie Home Companion.
All That Jazz. The Sports Animal. Starlight Country Radio. Bebop Jazz on Sky. Boleros Radio.
---