Personality Assesment Questionaires
The information on this Web site is provided as a public service by the University of Maryland Medical System, a regional health care delivery system that includes an academic medical center (the University of Maryland Medical Center in downtown Baltimore) as well as five community and specialty hospitals and outpatient sites throughout Baltimore and central Maryland. This information is not intended to be a substitute for individual medical advice in diagnosing or treating a health problem. Please consult with your health care provider about your health care concerns.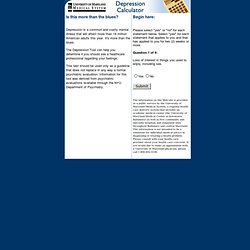 Depression Calculator
Live Your Life Well: Depression Screener
by Ivan Goldberg, M.D. Use this brief 18-question online automated quiz to help you determine if you may need to see a mental health professional for diagnosis and treatment of depression, or for tracking your depression on a regular basis. Instructions: You can print this scale out or take it online, using it on a weekly basis to track your moods.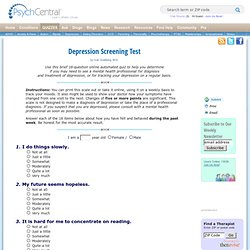 Psych Central - Depression Screening Test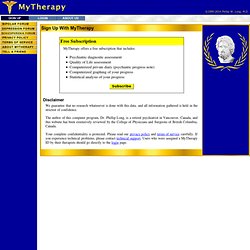 Self Diagnosis
MyTherapy offers a free subscription that includes: Psychiatric diagnostic assessment Quality of Life assessment Computerized private diary (psychiatric progress note) Computerized graphing of your progress Statistical analysis of your progress Disclaimer We guarantee that no research whatsoever is done with this data, and all information gathered is held in the strictest of confidence. The author of this computer program, Dr. Phillip Long, is a retired psychiatrist in Vancouver, Canada, and this website has been extensively reviewed by the College of Physicians and Surgeons of British Columbia, Canada.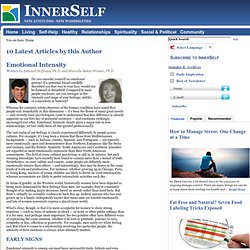 Emotional Intensity
Do you consider yourself an emotional person? If a potential friend candidly described you that way to your face, would you be flattered or disturbed? Compared to most people you know, are you stronger in the intensity and range of your feelings, milder, or somewhere in between?
Featured Questionnaire: Compassionate Love Scale Measures your tendency to support, help, and understand other people Source: Sprecher, S. & Fehr, B. (2005). Compassionate love for close others and humanity. Journal of Social and Personal Relationships, 22, 629-652.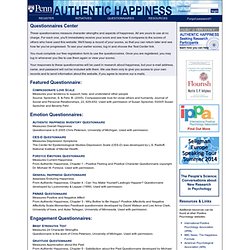 Happiness Quiz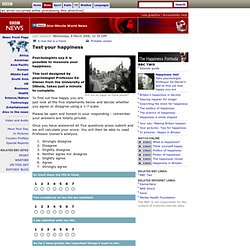 Psychologists say it is possible to measure your happiness. This test designed by psychologist Professor Ed Diener from the University of Illinois, takes just a minute to complete. To find out how happy you are just look at the five statements below and decide whether you agree or disagree using a 1-7 scale.
Personality test — get to know your personality type in 41 Questions. The test is free of charge and requires no registration. It takes about five minutes to complete. Personality Test Question 1 of 41 In your social groups do you: , or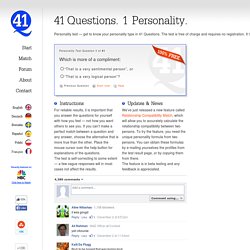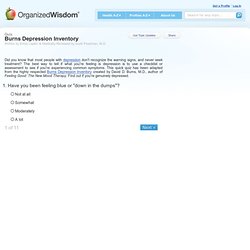 Get Topic Updates Share Advertisement Quiz
Burns Depression Inventory Quiz - Depression Test for Self Evaluation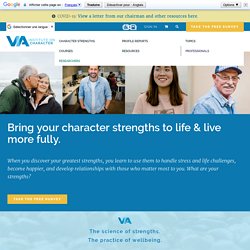 Professionals working with others to optimize their performance know that understanding character strengths is fundamental to developing new pathways of engagement, fulfillment and satisfaction. People who use their strengths every day are six times more likely to be engaged on the job. Teams that focus on their strengths are 12.5% more productive.
Survey of Character