The Sixteen Personality Types - High-Level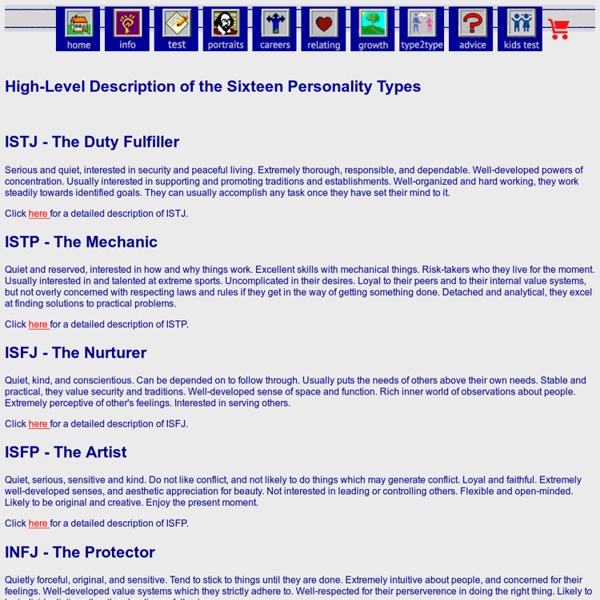 ISTJ - The Duty Fulfiller
http://www.personalitypage.com/high-level.html
Myers-Briggs • Characters • Thinking • Jungian Personality Types • Personality Stuff
Crafter (role variant) Crafters are tactical operators, concrete in speech and utilitarian in action. Character Creation Made Easy, Pick a Personality-Method 6-MBTI Profiles | Learn to Write Fiction The Myers-Briggs Type Indicator (MBTI) offers another useful set of character profiles that you can use to jumpstart a character for your novel.
Learnmyself Free Personality Tests What Will I Learn? You will see the five main traits of your personality: openness, extraversion, conscientiousness, agreeableness, and neuroticism. Myers Briggs Personality Faces Two-Faces The idea of a duality in character or personality is not new in psychology, literature, nor our everyday relationships with people. I suspect most everyone has at some time "been of two minds" over a situation - caught in a struggle between two contradictory impulses or courses of action, each having strong appeal, yet coming from different sides of our nature.
ISFP Profile Introverted Sensing Feeling Perceiving by Joe Butt Profile: ISFP Revision: 3.0 Date of Revision: 23 Feb 05 Promoter (role variant) The Promoter Artisan is one of the 16 role variants of the Keirsey Temperament Sorter,[1] a self-assessed personality questionnaire designed to help people better understand themselves. David Keirsey originally described the Promoter role variant; however, a brief summary of the personality types described by Isabel Myers contributed to its development. Promoters correlate with the ESTP Myers-Briggs type.[2] Character Chart for Fiction Writers - EpiGuide.com If you're a fiction writer -- whether you're working on a novel, short story, screenplay, television series, play, web series, webserial, or blog-based fiction -- your characters should come alive for your reader or audience. The highly detailed chart below will help writers develop fictional characters who are believable, captivating, and unique.
Thou shalt not commit logical fallacies Presuming that because a claim has been poorly argued, or a fallacy has been made, that the claim itself must be wrong. A logical fallacy is a flaw in reasoning. Logical fallacies are like tricks or illusions of thought, and they're often very sneakily used by politicians and the media to fool people. Don't be fooled! (Pseudo?)science behind MBTI When Carl Jung wrote about the cognitive functions, he did not have the technological resources we have today to study parts of the brain, so he relied largely on anecdotal evidence from interactions with people. Now, neuroscience has evolved to the point where we can pinpoint certain aspects of the brain that are responsible for personality and behavior. This has allowed people like Jonathan Niednagel and Lenore Thomson to expand upon Jung's original theories and give an added dimension to personality typing. However, science hasn't proven everything, and a lot of the theories surrounding MBTI are still not evidence-based as of yet.I will point out that neither myself, Niednagel, nor Thomson are neuroscientists; it is the work of others that has led them to develop their theories.
INFP Profile Introverted iNtuitive Feeling Perceiving by Joe Butt Protector (role variant) The Protector Guardian is one of the 16 role variants of the Keirsey Temperament Sorter,[1] a self-assessed personality questionnaire designed to help people better understand themselves. Questionnaires for Writing Character Profiles - Creative Writing Help 12 Brain Rules -- illustrated Buy Brain Rules Why We Need Silence to Survive I blogged earlier about how chronic, even low-level noise boosts stress levels, which in turn trigger health problems such as hypertension . My awareness of this in my own life caused me recently to embark on a year-long search for silence, both as an antidote to noise and stress, and as a way to change my life generally. Silence, of course, is the utter absence of input to the hearing system.
Personality • more literacy • bored. • Mind • characters • Personality • personality types • Edu • Philosophy • personality types • interesting stuff • Psychology • Charakter • Psych • Writing Stuff • nguyenthai • General Knowledge etc------Kiffayat Khan//// • deborahkirkland • Psychology • pretty unique personal • quizzes • thinker • Creative stuff • Personality • Gyaan • Instructional • Articles • personality