The Sixteen Personality Types - High-Level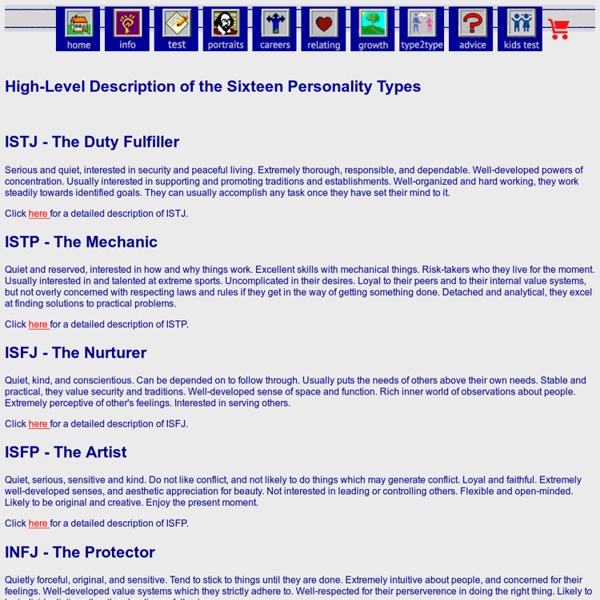 ISTJ - The Duty Fulfiller Serious and quiet, interested in security and peaceful living. Extremely thorough, responsible, and dependable. Well-developed powers of concentration. Usually interested in supporting and promoting traditions and establishments. Well-organized and hard working, they work steadily towards identified goals.
http://www.personalitypage.com/high-level.html
Myers-Briggs • Characters • Thinking • Jungian Personality Types • Personality
Crafter (role variant) Crafters are tactical operators, concrete in speech and utilitarian in action. In social situations, they are directive and reserved.[2] Crafters are masters at using tools of every type—artistic, technological, martial. Although they are introverts, they are authoritarian in their interactions with others and can be forceful at influencing people. They focus on accomplishing tasks efficiently and skillfully. To master the tool of their interest, Crafters require a certain degree of seclusion in which to practice. Seven Common Character Types Seven Common Character Types by Terry W. Ervin II Fiction writers employ a variety of characters while weaving their tales.
Learnmyself Free Personality Tests What Will I Learn? You will see the five main traits of your personality: openness, extraversion, conscientiousness, agreeableness, and neuroticism. A breakdown of 30 traits like kindness, anger, imagination and intellet. Strengths vs weaknesses, you as an infographic and much more. How Does it Work? By looking at the results of everyone we calculate an 'average' personality and thus how normal and abnormal you are in comparison.
Myers Briggs Personality Faces Two-Faces The idea of a duality in character or personality is not new in psychology, literature, nor our everyday relationships with people. I suspect most everyone has at some time "been of two minds" over a situation - caught in a struggle between two contradictory impulses or courses of action, each having strong appeal, yet coming from different sides of our nature. And who has not discovered that many people display a different nature "once you get to know" them? Likewise, the idea is well accepted that many people have a distinctly different public and private persona. Yet this duality of our nature has been largely overshadowed by real or fictional cases involving abnormal extremes. Robert Louis Stevenson helped nudge this along in the Strange Case of Dr.
16 Personality Factors The Sixteen Personality Factor Questionnaire (or 16PF),[1] is a multiple-choice personality questionnaire which was developed over several decades of research by Raymond B. Cattell, Maurice Tatsuoka and Herbert Eber. Beginning in the 1940s, Cattell used the new techniques of factor analysis (based on the correlation coefficient) in an attempt to try to discover and measure the source traits of human personality (Cattell, 1946)(Nevid, 2009).[2][3] The questionnaire measures the 16 primary traits, and the Big Five secondary traits,[4][5] which have become popularized by other authors in recent years. From early in his research, Cattell found that the structure of personality was multi-level and hierarchical, with a structure of interdependent primary and secondary level traits (Cattell, 1946, 1957).[2][6] The sixteen primary factors were a result of factor-analyzing hundreds of measures of everyday behaviors to find the fundamental traits behind them.
Promoter (role variant) The Promoter Artisan is one of the 16 role variants of the Keirsey Temperament Sorter,[1] a self-assessed personality questionnaire designed to help people better understand themselves. David Keirsey originally described the Promoter role variant; however, a brief summary of the personality types described by Isabel Myers contributed to its development. Promoters correlate with the ESTP Myers-Briggs type.[2] 10 Days of Character Building: A Day in the Life Mike Cove is forty years old and lives in Tucson, Arizona A typical day in the life of Mike Cove Mike gets up at about three o'clock. He fixes himself breakfast, usually a large bowl of cold cereal and a cup of coffee. He sits in his recliner with the bowl in his lap and watches Jeopardy, playing along with the contestants and getting most of the questions right.
Thou shalt not commit logical fallacies Presuming that because a claim has been poorly argued, or a fallacy has been made, that the claim itself must be wrong. A logical fallacy is a flaw in reasoning. Logical fallacies are like tricks or illusions of thought, and they're often very sneakily used by politicians and the media to fool people. Don't be fooled! (Pseudo?)science behind MBTI When Carl Jung wrote about the cognitive functions, he did not have the technological resources we have today to study parts of the brain, so he relied largely on anecdotal evidence from interactions with people. Now, neuroscience has evolved to the point where we can pinpoint certain aspects of the brain that are responsible for personality and behavior. This has allowed people like Jonathan Niednagel and Lenore Thomson to expand upon Jung's original theories and give an added dimension to personality typing. However, science hasn't proven everything, and a lot of the theories surrounding MBTI are still not evidence-based as of yet.I will point out that neither myself, Niednagel, nor Thomson are neuroscientists; it is the work of others that has led them to develop their theories.
The Sequence of Archetypes in Individuation DynaPsych Table of Contents James Whitlark Professor of English Texas Tech University Scattered throughout Jung's writings are a few references to the sequence of archetypes associated with stages of individuation. These archetypes constitute the configurations of the unconscious at various points in human development. Protector (role variant) The Protector Guardian is one of the 16 role variants of the Keirsey Temperament Sorter,[1] a self-assessed personality questionnaire designed to help people better understand themselves. David Keirsey originally described the Protector role variant; however, a brief summary of the personality types described by Isabel Myers contributed to its development. Protectors correlate with the ISFJ Myers-Briggs type.[2] Protectors are observant, cooperative, informative, and attentive.
Top Questions for Fictional Characters -- Questions to Help in Creating Characters Creating the more complex round characters takes time -- time spent thinking about how your characters look, where they're from, and what motivates them, for instance. The questions below provide structure to this all-important thought process. While the reader will not need to know all the details, it's important that you do. The better you know your characters, the more realistic your story or novel will end up being. 1. 12 Brain Rules -- illustrated Buy Brain Rules Also by Pear PressA MUST-READ LEADERSHIP BOOK The 12 Brain Rules, illustrated Explore each rule through illustrations, charts and video.
Portrait of an ENFP As an ENFP, your primary mode of living is focused externally, where you take things in primarily via your intuition. Your secondary mode is internal, where you deal with things according to how you feel about them, or how they fit in with your personal value system. ENFPs are warm, enthusiastic people, typically very bright and full of potential. They live in the world of possibilities, and can become very passionate and excited about things. Their enthusiasm lends them the ability to inspire and motivate others, more so than we see in other types. They can talk their way in or out of anything.
Personality Stuff • more literacy • bored. • Mind • characters • Personality • personality types • Edu • Philosophy • personality types • interesting stuff • Psychology • Charakter • Psych • Writing Stuff • nguyenthai • General Knowledge etc------Kiffayat Khan//// • deborahkirkland • Psychology • pretty unique personal • quizzes • thinker • Creative stuff • Personality • Gyaan • Instructional • Articles • personality