USA Founders beliefs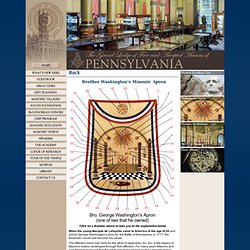 The affection each man held for the other is legendary. So, too, is the legacy of Masonic history developed through that affection. For many years Masons and non-Masons believed that the white silk apron known as the Lafayette Apron, had been embroidered by Madame Lafayette and presented to Bro. George Washington by Bro. Lafayette in August of 1784. This cannot be documented as fact.
Brother Washington's Masonic Apron - Masonic Library and Museum
George Washington joined the Masonic Lodge in Fredericksburg, Virginia at the age of 20 in 1752. His Masonic membership, like the others public titles and duties he performed, was expected from a young man of his social status in colonial Virginia. During the War for Independence, General Washington attended Masonic celebration and religious observances in several states. He also supported Masonic Lodges that formed within army regiments. At his first inauguration in 1791, President Washington took his oath of office on a Bible from St. John's Lodge in New York.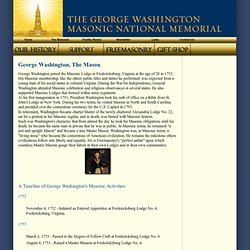 George Washington, the Mason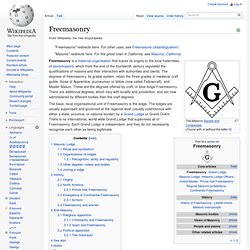 Freemasonry is a fraternal organisation that arose from obscure origins in the late 16th to early 17th century. Freemasonry now exists in various forms all over the world, with a membership estimated at around six million, including approximately 150,000 under the jurisdictions of the Grand Lodge of Scotland and Grand Lodge of Ireland , over a quarter of a million under the jurisdiction of the United Grand Lodge of England , [ 1 ] and just under two million in the United States . [ 2 ] The fraternity is administratively organised into independent Grand Lodges or sometimes Orients, each of which governs its own jurisdiction , which consists of subordinate (or constituent ) Lodges. The various Grand Lodges recognise each other, or not, based upon adherence to landmarks.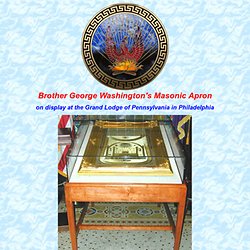 George Washington Masonic Aprons
Brother George Washington's Masonic Apron on display at the Grand Lodge of Pennsylvania in Philadelphia On October 26, 1816, the legatees of the Washington estate presented a Masonic apron to the Washington Benevolent Society of Pennsylvania. A short note, currently framed with the apron, was presented, reading:
15367412.jpg (JPEG Image, 360x288 pixels)
A three-page letter highlighting the 16th president's unconventional relationship with the Almighty has just been put on sale. It offers a possible insight into why he was never baptised, did not attend a church and, in defiance of political protocol of the era, would refuse to publicly discuss his spiritual beliefs. Such was his reluctance to embrace piety that, if he were standing for office today, there is a good chance he would be unelectable.
'Pantheist' Lincoln would be unelectable today - Americas, World