CROWDFUNDING ARTICLES
www.maximpact.com/asap/api/public/publication/bb9baaab-bbbb-4999-aa98-8888b99ab8b8/data.aspx
You would be able to have a punt on the unknown Facebook start-up if you were able to prove you were either a high net worth individual (about £250,000 in the bank) or a sophisticated investor. But if you are what the Financial Conduct Authority (FCA) describes as a retail investor, you would have to seek advice from a regulated financial adviser. Even with that advice, which comes at a price, you would have to certify that you were investing only 10 per cent of your portfolio. (How many people have portfolios, for goodness sake.) One rule for the rich, another for the squeezed middle?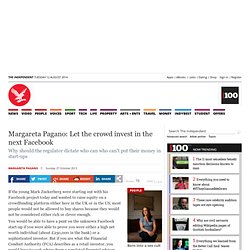 Margareta Pagano: Let the crowd invest in the next Facebook - Margareta Pagano - Business Comment
Equity Crowdfunding: A Kickstarter for Companies Is Around the Corner
Crowdfunding Efforts Draw Suspicion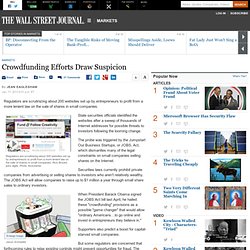 Jan. 17, 2013 6:51 p.m. ET Regulators are scrutinizing about 200 websites set up by entrepreneurs to profit from a more lenient law on the sale of shares in small companies. State securities officials identified the websites after a sweep of thousands of Internet addresses for possible threats to investors following the looming change. The probe was triggered by the Jumpstart Our Business Startups, or JOBS, Act, which dismantles many of the legal constraints on small companies selling shares on the Internet. Securities laws currently prohibit private companies from advertising or selling shares to investors who aren't relatively wealthy.
Investment banks: Gatekeepers no more as crowdfunding changes the game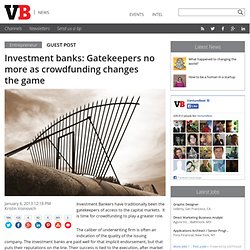 Investment Bankers have traditionally been the gatekeepers of access to the capital markets. It is time for crowdfunding to play a greater role. The caliber of underwriting firm is often an indication of the quality of the issuing company. The investment banks are paid well for that implicit endorsement, but that puts their reputations on the line. Their success is tied to the execution, after market performance and perception of the deals they complete –so they had better be selective and smart.
Investment banks will no longer be the gatekeepers to access to capital markets. The gatekeepers of access to the capital markets have traditionally been investment bankers. Now it is time for crowdfunding to play a greater role. The caliber of underwriting firm is often an indication of the quality of the issuing company. The investment banks are paid well for that implicit endorsement, but that puts their reputations on the line.
Crowdfunding changes the game – investment bankers will no longer be the gatekeepers
Crowdfunding: One Size Doesn't Fit All « SoMoLend
In this interesting article, Forbes asks the question 'Is the Crowdfunding Bubble About to Burst?' At SoMoLend, we certainly think so! We love that Forbes is recognizing the power of crowdfunding and the impact it will have on small businesses nationwide.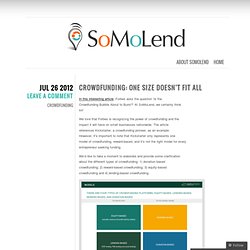 A Proposal to Allow Small Private Companies to Get Investors Online
Crowdfunding » | Smarter money | weblog about crowdfunding & crowdsourcing
Why Crowdfunding is Today's Goldrush
Back in the gold rush days, the smart people were not the ones heading for the hills to dig holes. The smart people were selling picks and shovels. Crowdfunding is like that.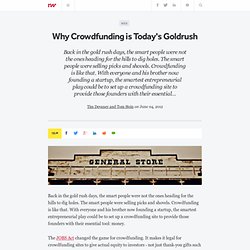 www.nancywrites.com/uploads/7/6/9/0/7690504/trend_crowdfunding_2010.pdf
documents.jdsupra.com/aeab6726-f0e5-41d7-92c1-837875a9b87f.pdf
www.gbgusa.com/small-business-blog/6966-crowdfunding-becomes-new-funding-source-for-business-buyers.pdf
Since economy downturn of 2008 it became increasingly hard to get bank financing for buying a business. Bank's direction on minimizing investment risk was taken into extreme - they simply don't want to take any risk any more. We always thought that banks make money by loaning money, however they survive pretty well without it. At least, without offering business acquisition loans. How does it affect business buying process?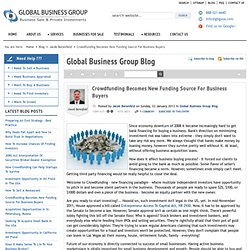 Is Crowd-Funding Small Businesses A Good Idea? Ian Schuster Says Yes - Danville, CA Patch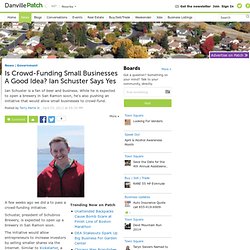 Ian Schuster is a fan of beer and business. While he is expected to open a brewery in San Ramon soon, he's also pushing an initiative that would allow small businesses to crowd-fund. A few weeks ago we did a to pass a crowd-funding initiative. Schuster, president of Schubros Brewery, is expected to open up a brewery in San Ramon soon. The initiative would allow entrepreneurs to increase investors by selling smaller shares via the Internet.
A proposed change in US legislation would allow everyone to invest in start-ups FANCY investing in the next Twitter? Or putting some money behind the new Facebook? More people might soon get the chance. On crowdfunding website Kickstarter, more than 87,000 people donated a total of over $3 million in February and March to help create the video game Double Fine Adventure (pictured). This is good news for gaming fans, but it also highlights the limits of the burgeoning crowdfunding movement in the US.
Crowdfunding successes show value of small donations - tech - 04 April 2012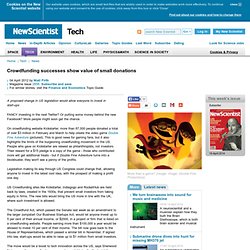 Crowdfunding as a College Student 101
Change·Lending A new bill on the block will take crowdfunding (like that of Kickstarter.com) and gives it a serious boost, allowing any Joe to invest in new businesses. This brings the idea of the long-tail directly into 1) Investing for consumers, and 2) Access to capital for entrepreneurs. And, since the small biz lending cap is such an issue with credit unions right now, this is definitely something that should be on everyone's radar. From the Economist: The Entrepreneur Access to Capital Act aims to make it easier for small businesses to raise money through 'crowdfunding'.
Crowdfunding is about to blow up, yall. | The Cooperative Trust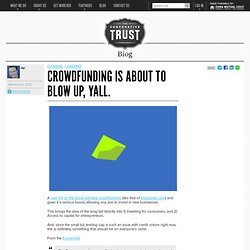 Crowdfunding: A Growing Trend | Notes on Design
Image from Smallbiztrends.com As the recession hit and established businesses cut jobs in 2008, an entrepreneurial spike was seen in the US. Many Americans took the opportunity to dig up a long-buried dream of being their own boss while others found themselves forced to dream up a new way to make their mortgage payments. This increase in aspiring entrepreneurs also means an increase in the demand for venture capital. And from this demand, the practice of "crowdfunding" gained momentum.
How to Crowdfund || There are 3 ways
There are three main ways you can crowdfund. Here's a quick rundown. 1. Equity Equity-based corwdfunding is when you ask a crowd to donate to your business in exchange for equity
Je zoekt 20.000 euro funding, maar krijgt geen lening van de bank en een investeerder vinden lukt ook niet zomaar. Wat dan? Crowdfunding kan een serieus alternatief zijn. Laat tien of honderd mensen een klein bedrag in je bedrijf steken, gezamenlijk voor 20.000 euro, en geef ze in ruil daarvoor rendement op de lening of een aandelenconstructie.
Finance - Sprout, inspire entrepreneurs
Crowdfunding helps countless new businesses raise necessary capital
TOP CROWDFUNDING ARTICLES
Open Innovation, crowdsourcing, co-creation… overlapping terminologies to describe a trend towards more open business models and a closer collaboration with customers. On this page we gather a list of inspiring examples Jump to the Open innovation Examples list Tip us about other initiatives (info@boardofinnovation.com – or twitter: @philderidder). Map out partnerships and value networks? try our Business Model Kit You can create your own business model visuals with our free digital package.
An investigation: Some thoughts
Crowdfunding is Great, But is it Right For Startups?
Crowdfunding, Micropayments and Publishers
BULLETINS
How to Crowdfund Your Next Big Idea
"Musicians must find new ways" - NZZ, 23 March 2012
Is Crowdfunding Better Than Sliced Bread? | Shawn Graham's Blog
Getting A Share- Equity-Based Crowdfunding
Crowdfunding- A Concept Whose Time Has Come?
Crowdfunding Sites | Crowd-funding sites getting attention from investors
Crowdfunding
It All Adds Up | trendcentral
The Manning Crowd
Are Crowd Funding Platforms the New Patrons of Independent Media?
How To Use Crowdfunding To Start Your Business - Investopedia.com
The Crowdfunder – an "adVenture Capitalist"
Venture Capital for the 99% | Endless Innovation
How crowdfunding could impact the venture capital industry
Venture capital from the Internet (Financial News, BBC)
Crowdfunding: We Don't Need No Stinkin' VCs - US Business News
A Brief History of Crowdfunding)
crowd funding is an option for non-profit organizations?
Crowd Funding Disadvantages - Crowd Funding
Crowdfunding Could Be the Answer to Your Cash Woes
Business & Small Business | News, Advice, Strategy