CROWDFUNDING CREATIVITY
Aflamnah: Crowd-funding creativity : EgyptMonocle
From left, Masoud Amralla Al Ali, Lotfi Bencheikh and Vida Rizq. Cairo: This time last year, the global media was in a frenzy with sensationalized catch phrases labeling the Arab revolutions as the "internet uprisings" and "Facebook revolutions." While technology certainly contributed to their success, the revolutions in Tunisia, Egypt and Libya were not technological revolutions. Social media did not create these revolts, but it did keep the movements alive and connected.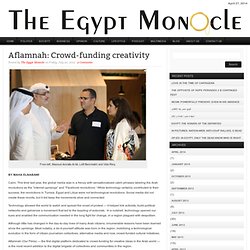 StartMe | Crowdfunding for SA Small Business Funding, Creative and Social Projects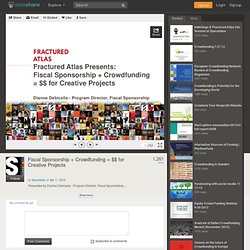 1,219 views Presented by Dianne Debicella - Program Director, Fiscal Sponsorship.... Presented by Dianne Debicella - Program Director, Fiscal Sponsorship. Presentation covers:
Fiscal Sponsorship + Crowdfunding = $$ for Creative Projects
1. Démarrer mon projet Sur MMC, vous pouvez proposer n'importe quel projet original et innovant à condition que vous ayez plus de 18 ans (ou que vous soyez représenté(e) par un tuteur légal si vous êtes mineur) et que votre projet n'ait pas déjà été financé sur un autre site.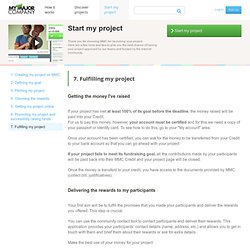 Launch a project on MyMajorCompany
Community organizations need fresh, creative ways to raise the funds required to provide vital services to our societies. One of the best ways to fundraise is to promote quality product from a small business owner and earn a healthy commission. In addition to fundraising, you can provide something of value to your patrons and supporters, and help a small business.
SoKap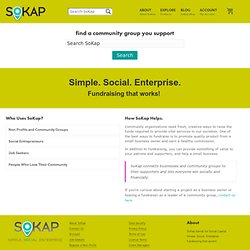 Wil jij crowdfunding inzetten en ben je op zoek naar een platform om jouw project of onderneming te presenteren? Deze pagina bevat een overzicht van alle platforms (zowel Nederlands als internationaal) waar Nederlandse projecten en ondernemingen op gepresenteerd kunnen worden. Er zijn verschillende redenen om voor een platform te kiezen, waaronder: taal, betaalmethode(n), niche, het gehanteerde crowdfunding model en natuurlijk de functionaliteiten, gebruiksvriendelijkheid en uiterlijk van een platform. Heb je een platform gekozen? Doe dan eens een donatie of investering via het platform en ervaar zelf hoe het is om een bijdrage te leveren! Wil je jouw crowdfunding project liever op een eigen website hosten?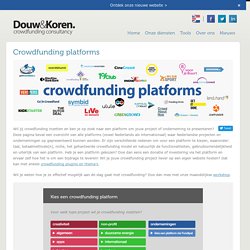 jump on opportunities
How it works Eppela is a reward based crowdfunding platform which allows you to create a project, share it with your network and obtain funding for its implementation. The target Whether you are an artist, a writer, a filmmaker, a geek, a designer, Eppela is the right place where you can make your project/idea jump, where you can create your new business and / or your successful startup. Why to choose Eppela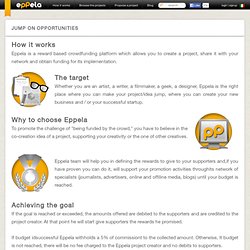 New Jelly
Crowd Culture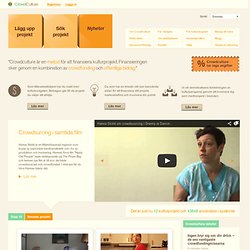 Diagrammet visar finansieringsförloppet och relationen mellan offentlga och privata investeringar. Företag Offentlig sektor Privatpersoner
wemakeit.ch, the first swiss based crowdfunding platform for the arts, publishing and design, is looking for your design project. Go to wemakeit.ch and be amongst to first projects that will launch in early february 2012. Crowdfunding is a new way of funding and launching projects together with your fans and supporters, and it has already helped thousands of artists, musicians and designers to launch their projects. It is an artists intitiative founded by Johannes Gees, Jürg Lehni and Rea Eggli.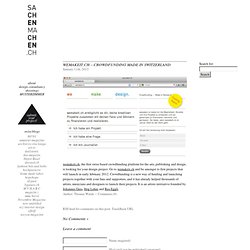 WEMAKEIT.CH – CROWDFUNDING MADE IN SWITZERLAND « sachenmachen.ch