CROWDFUNDING CREATIVITY
Aflamnah: Crowd-funding creativity : EgyptMonocle
From left, Masoud Amralla Al Ali, Lotfi Bencheikh and Vida Rizq. Cairo: This time last year, the global media was in a frenzy with sensationalized catch phrases labeling the Arab revolutions as the "internet uprisings" and "Facebook revolutions." While technology certainly contributed to their success, the revolutions in Tunisia, Egypt and Libya were not technological revolutions. Social media did not create these revolts, but it did keep the movements alive and connected.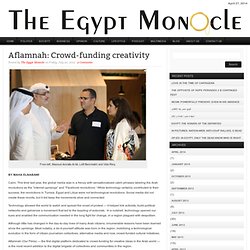 StartMe | Crowdfunding for SA Small Business Funding, Creative and Social Projects
Fiscal Sponsorship + Crowdfunding = $$ for Creative Projects
1. Creating my project You can pitch any innovative and original project on MMC, providing you are aged 18 or over and that your project has not already been funded through another website.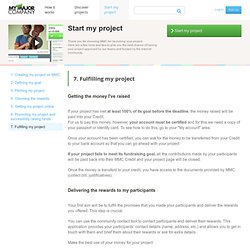 Launch a project on MyMajorCompany
SoKap
jump on opportunities
Art, technology, cinema, design, music, comics, literature, no-profit initiatives: think up ideas, share them, get them funded, and bring them to life. Eppela is the new crowdfunding project which lets you share your ideas online and get the necessary funding to launch them. A showcase with just one goal: to bring the creators of projects and their public together, so they can work together to set up innovative projects. An exchange in a click. It's simple to use and completely free .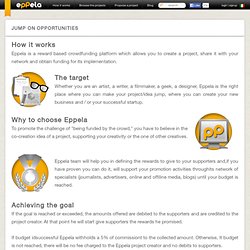 How does Catharsis? · Catharsis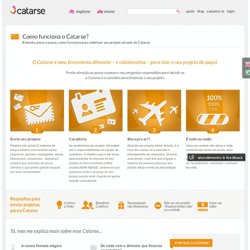 O Catarse é um espaço de trocas entre indivíduos que, juntos, viabilizam a realização de projetos criativos. Acreditamos que conectar pessoas que compartilham valor a respeito de uma causa, uma ideia, um projeto é uma das melhores formas de fazer com que elas se tornem realidade. Seja muito bem-vindo! Esse espaço é tão seu quanto nosso, afinal, Catarse acontece, diariamente, do encontro de pessoas em busca de novos caminhos para dar vida a mais iniciativas da própria sociedade.
New Jelly
wemakeit.ch , the first swiss based crowdfunding platform for the arts, publishing and design, is looking for your design project. Go to wemakeit.ch and be amongst to first projects that will launch in early february 2012. Crowdfunding is a new way of funding and launching projects together with your fans and supporters, and it has already helped thousands of artists, musicians and designers to launch their projects. It is an artists intitiative founded by Johannes Gees , Jürg Lehni and Rea Eggli .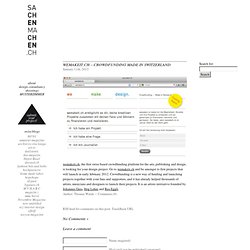 WEMAKEIT.CH – CROWDFUNDING MADE IN SWITZERLAND « sachenmachen.ch