CROWDFUNDING PUBLISHING
Preparing a general overview of crowdfunding platforms I learnt about some initiatives that focus on the book publishing industry. Earlier I was under assumption that a Dutch start-up called 'Tenpages' was the only player in this field. So, what is deal? Who is doing what? Crowdfunding Initiatives in Book Publishing
Crowdfunding in book publishing « TELL Fleur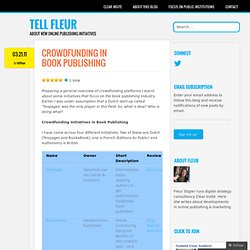 Crowdscribed.com: An 18th Century Publishing Model for the 21st
Unbound | books are now in your hands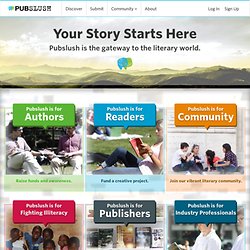 Tyler Nash wandered into his bedroom and climbed onto his bottom bunk. "Mommy," the five year old began, "can I ask you something?" He peered out the window overlooking his backyard. His mom stopped folding the pajamas in her hand and sat beside him on his blue and red striped bedspread.
unglue (v. t.) 1. To pay an author or publisher for publishing a Creative Commons ebook. unglue (v. t.) 2. To make a digital book free to read and use, worldwide. unglue (v. t.) 3. To make it legal for a digital book to be used, distributed, archived and preserved by libraries.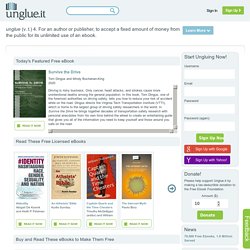 New Post - MARKETPLACE FOR JOURNALISM
Een jaar lang filmen levert uiteindelijk ongeveer 40 uur materiaal op. Met de HUMAN, de omroep die Oude Bomen graag wil uitzenden, is afgesproken dat we een film gaan maken van 60 minuten. De fase van het creëren is dus begonnen: In vaktermen noemen we dat: spotten. Al het gedraaide materiaal beoordeel ik op inhoud, beeldkwaliteit en bruikbaarheid. Hiermee wordt de basis van het verhaal gelegd. Of te wel; de bodem wordt bouwrijp gemaakt.
Schrijversmarkt.nl
Beste bezoeker, Schrijversmarkt is eind 2009 opgericht met het doel om het publiek te laten beslissen welke manuscripten moeten worden uitgegeven. Sinds de start van Schrijversmarkt is het vier auteurs gelukt hun manuscript door 250 personen te laten supporten.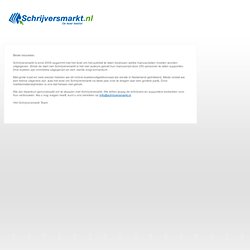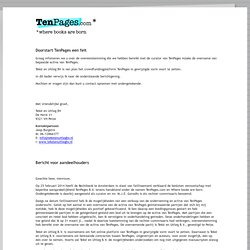 Doorstart TenPages een feit Graag infomeren we u over de overeenstemming die we hebben bereikt met de curator van TenPages inzake de overname van bepaalde activa van TenPages. Tekst en Uitleg BV is van plan het crowdfundingplatform TenPages in gewijzigde vorm voort te zetten. In dit kader verwijs ik naar de onderstaande berichtgeving.
<div class="container"><div class="row"><div class="col-md-12"><span class="icon">&#x26A0;</span> This website requires JavaScript, and may not work correctly without it. <a href="https://support.google.com/adsense/answer/12654?hl=en-GB" class="link">Find out how to enable it.</a></div></div></div> At Unbound, authors pitch their ideas and you choose which books get written. Be part of a revolution in publishing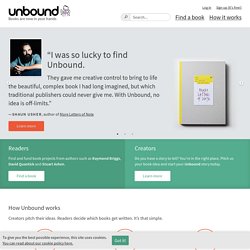 ©Naveen Jamal I was reading an article in Fast Company about the launch of Emphas.is and came across an aspect about the model that I really hadn't thought much about – the role and opportunity for publishers. Publishers, too, if they take a shine to a project on the site, can secure first publication rights by funding up to 50% of the project. Publishers also, of course, have to pay a negotiated fee for the photographer's work. It'll be interesting to see what stories get picked up by large publications. I'm sure it'll happen sooner than later, but what I find more interesting is the possibility that publications could evolve the crowdfunding model and use it to fund their own projects.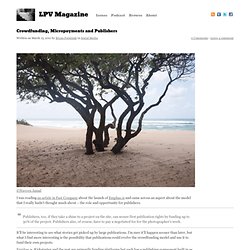 Crowdfunding, Micropayments and Publishers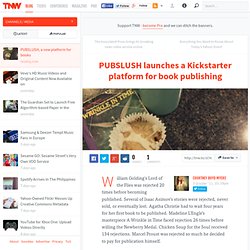 William Golding's Lord of the Flies was rejected 20 times before becoming published. Several of Isaac Asimov's stories were rejected, never sold, or eventually lost. Agatha Christie had to wait four years for her first book to be published.
PUBSLUSH launches a Kickstarter platform for book publishing