CROWDFUNDING PUBLISHING
i 1 Vote Preparing a general overview of crowdfunding platforms I learnt about some initiatives that focus on the book publishing industry. Earlier I was under assumption that a Dutch start-up called 'Tenpages' was the only player in this field. So, what is deal?
Crowdfunding in book publishing « TELL Fleur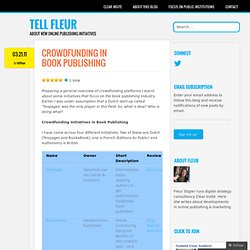 "This will give authors the chance to test market their projects before committing to full production."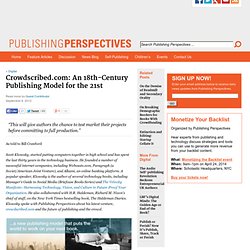 Crowdscribed.com: An 18th Century Publishing Model for the 21st
Unbound | books are now in your hands
A Crowdfunded Approach To Setting E-Books Free
What do To Kill A Mockingbird, A Wrinkle in Time and Little House on the Prairie series have in common, besides being beloved? None of them are available legally as e-books. A new site aims to make these and other e-books available to the public (and in libraries), as DRM-free Creative Commons works, via crowdfunding. The newly launched Unglue.it, now in alpha, is a place for individuals and institutions to join together to liberate specific e-books and other types of digital content by paying rights holders to relicense their works under Creative Commons licenses. Here's how the site will work when it is fully up and running: A book's digital rights holder sets the price for which he or she is willing to make a book as a Creative Commons, DRM-free e-book.
New Post - MARKETPLACE FOR JOURNALISM
Schrijversmarkt.nl
©Naveen Jamal I was reading an article in Fast Company about the launch of Emphas.is and came across an aspect about the model that I really hadn't thought much about – the role and opportunity for publishers. Publishers, too, if they take a shine to a project on the site, can secure first publication rights by funding up to 50% of the project. Publishers also, of course, have to pay a negotiated fee for the photographer's work. It'll be interesting to see what stories get picked up by large publications. I'm sure it'll happen sooner than later, but what I find more interesting is the possibility that publications could evolve the crowdfunding model and use it to fund their own projects.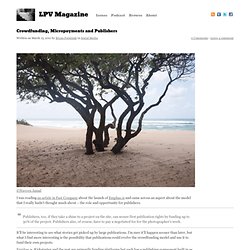 Crowdfunding, Micropayments and Publishers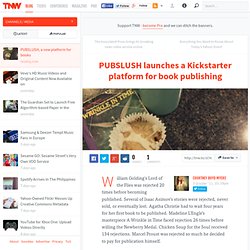 William Golding's Lord of the Flies was rejected 20 times before becoming published. Several of Isaac Asimov's stories were rejected, never sold, or eventually lost. Agatha Christie had to wait four years for her first book to be published.
PUBSLUSH launches a Kickstarter platform for book publishing