News on Astronomy & Space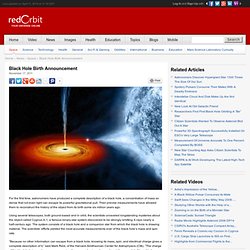 For the first time, astronomers have produced a complete description of a black hole, a concentration of mass so dense that not even light can escape its powerful gravitational pull. Their precise measurements have allowed them to reconstruct the history of the object from its birth some six million years ago. Using several telescopes, both ground-based and in orbit, the scientists unraveled longstanding mysteries about the object called Cygnus X-1, a famous binary-star system discovered to be strongly emitting X-rays nearly a half-century ago. The system consists of a black hole and a companion star from which the black hole is drawing material. The scientists' efforts yielded the most accurate measurements ever of the black hole's mass and spin rate.
» David Eagleman on Possibilianism at Poptech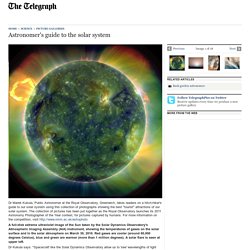 Dr Marek Kukula, Public Astronomer at the Royal Observatory, Greenwich, takes readers on a hitch-hiker's guide to our solar system using this collection of photographs showing the best "tourist" attractions of our solar system. The collection of pictures has been put together as the Royal Observatory launches its 2011 Astronomy Photographer of the Year contest, for pictures captured by humans. For more information on the competition, visit http://www.nmm.ac.uk/astrophoto
Astronomer's guide to the solar system
How to see the best meteor showers of 2012: Tools, tips and save the dates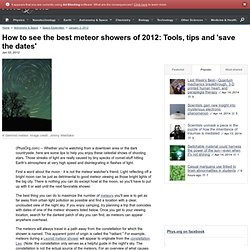 A Geminid meteor. Image credit: Jimmy Westlake (PhysOrg.com) -- Whether you're watching from a downtown area or the dark countryside, here are some tips to help you enjoy these celestial shows of shooting stars.
SolarSystemAbundances.png (800×357)
I Bet We Could Explore The Galaxy at Kontraband
June 4, 2012 A team of astronomers has used the Subaru and Keck Telescopes to discover the most distant galaxy ever found, SXDF-NB1006-2, at a distance of 12.91 billion light years from the Earth. This galaxy is slightly farther away than GN-108036, which Subaru Telescope discovered last year and was the most distant galaxy discovered at the time.
Discovery of the Most Distant Galaxy in the Cosmic Dawn « NAOJ | Release « NAOJ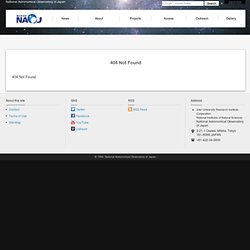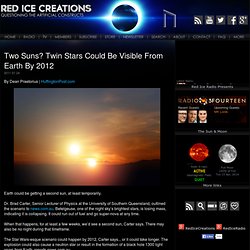 By Dean Praetorius | HuffingtonPost.com Earth could be getting a second sun, at least temporarily. Dr. Brad Carter, Senior Lecturer of Physics at the University of Southern Queensland, outlined the scenario to news.com.au . Betelgeuse, one of the night sky's brightest stars, is losing mass, indicating it is collapsing. It could run out of fuel and go super-nova at any time.
After decades of global dominance, America's space shuttle program ended last summer while countries like Russia, China and India continue to advance their programs. But astrophysicist Neil deGrasse Tyson, author of the new book Space Chronicles: Facing the Ultimate Frontier , says America's space program is at a critical moment. He thinks it's time for America to invest heavily in space exploration and research. "Space exploration is a force of nature unto itself that no other force in society can rival," Tyson tells NPR's David Greene.
'Space Chronicles': Why Exploring Space Still Matters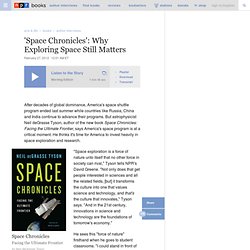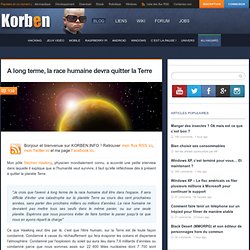 A long terme, la race humaine devra quitter la Terre
Par Korben Mon pôte Stephen Hawking , physicien mondialement connu, a accordé une petite interview dans laquelle il explique que si l'humanité veut survivre, il faut qu'elle réfléchisse dès à présent à quitter la planète Terre. "Je crois que l'avenir à long terme de la race humaine doit être dans l'espace. Il sera difficile d'éviter une catastrophe sur la planète Terre au cours des cent prochaines années, sans parler des prochains milliers ou millions d'années.