Dinner
Scratch Cheddar Bay Biscuits. Egg Casserole. Slow-Cook Veggie Chili. 40 Amazing Grilled Cheese Sandwich Recipes. Stuffed Cheesy Bread on Crack. This is Cheesy-Melty-Onion-Garlic-Love weekend.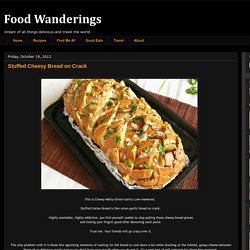 Stuffed Italian Bread is like onion-garlic bread on crack. Highly snackable, highly addictive, you find yourself unable to stop pulling those cheesy bread pieces and licking your fingers good after devouring each piece. Trust me. Your friends will go crazy over it. Best Zucchini Cream Soup. Almost-Famous Cheddar Biscuits Recipe : Food Network Kitchens. Veggies & Corn Chowder. 2 tbsp. celery, finely diced 2 tbsp. onion, finely diced 2 tbsp. green pepper, finely diced 1 pkg. (10 oz.) frozen whole kernel corn 1 cup raw potatoes, peeled, diced in 1/2-inch pieces.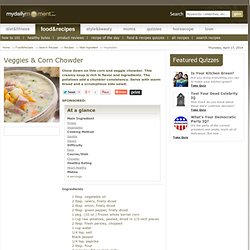 Recipe for smoky corn chowder. All New Englanders are predisposed to love chowder.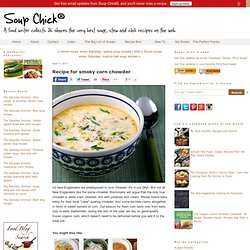 It's in our DNA. But not all New Englanders like the same chowder. Bostonians will argue that the only true chowder is white clam chowder, rich with potatoes and cream. Healthy Vegetable Bisque. Broccoli and White Cheddar Mac & Cheese & The Craving Chronicles. Mac & cheese.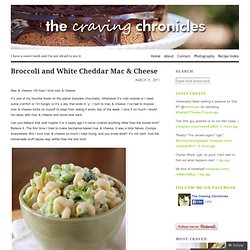 Oh how I love mac & cheese. It's one of my favorite foods on the planet (besides chocolate). Whenever it's cold outside or I need some comfort or I'm hungry or it's a day that ends in 'y', I turn to mac & cheese. I've had to impose mac & cheese limits on myself to keep from eating it every day of the week. Fried "Chicken" Fingers &|&C'est La Vegan. Just looking at this photo makes my mouth water.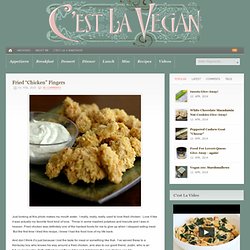 I really, really, really used to love fried chicken. Love it like it was actually my favorite food kind of love. Throw in some mashed potatoes and biscuits and I was in heaven. Fried chicken was definitely one of the hardest foods for me to give up when I stopped eating meat. But the first time I tried this recipe, I knew I had the food love of my life back. Dinner in 15 Minutes Flat. Spicy Buffalo Cauliflower 'Wings' Looking for a healthier (and kinder) alternative to chicken wings?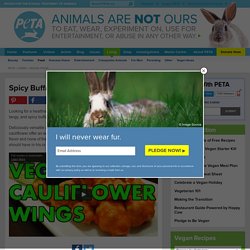 Try these juicy, tangy, and spicy buffalo cauliflower "wings"! Deliciously versatile and with just enough "kick," these bite-sized pieces of cauliflower offer an eerily similar experience to eating chicken wings. With all the flavor and none of the guilt, this is a secret-weapon recipe that every vegan cook should have in his or her kitchen. 23 Tasty Tofu Recipes Recipe - DinnerTool.com. 84th&3rd | Spicy Carrot, Tomato and Lentil Soup. I love soup.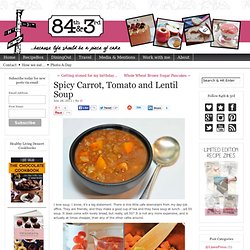 I know, it's a big statement. There is this little cafe downstairs from my day-job office. They are friendly, and they make a good cup of tea and they have soup at lunch….$8.50 soup. It does come with lovely bread, but really, $8.50? Caramelized Onion Tart Recipe | Savory Sweet Life - Easy Recipes from an Everyday Home Cook - StumbleUpon. Aramelized onions… need I say more?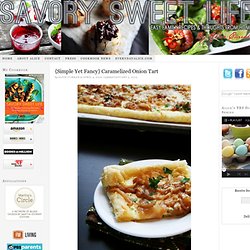 What's a girl to do when she has a package of puff pastry staring at her each time she opens the door to her freezer? Well my friends, it's your lucky day because I'm about to share with you an onion tart fancy enough to serve at your next dinner party and simple enough to enjoy at home any day you'd like. There is something magical about caramelized onions. It reminds me of the stages of a caterpillar turning into a butterfly. With the help of butter and a few seasonings regular yellow onions transform into a soft heap of golden goodness. Spicy Vegetarian Chili. You didn't think I'd show you how to make those delicious Jalapeno Pepper Jack Scones and not show you how to rock them out with some chili, did you!?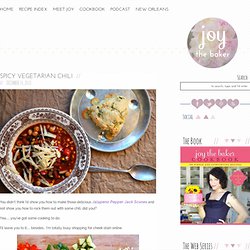 Yea… you've got some cooking to do. I'll leave you to it… besides, I'm totally busy shopping for cheek stain online. I manage to throw, darn near, the entire contents of my fridge in my chili. Cheese Pinwheel Rolls. Sooner or later, all my conversations inevitably turn to food.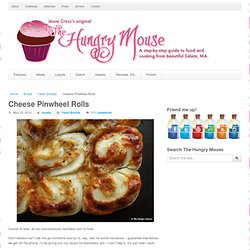 Don't believe me? Call me up sometime and try to, say, sell me some insurance. I guarantee that before we get off the phone, I'll be giving you my recipe for blackberry jam. Vegetable Lasagna Cupcakes. Guacamole Grilled Cheese Sandwich. Guacamole Grilled Cheese Sandwich Josh's brother is visiting us from California and we are having a great time.
Caleb sure loves having his uncle around and I love having another person to feed:) The other day the guys wanted a snack so I whipped up a bowl of guacamole and made homemade baked tortilla chips. Slow Cooker Loaded Baked Potato Soup. Veggie Stromboli. As most of you know, I have a raging love affair with all things Boston Terrier. Most notably the living, breathing kind.
In case you had any doubts as to why they are the world's most loveable dog I've documented some of their charm using my very own CANDY as a model. Jalapeno Hummus Ravioli. I have been experimenting with hummus a lot lately while serving as the Sabra Brand Ambassador on MixingBowl.com and decided to try a Hummus Ravioli recipe they shared on their Facebook Page. I spent a bit of time debating about which hummus flavor to use: lemon, roasted red pepper etc. and decided to go spicy with the jalapeno flavor. I was not sure how this would taste but imagined it could be fun and boy was I right.
---