Game Mechanics & Design
Gamification
Some Differences Between Experts and Novices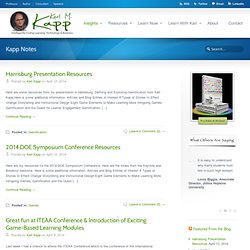 Posted on 20. Sep, 2012 by karlkapp in Design , Education As learning professionals, it is important that we understand that novice learners and expert learners demand/require and need a different approach to instruction.
Different Types of Users in Gamification - Andrzej's Blog
Posted on 21. Sep, 2012 by karlkapp in Games
Three Thoughts on #Games & #Gamification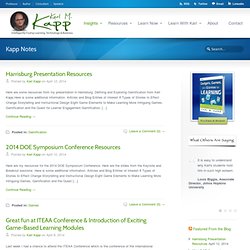 Galactic Arms Race (GAR)
What Is the Future of Gamification? [Survey]
Gabe Zichermann is the author of the critically acclaimed book Game-Based Marketing (Wiley, 2010), the upcoming Gamification by Design (O'Reilly, 2011) and blogs at Gamification.co . He's also the chair of the January Gamification Summit in San Francisco. Mashable Readers are invited to attend with a special discount by using the code GSMASH11 at GSummit.com . This year was the first time most people heard the term "Gamification," the process of using game thinking and game mechanics to solve problems and engage audiences.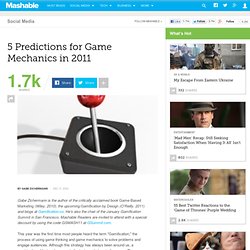 5 Predictions for Game Mechanics in 2011
For me, 2011 was the year I discovered games. Not in the football, baseball, basketball sense, or the Monopoly, Settlers of Catan, Dungeons & Dragons sense. No, games in the marketing sense.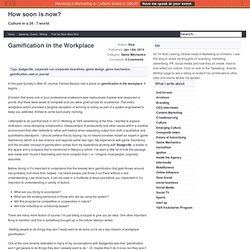 Game Mechanics
PSFK Future of Gaming Report
13 Apr 2011 You might have heard the words "casual gaming" and "gamification" a lot these days. Thanks to mobile devices and social networks, games are reaching new customers.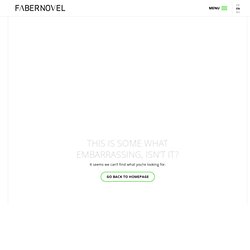 The twenty-first century will be gamified, or it will not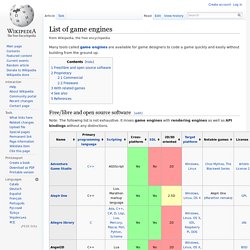 Many tools called game engines are available for game designers to code a game quickly and easily without building from the ground up. [ edit ] Free and open source Note: The following list is not exhaustive.
Harvard Researchers Find A Creative Way To Make Incentives Work
Incentives are all the rage: employee bonus pay, app badges, student grades, and even lunch with President Obama.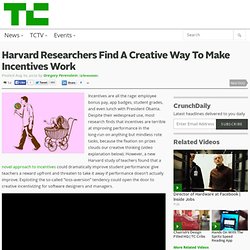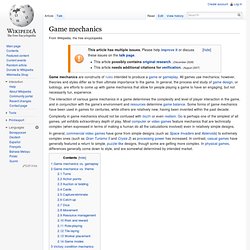 Game mechanics are constructs of rules intended to produce a game or gameplay .
Game mechanics
If you want to make Gamification actionable, Check out my Complete Gamification Framework called Octalysis (I use it to analyze everything) For those who been following my blog regularly, its pretty apparent that I have been writing heavily into the topic of Gamification.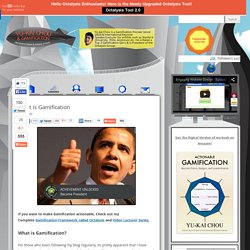 What is Gamification
Octalysis: Complete Gamification Framework
Gamification may have been the buzzword of 2010, but its influence shows no sign of abating in 2011. It is a term derided by game designers, misunderstood by brands and unknown to consumers. So as you set out to "gamify" your business, what are the cardinal rules of gamification? 1.
The ten rules of gamification
27 Dec 2010 The process of gamification is based on the integration of typical game components into websites, online communities, content portals or business services and, in general, others non-gaming contexts. But what kind of techniques is needed to obtain the desired results?
Gamify your business - game-mechanics and game-dynamics | alittleb.it srl - Technology driven business solution
Gamification Study
Gabe Zichermann is the author of Gamification by Design and chair of the upcoming Gamification Summit NYC, where top leaders in the field - such as those profiled here - get together to share insight, key metrics and best practices. Mashable readers are invited to register with special savings at GSummit.com using code MASH10. Gamification is the use of game thinking and game mechanics to engage audiences and solve problems. In other words, it means taking the best lessons from games like FarmVille , World of Warcraft and Angry Birds , and using them in business.
7 Winning Examples of Game Mechanics in Action
Octalysis: an Actionable Gamification Framework from an Industry Pioneer
Your customers hoard airline miles and covet their status-symbol black American Express. What was once called "consumer incentives" is now known as "gamification"—and here's how to integrate it into your company and win consumers' hearts and minds while you're at it. 335 in Share
As mentioned in our previous episode, gamification is everywhere, even in training.
gamification main mechanisms
Best Practices: Applying The Seven Deadly Sins To Successful Gamification
Welcome to Flow in Games
The Power of Virtual Gifts in a Gamified World « Strategic Synergy
Main Page - Gameful
GAMEFUL, a Secret HQ for Worldchanging Game Developers by Jane McGonigal
101 Game Design Principles for Social Media - Simplicable
Core Concepts of Gamification :: Business901
"Game Mechanics"
About 138,000 Large results (0.33 seconds) by noosquest Nov 24
About 2,040,000 Images results (0.40 seconds)
About 133,000 Large results (0.32 seconds)
About 4,540,000 text results (0.37 seconds) by noosquest Sep 22
gamification 46,200 Large
About 92,500 Large results (0.36 seconds) by noosquest Nov 24
About 46,200 Large results (0.27 seconds) by noosquest Mar 4
About 33,500 results (0.32 seconds) Large by noosquest Dec 3
About 19,300 results (0.56 seconds) Large by noosquest Nov 25
Gamekit: Welcome