France
Francois Hollande sacks critical minister Delphine Batho. 2 July 2013Last updated at 13:55 ET Delphine Batho called the budget "bad" for her department France's President Francois Hollande has sacked his Environment Minister, Delphine Batho, after she criticised cuts to her department.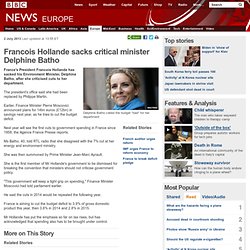 The president's office said she had been replaced by Philippe Martin. Earlier, Finance Minister Pierre Moscovici announced plans for 14bn euros (£12bn) in savings next year, as he tries to cut the budget deficit. Next year will see the first cuts to government spending in France since 1958, the Agence France Presse reports. French and Algerian youth filmmakers renegotiate Algeria's image - Report: France - Marseille Forum. The film was shown as part of Libération's Forum in Marseille on 19 and 20 April, entitled "Take action today in the Mediterranean region."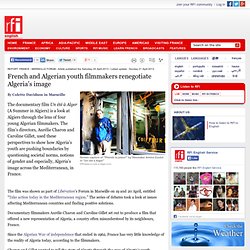 The series of debates took a look at issues affecting Mediterranean countries and finding positive solutions. Documentary filmmakers Aurélie Charon and Caroline Gillet set out to produce a film that offered a new representation of Algeria, a country often misunderstood by its neighbours, France. French jobless total hits 14-year high. Detenido un periodista por publicar datos de griegos con cuentas en bancos suizos | Economía. "Están entrando en mi casa con un fiscal.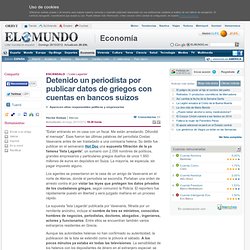 Me están arrestando. Difundid el mensaje". 'Third Man' Mélenchon can no longer be ignored « Revolting Europe. Jean-Luc Mélenchon, the radical Left Front's Presidential candidate, has gained four percentage points in two weeks in opinion polls, a result that would see him take the third spot in the first of the two round vote for France's head of state.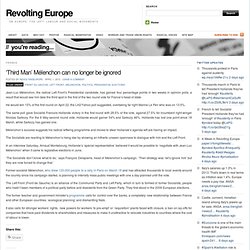 He would win 15% of the first round on April 22, the LH2/Yahoo poll suggested, overtaking far right Marine Le Pen who was on 13.5%. The same poll gave Socialist Francois Hollande victory in the first round with 28.5% of the vote, against 27.5% for incumbent right-winger Nicolas Sarkozy. For the 6 May second round vote, Hollande would garner 54% and Sarkozy 46%. Hollande has lost one point since 18 March, while Sarkozy has gained one. La preuve du double-jeu de la France en Libye. L'entreprise française Amesys, spécialisée en systèmes de surveillance électronique, est accusée d'avoir équipé la dictature libyenne.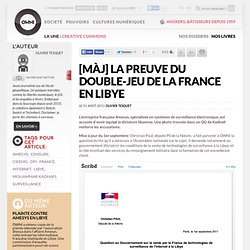 Une photo trouvée dans un QG de Kadhafi renforce les accusations. Mise à jour du 1er septembre: Christian Paul, député PS de la Nièvre, a fait parvenir à OWNI la question écrite qu'il a adressée à l'Assemblée nationale sur le sujet. Il demande notamment au gouvernement d'éclaircir les conditions de la vente de technologies de surveillance à la Libye, et le rôle éventuel des services du renseignement militaire dans la formation de cet encombrant client. Un tout petit logo (ci-contre), une tâche quasi-invisible en haut à gauche d'une affichette (ci-dessous) placardée dans le centre de commandement de l'unité électronique de Mouammar Kadhafi, à Tripoli. La danse du ventre de Sarkozy autour des géants du Web français.
En territoire universitaire (1/4) : "Maître de conférences, les tribulations de nos enseignants chercheurs" Un documentaire de Johanna Bedeau et Diphy Mariani Notre histoire se passe entre l'université de Paris X Nanterre - La Défense et l'université de Bourgogne, où l'on enseigne l'histoire, la géographie, les lettres et le droit.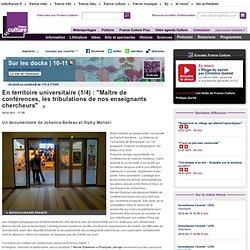 François Jarrige, jeune Maître de conférences en histoire moderne, marie autorité et convivialité. Concentré sur lui-même, toujours prêt à une réflexion intérieure, il accède rapidement à son poste. Cyber attack on ministry 'targeted G20 information' Immigration: France sees tensions rise five years on from Paris riots | World news. Fariz Allili looked out at the decaying tower blocks he calls the "ghetto".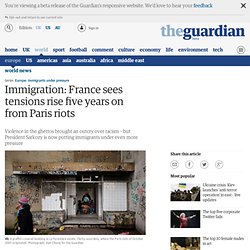 Grafitti cakes his entrance hall, there is no heating, the lift has been broken for months and unemployed youths loiter with nothing to do. Even the local mayor calls this place a "vertical shanty town". Five years ago these estates in Clichy-sous-Bois on the edge of Paris exploded in riots that spread across France and led to a state of national emergency. The trigger for the violence was the death of two young boys electrocuted in a power substation while hiding from police. But the root cause was the hopelessness of a generation of young French people, ghettoised in dismal suburbs, marginalised and jobless because of their skin colour or their parents' immigrant origins.
Des salariés manifestent au Mondial de l'automobile. Plusieurs centaines de salariés du secteur automobile se sont invités vendredi au Mondial de l'automobile, à Paris, à l'appel de la CGT-Métallurgie et de la CGT-Chimie, pour défendre "les emplois, les salaires et les retraites".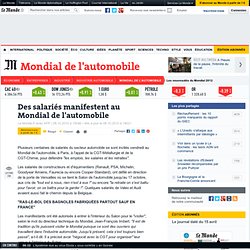 Les salariés de constructeurs et d'équimentiers (Renault, PSA, Michelin, Goodyear Amiens, Faurecia ou encore Cooper-Standard), ont défilé en direction de la porte de Versailles où se tient le Salon de l'automobile jusqu'au 17 octobre, aux cris de "tout est à nous, rien n'est à eux ! " ou encore "la retraite on s'est battu pour l'avoir, on se battra pour la garder ! ".
---