Words and Art
Words of Art. The page you are looking for is not here.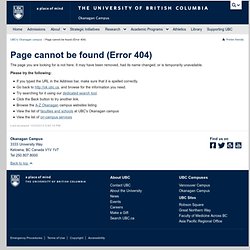 It may have been removed, had its name changed, or is temporarily unavailable. Please try the following: If you typed the URL in the Address bar, make sure that it is spelled correctly.Go back to and browse for the information you need.Try searching for it using our dedicated search tool.Click the Back button to try another link.Browse the A-Z Okanagan campus websites listingView the list of faculties and schools at UBC's Okanagan campusView the list of on-campus services Last reviewed. Xu Bing Interactives. The Art of Words. You're sensing a theme here now, aren't you?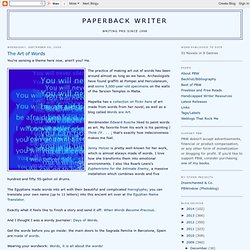 Ha. The practice of making art out of words has been around almost as long as we have. Word Art: Transience | 1-Art.eu - Art For The 21st Century | 1-art.eu: Art For The 21st Century By SFX. It all started with wanting to make some more background fills for websites - I'd done old paper and now I wanted some seriously ancient paper for my gallery.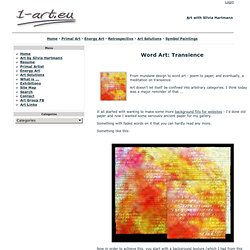 Something with faded words on it that you can hardly read any more. Something like this: Now in order to achieve this, you start with a background texture (which I had from this mornings wonderworlds trip with the micro-camera) and then you add a structure to it. In this case, the structure was to be words. So when I came to make this structure, instead of just typing random letters, I found myself writing a hypnodream poem which would be on the page even though you wouldn't be able to read it.
Art Lesson Using Words. Ask students to select a word or truism and create it out of the something that represents that word.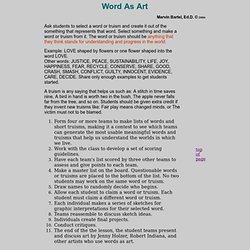 Select something and make a word or truism from it. The word or truism should be anything that they think stands for understanding and progress in the world. WORDS OF ART - Page 1 - Voice Choices. Pictures With Words (How Confusing!) | SadAndUseless.com. Words form your face by ~girlwithstripes on deviantART. Playing with art & language: some personal memories - The Word As Art - Artlink Magazine. In the early 1980s I walked into what was then the Third Eye Centre in Glasgow's Sauchiehall Street and saw that the art centre shop was full of giant prints by London-based Scot Bruce McLean.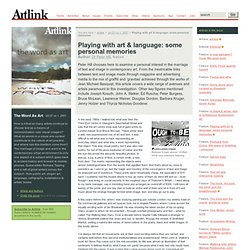 These prints were a wild, neo-expressionist mix of art and text. It was difficult to tell what was a mark representing an everyday object and what was a word representing that object. This was visual poetry, but it was also real poetry, for out of the pizza explosion of colour and line the eye discerned the absurdly beautiful phrase, 'A teacup, a jug, a piece of floor, a certain smile, a new front door.' Semic and Asemic Writing in Art. Not anti-semitic writing, dummy, writing.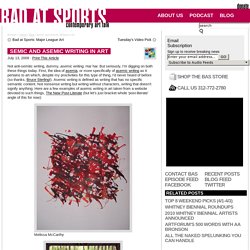 Har har. But seriously, I'm digging on both these things today. First, the idea of asemia , or more specifically of asemic writing as it pertains to art which, despite my proclivities for this type of thing, I'd never heard of before (so thanks, Bruce Sterling !). Asemic writing is defined as writing that has no specific semantic content. Not nonsense writing but writing without characters, writing that doesn't signify anything. 2009 August « Words Are Art. The Trees I'm trying a new kind of tree.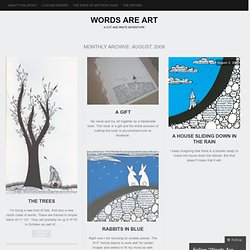 And also a new rabbit made of words. These are framed in simple black–6×11 1/2″. They will probably be up in IF+D in October–as part of… Continue reading A Gift. IN SO MANY WORDS / 'Peach Vejvi' / S.F. artist's text-heavy canvases create an elaborate story from a swirl of fragments. It makes sense that artist Zane Peach is from Northern California.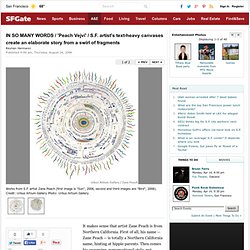 First of all, his name -- Zane Peach -- is totally a Northern California name, hinting at hippie parents. Then comes his easygoing, conversational style, not rushed, frantic or forceful: the very soul of mellow.
---