Discoveries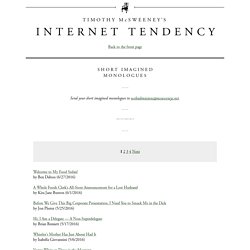 White House Press Secretary Has a Few Words About the Secret Kill List by Alex Kane (2/26/2013) Grandson, I Lied When I Said I Hurt My Knee in the War; It Happened During an Improv Scene by Spencer Ham (2/12/2013)
Short Imagined Monologues
The 17 Craziest Tweets of Yoko Ono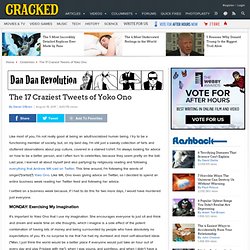 Like most of you, I'm not really good at being an adult/socialized human being. I try to be a functioning member of society, but, on my best day, I'm still just a sweaty collection of farts and stuttered observations about pop culture, covered in a stained t-shirt. I'm always looking for advice on how to be a better person, and I often turn to celebrities, because they seem pretty on the ball. Last year, I learned all about myself (and also partying) by religiously reading and following everything that Andrew WK said on Twitter. This time around, I'm following the words of singer(?)
7 Best Facebook Easter Eggs
HER UNIVERSE
YooouuuTuuube
Polaroid Portraits
Try to think to pick the Instagram App icon and try to make a real camera… This is the main idea at the base of Instagram Socialmatic Project. I want to pick some points 1) 50.000$ is for project startup and to allow "us" to have a real good partner to finalize the project; 2) Your contribution will be used to guarantee you a massive discount on final price of the Camera and to create the first crowd sourcing based photo camera!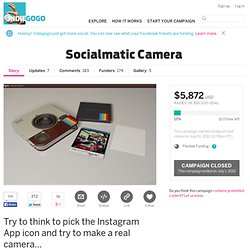 Socialmatic Camera
Test Results
By now I'm sure everyone and their grandmother has seen the Dizzy Dee microwave chocolate cake in a mug. However, whenever I've made it, I've found it to be somewhat gelatinous and, quite frankly, not really chocolatey. In its stead, here's a brownie recipe that I've been using for a while and with which I've gotten MUCH better result.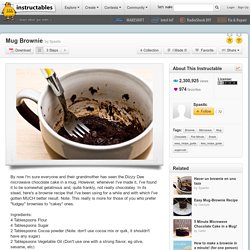 Mug Brownie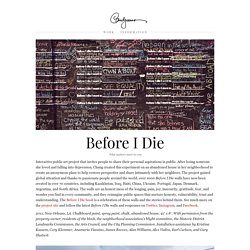 What is important to you 2011-ongoing It's easy to get caught up in the day-to-day and forget what really matters to you. After I lost someone I loved very much, I thought about death a lot. This helped clarify my life, the people I want to be with, and the things I want to do, but I struggled to maintain perspective.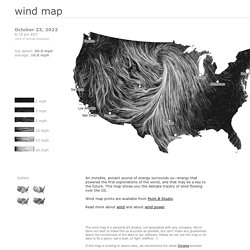 An invisible, ancient source of energy surrounds us—energy that powered the first explorations of the world, and that may be a key to the future. This map shows you the delicate tracery of wind flowing over the US. The wind map is a personal art project, not associated with any company. We've done our best to make this as accurate as possible, but can't make any guarantees about the correctness of the data or our software. Please do not use the map or its data to fly a plane, sail a boat, or fight wildfires :-) If the map is missing or seems slow, we recommend the latest Chrome browser.