Archeological Discoveries in the Americas
10,000-year-old remains of settlements are unearthed in Bolivia - making it the oldest archaeological site in the Amazon. Swiss researchers from the University of Bern said mounds of snail shells were left by settlers in the early Holocene period, around 10,400 years ago Experts once thought the previously unexplored area had been rarely occupied by communities due to poor environmental conditions By Sarah Griffiths Published: 21:01 GMT, 28 August 2013 | Updated: 11:24 GMT, 30 August 2013.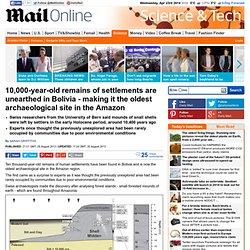 Drugged with beer and cocaine and left to freeze to death, 500-year-old mummies of sacrificed Inca children reveal their secrets. Archaeologists discover traces of coca leaves and beer in Incan mummies The mummies of the three children were discovered in 1999 in ArgentinaThey are the best naturally preserved group of mummies found so far By Fiona Macrae Published: 18:03 GMT, 29 July 2013 | Updated: 07:35 GMT, 30 July 2013 Her body is so perfectly preserved that it is hard to believe this girl died more than 500 years ago.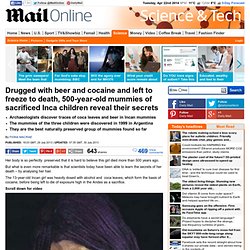 But what is even more remarkable is that scientists today have been able to learn the secrets of her death – by analysing her hair. The 13-year-old Incan girl was heavily dosed with alcohol and coca leaves, which form the basis of cocaine, before being left to die of exposure high in the Andes as a sacrifice. Treasures of the Peruvian royal tombs: Archaeologists find first unlooted tomb of the ancient Wari civilisation where three queens were buried alongside golden jewellery and human sacrifices. Wari empire ruled the Andes before their better-known Incan successorsTomb was a lucky find at the site which has long been targeted by raidersIt provides a wealth of new information about the enigmatic civilisationRemains found alongside mummies believed to be human sacrifices By Daniel Miller Published: 09:50 GMT, 28 June 2013 | Updated: 07:15 GMT, 1 July 2013.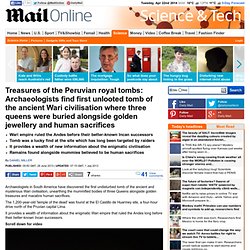 Kuelap an amazing fortress in Chachapoyas. Kuelap Peru InkaNatura Travel. Kuelap. View along fortress wall at Kuelap The fortress of Kuelap or Cuélap (Chachapoyas, Amazonas, Perú), associated with the Chachapoyas culture, consists of massive exterior stone walls containing more than four hundred buildings.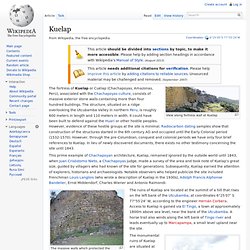 The structure, situated on a ridge overlooking the Utcubamba Valley in northern Peru, is roughly 600 meters in length and 110 meters in width. It could have been built to defend against the Huari or other hostile peoples. However, evidence of these hostile groups at the site is minimal. Radiocarbon dating samples show that construction of the structures started in the 6th century AD and occupied until the Early Colonial period (1532-1570). Grave of ancient king who laid foundations for Mayan civilisation in 700 B.C. discovered by archaeologists.
Amazing discovery at the Tak'alik Ab'aj dig in Retalhuleu, western GuatemalaKing K'utz Chman was a priest who reigned around 700 B.C., experts sayOldest royal Mayan burial ground ever found and it's packed with jade jewels By Mark Duell Published: 00:59 GMT, 26 October 2012 | Updated: 00:59 GMT, 26 October 2012 This is the extraordinary grave of an ancient king credited with laying the foundations for the Mayan civilisation more than 2,000 years ago, which has been discovered by archaeologists in Guatemala.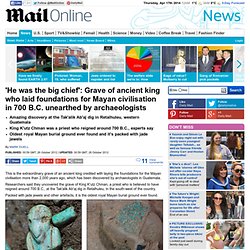 Researchers said they uncovered the grave of King K'utz Chman, a priest who is believed to have reigned around 700 B.C., at the Tak'alik Ab'aj dig in Retalhuleu, in the south-west of the country. Guatemalan family doing refurbishments discover Mayan murals that haven't been seen in CENTURIES. By Daily Mail Reporter Published: 01:40 GMT, 13 September 2012 | Updated: 19:02 GMT, 13 September 2012 A family in Guatemala was simply looking to renovate their home, hoping to get a different look than what they were used to.
That mission was certainly accomplished when they began scraping back plaster in their kitchen, they discovered a historic Mayan mural that covered multiple walls. National Geographic details their find, showing pictures of the incredible images that plaster helped preserve. The first cuppa? researchers find native Americans brewed tea almost a thousand years ago. Also known as 'black drink', it was six times more potent than coffeeMade from toasted holly leaves and stems By Mark Prigg Published: 09:30 GMT, 7 August 2012 | Updated: 13:40 GMT, 7 August 2012 Native Americans were brewing a primitive form of tea almost a thousand years ago, scientists have discovered.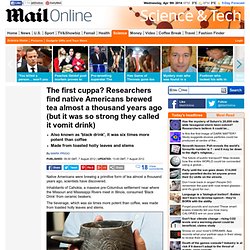 Inhabitants of Cahokia, a massive pre-Columbus settlement near where the Missouri and Mississippi Rivers meet in Illinois, consumed 'Black Drink' from ceramic beakers. The 1,300 year old Mayan prince found in his tomb surrounded by lavish gifts. By Mark Prigg Published: 11:54 GMT, 31 July 2012 | Updated: 16:39 GMT, 31 July 2012 A 1,300-year-old Mayan prince has been discovered in an ancient tomb along with lavish burial offerings.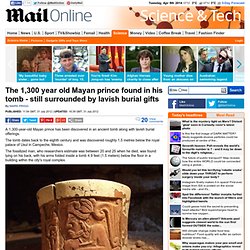 The tomb dates back to the eighth century and was discovered roughly 1.5 metres below the royal palace of Uxul in Campeche, Mexico. Archaeologists find 2,500-year-old chocolate spread. By Rebecca Seales Published: 12:45 GMT, 3 August 2012 | Updated: 11:41 GMT, 6 August 2012 It's a discovery to challenge even the most ardent cocoa addict: Archaeologists have found traces of chocolate thought to be 2,500 years old.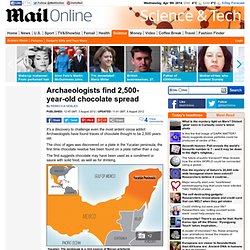 Second inscription confirming 'end date' of Mayan calendar in 2012 is found in Guatemala. Second inscription that confirms date of 'end' of Mayan calendar'End date' marks end of 5,125-year-old cycle of time1,300 year old carvings described as biggest hieroglyphic find in decadesInscription found on blocks abandoned by looters By Rob Waugh Published: 08:31 GMT, 29 June 2012 | Updated: 14:30 GMT, 29 June 2012 Marcello A.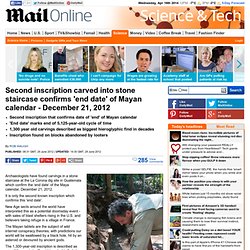 Canuto, director of Tulane's Middle American Research Institute, examines hieroglyphics at the La Corona dig site in Guatemala Archaeologists have found carvings in a stone staircase at the La Corona dig site in Guatemala which confirm the 'end date' of the Maya calendar, December 21, 2012. Mexican experts find ancient blood on stone knives | World news. Associated Press= MEXICO CITY (AP) — Traces of blood and fragments of muscle, tendon, skin and hair found on 2,000-year-old stone knives have given researchers the first conclusive evidence that the obsidian blades were used for human sacrifice so long ago in Mexico. Researchers had long seen cut marks on ancient bones that appeared to suggest varied practices of dismembering victims in many pre-Hispanic cultures, but the find announced Wednesday positively identifies the sort of actual knives that were used in the ancient rituals.
Mexico's National Institute of Anthropology and History said the finding clearly corroborates accounts from later cultures about the use of such knives to cut out hearts or cut up bodies. Researchers in Mexico had noticed what they believed were fossilized blood stains on stone knives as long as 20 years ago. The Mayans reveal their darkest mysteries: New excavation reveals secrets of the Mayan calendar - including black-clad figures and symbols never seen before. Wall covered in calculations relating to Mayan calendarLine-up of men in black uniformsAstrological calculations not fully understoodDates seem to stretch 7,000 years into FUTUREContradicts 'doomsday' predictions about 2012First paintings found on walls in Mayan dwellingsHuge city in Guatemala finally reveals its secrets By Rob Waugh Published: 18:04 GMT, 10 May 2012 | Updated: 10:46 GMT, 11 May 2012 A vast city built by the ancient Mayan civilisation and discovered nearly a century ago in modern day Guatemala is finally starting to yield its secrets - including a hint that apocalyptic predictions around the 'end' of the Mayan Calendar may be wrong.
Excavating for the first time in the sprawling complex of Xultzn in Guatemala's Peten region, archaeologists have uncovered a structure that contains what appears to be a work space for the town's scribe. Scientists resurrect microbe used to ferment alcohol in ancient Indian burial ritual. By Ted Thornhill Updated: 12:20 GMT, 22 February 2012 Yeasts that had lain dormant for over 1,300 years in an Andean tomb have been kick-started back to life - and revealed as an entirely new species.
Yeast biologist Javier Carvajal Barriga, of the Pontificia Universidad Católica del Ecuador in Quito, scraped the microbes from clay fermentation vessels discovered in the city 30 years ago. 6,700-year-old popcorn found in Peru. By Amy Oliver Created: 12:36 GMT, 19 January 2012 Want dust with that? Archaeologists found corncobs, husks, stalks and tassels dating back 3,000 to 6,700 to 3,000 years along the Peruvian coast Taste wise it probably isn't up to much after nearly 7,000 years.
A-9000-year-old-hunting-cabin-underwater.html?WT.mc_id=D-E-OTB-AD-INYT-HP-OS-0514&WT.mc_ev=click&bicmp=AD&bicmlukp=WT. Photo Observatory By SINDYA N. BHANOO. A 9,000-year-old caribou hunting structure beneath Lake Huron.
---
zmajsnoshaj Aug 24 2013

Nice little ornaments you've got dangling off this branch. Keep an eye out for my projectile point typology pearls when you get the chance ;)

~ZmajSnoshaj
---