Breakfast
Eggs Poached in Maple Syrup. It's been said we Canadians have identity issues.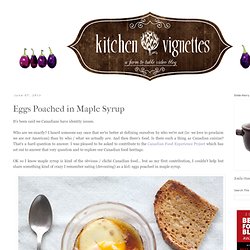 Who are we exactly? I heard someone say once that we're better at defining ourselves by who we're not (ie: we love to proclaim we are not American) than by who / what we actually are. Recipe: Banana Chocolate Chip Raisin Oatmeal - I Love Vegan. Chocolate-Hazelnut and Banana Crepe. Fast Raspberry Scones. Cream Scones. Blueberry Blintzes. Mango Parfait. What Do 300 Calorie Meals Look Like? Breakfast Meals English Muffin Breakfast – 394 Calories 1 whole wheat English muffin 2 pats low fat butter 1 hard boiled egg 1/2 cup of fruit 8 oz fruit juice 8 oz water Cereal – 300 Calories 1 cup of cereal 8 oz 2% milk 1 banana 1 coffee or tea Oatmeal – 345 Calories.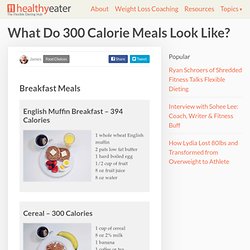 Peanut Butter Breakfasts. You all know how much I love peanut butter and how often I include it in my breakfast.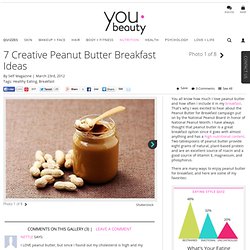 That's why I was excited to hear about the Peanut Butter for Breakfast campaign put on by the National Peanut Board in honor of National Peanut Month. I have always thought that peanut butter is a great breakfast option since it goes with almost anything and has a high nutritional content. Two tablespoons of peanut butter provide eight grams of natural, plant-based protein and are an excellent source of niacin and a good source of Vitamin E, magnesium, and phosphorus. There are many ways to enjoy peanut butter for breakfast, and here are some of my favorites: Cinnamon Toast Rolls. The USDA released its new food pyramid the other day (which is actually a plate now instead of a pyramid), and I am sorely disappointed to report that cinnamon rolls did not appear anywhere on that plate.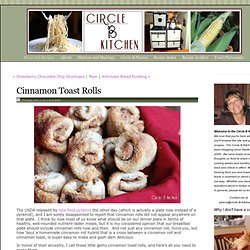 I think by now most of us know what should be on our dinner plate in terms of healthy, well-rounded nutrient-laden meals, but it is my considered opinion that our breakfast plate should include cinnamon rolls now and then. And not just any cinnamon roll, mind you, but how 'bout a homemade cinnamon roll hybrid that is a cross between a cinnamon roll and cinnamon toast, is super easy to make and gosh darn delicious.
In honor of their ancestry, I call these little gems cinnamon toast rolls, and here's all you need to make them… Yep. Easy Recipe- Quick Strawberry Muffins By: Loren. 1 cup all-purpose flour 1 cup plain low-fat yogurt 1 cup whole-wheat flour 1/4 cup butter, melted 1/2 cup sugar 1 teaspoon vanilla 2 eggs 1 1/2 teaspoons baking soda 1 cup chopped strawberries, fresh or frozen This is one of the easy recipes that can use either fresh, in-season strawberries, or frozen strawberries.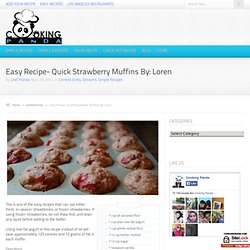 If using frozen strawberries, do not thaw first, and drain any liquid before adding to the batter. Strawberry Nutella Poptarts. Friday, February 10, 2012 Strawberry Nutella Poptarts* In almost 24 hours I am going to be on live television.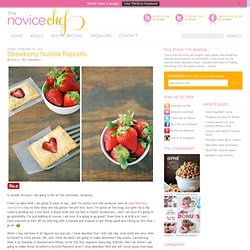 Seriously. I have no idea what I am going to wear or say….and I'm pretty sure the producer over at Good Morning Jacksonville has no idea what she has gotten herself into. Perfect Pancakes and Strawberry Butter. In my opinion, pancakes are the most perfect of breakfast foods.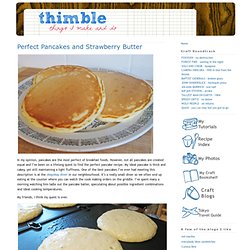 However, not all pancakes are created equal and I've been on a lifelong quest to find the perfect pancake recipe. My ideal pancake is thick and cakey, yet still maintaining a light fluffiness. One of the best pancakes I've ever had meeting this description is at the okayokay diner in our neighbourhood. It's a really small diner so we often end up eating at the counter where you can watch the cook making orders on the griddle. Super Fluffly Pancakes. Fluffy Pancakes | Blogger For Hire. This pancake recipe is the result of mixing and matching different recipes from many different sources.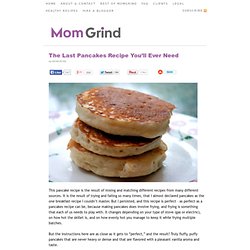 It is the result of trying and failing so many times, that I almost declared pancakes as the one breakfast recipe I couldn't master. But I persisted, and this recipe is perfect – as perfect as a pancakes recipe can be, because making pancakes does involve frying, and frying is something that each of us needs to play with. Now you're cooking with comics. Cake Batter Pancakes Recipe from Betty Crocker. Baked Eggs with Bacon and Spinach. Do y'all remember the scene in Runaway Bride (that's an Oscar contender if I've ever seen one…) where Julia Roberts realizes that she doesn't know how she likes her eggs?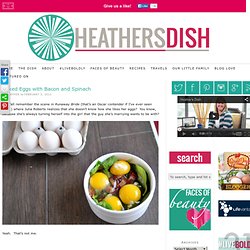 You know, because she's always turning herself into the girl that the guy she's marrying wants to be with? Yeah. That's not me. I know how I like my eggs, although I will say that it depends on the day. French Ham, Cheese and Egg Crepes, step-by-step. One of my favorite food memories from my trip to Paris a few months ago was going out late at night near the Eiffel Tower and queuing up with a bunch of other people to get freshly made crepes, then sitting in the park enjoying the lights of the tower while eating.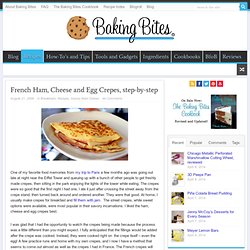 The crepes were so good that the first night I had one, I ate it just after crossing the street away from the crepe stand, then turned back around and ordered another. They were that good. At home, I usually make crepes for breakfast and fill them with jam. The street crepes, while sweet options were available, were most popular in their savory incarnations. I liked the ham, cheese and egg crepes best. Baked Egg Boat recipe. Breakfast is my favorite meal. I like to drink iced coffee and watch the cream climb its way down the chunky ice cubes in a dazy before the caffeine hits. I like to order bacon with whatever I'm eating. Breakfast Burrito. Why not start your work week differently than usual and make it a bang from the beginning! Wrap your breakfast in a hot tortilla, with scrambled eggs, crispy bacon, and melted cheese… Sounds yummy eh…… Did you know that you can actually freeze these bad boys and just pop them out when your in a real rush… Sounds pretty easy!
It's Monday and although you maybe rushing into the office take 5 minutes and make something that will brighten up your day and fill your tummy as well! Happy Monday, Enjoy! Bacon, Egg and Cheese Wrap Ingredients. Scottish Farmhouse Eggs | Ahoy! | Portland Maine DIY Blog. 50 of the World's Best Breakfasts from Around the World. - Written by Victoria Philpott Salivating. That's the only way to describe me after looking at all this food porn. 10 Breakfasts Your Kids Can Make.
---