Breakfast
Recipe: Banana Chocolate Chip Raisin Oatmeal - I Love Vegan
Save to your Collections Sorry for the inconvenience! Saving is temporarily unavailable as we work through a few kinks in our new recipe design (we hope you like it!).
Chocolate-Hazelnut and Banana Crepe
Serve these raspberry scones at breakfast or with tea for an afternoon snack. Everyday Food, May 2010 Prep Time 15 minutes Total Time 30 minutes Yield Makes 20 Add to Shopping List Ingredients
Fast Raspberry Scones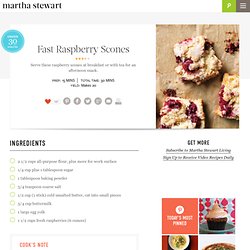 Cream Scones
Preheat oven to 400 degrees. Line a baking sheet with parchment paper; set aside. Sift flour, sugar, baking powder, and salt into a large bowl.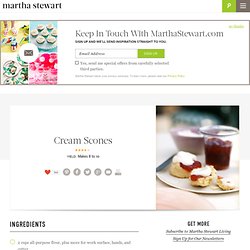 These paper-thin crepes can be filled with just about anything. For this rendition, a handful of blueberries is blended into a velvety mixture that's spooned into golden, delicate pancakes. Martha Stewart Living, September 2006 Yield Makes 12 Serves 6 Add to Shopping List Ingredients For the Crepes 3/4 cup plus 2 tablespoons whole milk 5 tablespoons unsalted butter, melted 2 large eggs 1 cup plus 2 tablespoons all-purpose flour 1/4 teaspoon coarse salt 3 tablespoons canola oil Confectioners' sugar, for dusting For the Filling 16 ounces cottage cheese 4 ounces cream cheese, softened 1/2 cup plus 3 tablespoons granulated sugar 1 vanilla bean, halved lengthwise, seeds scraped and reserved, bean discarded 1/2 pint (about 1 cup) blueberries For the Sauce 1 pint (about 2 cups) blueberries 6 1/2 tablespoons granulated sugar 1 tablespoon unsalted butter 2 tablespoons fresh lemon juice 1/2 teaspoon cornstarch Pinch of coarse salt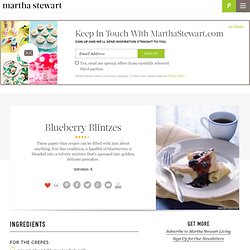 Blueberry Blintzes
Save to your Collections Sorry for the inconvenience! Saving is temporarily unavailable as we work through a few kinks in our new recipe design (we hope you like it!).
Mango Parfait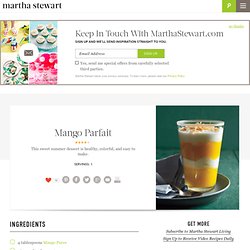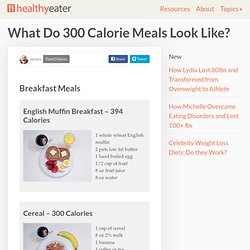 Visual gallery of a series of meals in the 300-400 Calorie range. The visual representation gives an idea of portion size. More: 300-400 Calorie Lunches | 300 Calorie Breakfasts | 200 Calorie Snacks Breakfast Meals
You all know how much I love peanut butter and how often I include it in my breakfast . That's why I was excited to hear about the Peanut Butter for Breakfast campaign put on by the National Peanut Board in honor of National Peanut Month. I have always thought that peanut butter is a great breakfast option since it goes with almost anything and has a high nutritional content . Two tablespoons of peanut butter provide eight grams of natural, plant-based protein and are an excellent source of niacin and a good source of Vitamin E, magnesium, and phosphorus. There are many ways to enjoy peanut butter for breakfast, and here are some of my favorites:
Peanut Butter Breakfasts - YouBeauty.com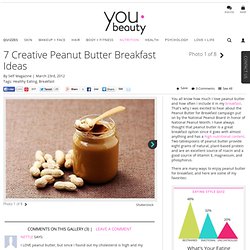 Liven up boring oatmeal for a breakfast that provides energy and keeps you full until lunch The Ultimate Power Breakfast (Powerfoods: 8) 1 egg 1 cup 1% milk 3/4 cup oatmeal 1/2 cup mixed berries 1 Tbsp chopped pecans or sliced almonds 1 tsp vanilla whey-protein powder 1 tsp ground flaxseed 1/2 banana, sliced 1 Tbsp plain yogurt In a microwave-safe bowl, mix egg well, then add next six ingredients and nuke for 2 minutes. Remove, let cool for a minute or two.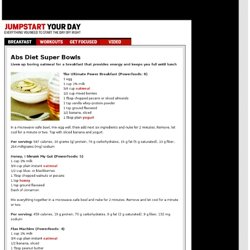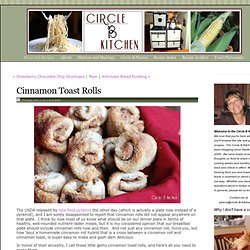 The USDA released its new food pyramid the other day (which is actually a plate now instead of a pyramid), and I am sorely disappointed to report that cinnamon rolls did not appear anywhere on that plate. I think by now most of us know what should be on our dinner plate in terms of healthy, well-rounded nutrient-laden meals, but it is my considered opinion that our breakfast plate should include cinnamon rolls now and then. And not just any cinnamon roll, mind you, but how 'bout a homemade cinnamon roll hybrid that is a cross between a cinnamon roll and cinnamon toast, is super easy to make and gosh darn delicious. In honor of their ancestry, I call these little gems cinnamon toast rolls, and here's all you need to make them… Yep.
Easy Recipe- Quick Strawberry Muffins By: Loren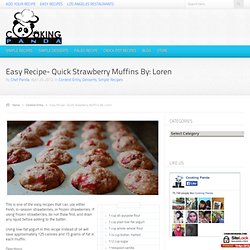 1 cup all-purpose flour 1 cup plain low-fat yogurt 1 cup whole-wheat flour 1/4 cup butter, melted 1/2 cup sugar 1 teaspoon vanilla 2 eggs 1 1/2 teaspoons baking soda 1 cup chopped strawberries, fresh or frozen This is one of the easy recipes that can use either fresh, in-season strawberries, or frozen strawberries. If using frozen strawberries, do not thaw first, and drain any liquid before adding to the batter.
Strawberry Nutella Poptarts
Friday, February 10, 2012 Strawberry Nutella Poptarts * In almost 24 hours I am going to be on live television. Seriously. I have no idea what I am going to wear or say….and I'm pretty sure the producer over at Good Morning Jacksonville has no idea what she has gotten herself into.
In my opinion, pancakes are the most perfect of breakfast foods. However, not all pancakes are created equal and I've been on a lifelong quest to find the perfect pancake recipe. My ideal pancake is thick and cakey, yet still maintaining a light fluffiness. One of the best pancakes I've ever had meeting this description is at the okayokay diner in our neighbourhood. It's a really small diner so we often end up eating at the counter where you can watch the cook making orders on the griddle.
Super Fluffly Pancakes
This pancake recipe is the result of mixing and matching different recipes from many different sources. It is the result of trying and failing so many times, that I almost declared pancakes as the one breakfast recipe I couldn't master. But I persisted, and this recipe is perfect – as perfect as a pancakes recipe can be, because making pancakes does involve frying, and frying is something that each of us needs to play with.
Cake Batter Pancakes Recipe from Betty Crocker
Do y'all remember the scene in Runaway Bride (that's an Oscar contender if I've ever seen one…) where Julia Roberts realizes that she doesn't know how she likes her eggs? You know, because she's always turning herself into the girl that the guy she's marrying wants to be with? Yeah. That's not me. I know how I like my eggs, although I will say that it depends on the day.
French Ham, Cheese and Egg Crepes, step-by-step
Breakfast Burrito
10 Breakfasts Your Kids Can Make